© Hector Argüello Canals / Unsplash (CC0)
One Planet City Challenge
For a world where we all thrive
The One Planet City Challenge (OPCC) is WWF's invitation to cities to join us on our ongoing mission: the creation of cities that enable people to thrive in balance with nature now and in the future. In this friendly competition, we celebrate national and global frontrunners. We review cities' climate actions and ambitions, and assess whether they align with the goals set forth in the Paris Agreement. WWF supports cities in accelerating their climate transformation and showcases participants' best practices.
Cities drive global GDP and generate the majority of the world's carbon emissions. Yet cities also project human hope, ingenuity, and creativity.
The OPCC format creates friendly competition between cities while celebrating the best and brightest ideas, actions, people, and policies. WWF reviews cities' progress and assesses whether actions align with the Paris Agreement.
Joining the Challenge is an ideal way for cities to keep themselves motivated to make needed and desired changes. Over the past ten years almost 600 cities from 53 countries and five continents have participated. It is the largest and longest-running challenge of its kind.
© Jess Kraft / Shutterstock – Lund Olesya Kuznetsova
Shortlisted cities in WWF's One Planet City Challenge 2022
A total of 280 cities joined the OPCC in the current round. We are hereby proud to present the shortlisted cities for the 2022 challenge. Stay tuned for more announcements during the spring.
The Challenge at a glance
The One Planet City Challenge (OPCC) celebrates national and global frontrunners in climate action.
We raise the global profile of participating cities, and build awareness and support for success at COP26 and future climate events.
OPCC participants have reported a total emissions reduction potential of 3.9Gt GHG (by 2050) using CDP-ICLEI's globally recognized reporting system.
The OPCC process creates transformational leadership by helping cities acquire needed skills and strategies to achieve their ambitious goals.
Support in setting science-based targets that reflect Paris Agreement goals.
A Strategic Feedback Report with an independent review of your city's climate action plan based on CDP-ICLEI unified reporting system.
Collaboration with leading city networks including the Global Covenant of Mayors, ICLEI, C40 and CDP.
Recognition of achievements on WWF and partners' communications channels.
All OPCC finalists are invited to participate in the We Love Cities public engagement campaign.
Toolbox with guidance on design of a climate action package and educational materials aimed at increasing public participation and involvement.
Opportunity to tap into available WWF programs on capacity-building, urban nature-based solutions, transport, waste, food and more.
© Chuttersnap / Unsplash (CC0)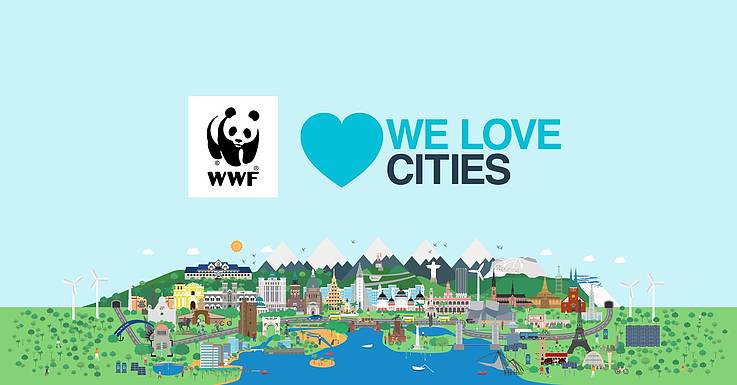 © WWF
The One Planet City Challenge jury is comprised of leading experts within the field of urban sustainablity from around the globe. With extensive local and regional knowledge jury members are uniquely qualified to evaluate the contribution of participating cities in achieving the goals set forth in the Paris Agreement.
© NeONBRAND / Unsplash (CC0)
Join the movement and inspire the world!
Email us at opcc@wwf.se for instructions on how to participate in the OPCC.
Join OPCC
Explore Our Other Projects
Program Coordinator, One Planet City Challenge, WWF Cities
Global Communications Manager, One Planet City Challenge, WWF Cities