One Planet City Challenge
© WWF
Mexico City - Global Winner in WWF's One Planet City Challenge 2020
The Mexican capital is a worthy winner taking home the title from a strong field of One Planet City Challenge (OPCC) finalists from around the world.
© City Clock Magazine
The OPCC jury was particularly impressed by Mexico City's demonstration of political ambition on climate change, including commitments and actions in line with the1.5°C target, and a regulatory framework for local climate policies. The city distinguishes itself through ambitious commitments, including continual progress in adaptation actions and the designing of an early warning and detection system for natural disasters. Mexico City also implemented ambitious mitigation policies, such as the creation of a massive public transport system and a wide network of public bicycles.

Mexico City joins Vancouver, Cape Town, Seoul, Paris and Uppsala on the prestigious list of global winners recognized by WWF since the inception of the Challenge in 2013, becoming the first Latin American city to do so. These cities demonstrate impressive actions and strategies for combating climate change, while simultaneously improving urban residents' quality of life. WWF's objective with this recognition is to see that these cities continually raise their level of ambition in combating climate change.

"The ambition of Mexico City's plans is admirable," said Marco Lambertini, General Director of WWF International. "As one of the largest and most populated cities in the world, Mexico City faces many challenges, but its planning, progress and ambition in the climate agenda demonstrates forward momentum. The city's adaptation and mitigation targets and actions, across key sectors including transportation and energy, exemplify the type of actions that large urban areas should learn from and strive for. Especially considering cities are responsible for circa 70% of carbon emissions worldwide and thus play a fundamental role to meet the 1.5°C target."

The OPCC jury also commended the impressive entries of the following cities, all of whom qualified as contenders for the global title:
National Winners
Balikpapan, Indonesia
Batangas, Philippines
Buenos Aires, Argentina
Denizli, Turkey
Escuintla, Guatemala
Greater London Authority, UK
Khon Kaen, Thailand
KwaDukuza, South Africa
Lima, Peru
Melaka, Malaysia
Mexico City, Mexico
Monteriá, Colombia
Municipio de Loja, Ecuador
Park City, USA
Rajkot, India
Rio de Janeiro, Brazil
Uppsala, Sweden
Valdivia, Chili

Other admirable contenders:
Commune de Codody, Côte d'Ivoire
Paris, France
Vancouver, Canada
One Planet City Challenge 2020 - Bigger and Better!
We are proud to announce that this year's One Planet City Challenge saw more entries than ever before.
Over 250 cities from 53 countries joined WWF's One Planet City Challenge by diligently reporting comprehensive climate data through the Global Covenent of Mayor's Unified Reporting System hosted by CDP and ICLEI.
Cities in over 50 countries have joined WWF's One Planet City Challenge 2020, representing approximately 66% of the global population.
The cities' submissions have now been thoroughly reviewed by WWF and Arup, one of the world's leading global consultancies, and 1-3 finalists per country have now been chosen. These finalists will now be evaluated by the OPCC jury of experts who will make the final selection of national winners, as well as one global winner.
OPCC National Finalists 2020
Argentina: Buenos Aires, Chacabuco, San Martin de los Andes
Brazil: Belo Horizonte, Fortaleza, Rio de Janiero
Canada: Vancouver
Chile: Peñalolén, Santiago, Valdivia
Colombia: Mantizales, Monteriá, Villavicencio
Côte d'Ivoire: Commune de Cocody
Ecuador: Municipio de Loja
Finland: Turku
France: Paris
Guatemala: Escuintla, Iztapa, San José
Iceland: Reykavik
India: Kochi, Nagpur, Rajkot
Indonesia: Balikpappan, Banda Aceh, Jakarta
Malaysia: Melaka, Petaling Jaya, Sebarang Perai
Mexico: Hermosillo, Mérida, Mexico City
New Zealand: Wellington City Council
Norway: Arendal, Baerum
Peru: San Borja, Lima, Magdalena del Mar
Philippines: Batangas, Muntinlupa, Santa Rosa
Republic of Korea: Suwon City
South Africa: Cape Town, Durban, KwaDukuza
State of Palestine: Abasan Al-Kabira
Sweden: Helsingborg, Uppsala, Växjö
Thailand: Hat Siao, Khonkaen, Patong
Turkey: Denizli, Izmir
UK: Greater London, Greater Manchester, Bournemouth-Christchurch-Poole
US: Cleveland, Los Angeles, Park City
Vietnam: Dong Hoi City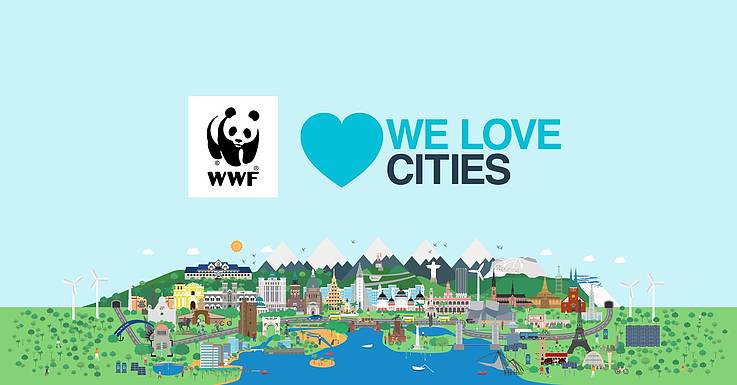 © WWF
Visit www.welovecities.org between 14 September - 11 October to VOTE for your favorite city, SHARE what you love about it and TELL us how it can become an even more sustainable place for you to live and thrive in.
This year's We Love Cities public engagment campaign will see participation from 54 finalists from 26 countries - representing over 100 million citizens.
The One Planet City Challenge jury is comprised of leading experts within the field of urban sustainablity from around the globe. With extensive local and regional knowledge jury members are uniquely qualified to evaluate the contribution of participating cities in achieving the goals set forth in the Paris Agreement.
Join WWF's One Planet City Challenge and inspire the world!
"Cities are where the battle for sustainable development will be won – or lost if we fail." – Former UN Deputy Secretary General Jan Eliasson
Unchecked, climate change disruptions threaten to undo much of the economic and social progress achieved since the end of World War II. Temperatures could rise 2 °C or even 3 °C by 2050. Aligning with the Paris Agreement and taking action to limit average temperature increases to 1.5°C or less is safer for people and the planet. And starting actions now is less costly than taking actions later. But there is absolutely no time to lose, and cities offer a place for all of us to start. By acting locally, we create global collaboration and leadership. WWF started the One Planet City Challenge in 2011. Won't you join us?
We support cities and citizens in creating a climate-safe future.
We assess cities' unique characteristics and aid local governments and city dwellers in their actions towards a future where temperature changes stay below 1.5 °C. We work with city stakeholders and strengthen communication and action at a local level.
Whether we are engaged citizens or work in urban design and development, we can all influence positive changes. Our voices and our participation are critical for positive change.
Why cities?
Over half of the world's inhabitants live in cities, and urbanization marches on. Cities account for 70% of carbon emissions and generate more than 80% of global GDP. In cities, problems tend to multiply, yet they are also important testbeds, and multipliers, of solutions. As centers of both political and corporate power, cities can accelerate the transition to a stable climate.
Whether we are decision makers, engaged citizens or work in urban design and development, we can all influence positive changes. Our voices and our participation are critical for enabling this change.
WWF's One Planet City Challenge (OPCC) is
A friendly competition to mobilize cities to deliver on the Paris Agreement.
We aim to support and celebrate 100 cities with action plans for keeping global average rise in temperature to below 1.5 °C. The world yearns for transformational leadership - we want to encourage cities to develop needed skills and strategies to achieve this.
OPCC is the largest and longest running competition of its kind. More than 400 cities on 5 continents have participated with at least one goal to reduce carbon emissions and increase climate resiliency.
Participants have already raised ambitions in global reporting initiatives by reporting more than 5,700 actions with a total of 3.9Gt GHG emissions reduction potential by 2050.
The OPCC's new, unique, and expert-verified methodology for verifying emissions reductions lets participating cities report emissions, goals and targets on standardized reporting platforms.
Participants' data is then assessed and compared to the emission reduction trajectories recommended for their type of city in order to limit global warming to 1.5 °C or below.
This process guides cities to the most impactful actions they can take to cut emissions and align with 1.5°C target.
Ultimately the goal is for cities to develop best practice and to be more strategic, efficient and effective in their climate mitigation and adaptation plans.
The OPCC works in collaboration with city networks such as the Global Covenant of Mayors, ICLEI, C40 and CDP.
OPCC – How it works
The city decides to join! If you want your city to accept our Challenge, ask your city officials! You have influence, and your voice is important!
Let us know! If you don't have a local WWF contact, send us an email and we will direct you to the right person opcc@wwf.se
Cities report relevant data on global standardized city-data reporting platforms. WWF offers guidance.
Registration opens on 12 February and closes 10 July 2019.
Based on the data entered, cities are prescreened and shortlisted.
We select up to 3 finalist cities per country.
Finalists can participate in our renowned global public engagement campaign, We Love Cities, in spring 2020.
An international jury of urban sustainability experts selects national OPCC winners with the most ambitious and inspiring commitments and actions, based on reported data.
The jury selects one global OPCC winner.
Our winners are celebrated in a global award ceremony mid-2020.
All participating cities receive guidance from global experts on big-win impact reductions in line with 1.5 °C.
Program Coordinator, One Planet City Challenge, WWF Cities
Global Communications Manager, One Planet City Challenge, WWF Cities