Camera traps, hidden in some of the world's remote and inaccessible locations, are activated by infrared sensor when body heat or movement from an animal is detected. Day and night these cameras provide a glimpse into a previously unseen world of some of the most endangered species on Earth.
© WWF
A curious panda is snapped by an infrared camera trap.
© WWF Greater Mekong / WWF Cambodia SWAP Team
Male leopard captured in a camera trap at night, Cambodia.
© WWF Greater Mekong
Adult elephant and calf are photographed by a camera trap.
© WWF
Javan rhino
© WWF-China
The flash from the camera trap is reflected in the eyes of this panda as it makes its way through the snow in Wolong Nature Reserve, Sichuan, China.
© WWF-Russia / ISUNR
The leopard named Barabashevskii photographed by a camera trap. He controls all of Kedrovaya Pad zapovednik (national park) in south-eastern Russia, though his home range spreads beyond this protected territory.
© Hunchun Amur Tiger National Natural Protection Administration
Amur (Siberian) tiger (Panthera tigris altaica) in north-east China (2/5).
© WWF-Greater Mekong / WWF-Cambodia SWAP team
A male dhole. The dhole is a competitor to the leopard.
© BRIT / WWF-AREAS_Amazonia
Red Brocket Deer (Mazama americana): The red brocket deer travels alone or in pairs, and is threatened by hunting and deforestation.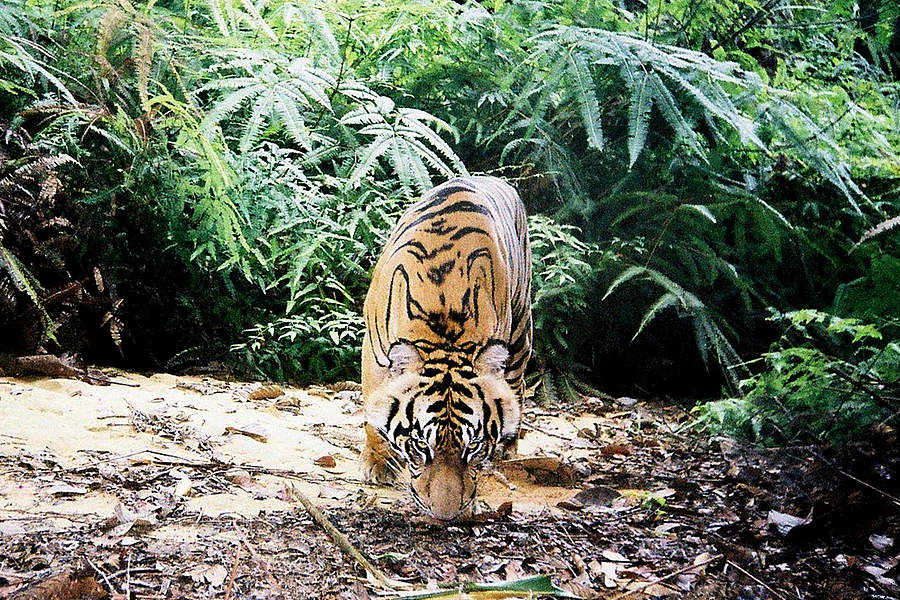 © WWF-Indonesia / Tiger Survey Team
A young tiger captured by camera trap in Bukit Betabuh Protection Forest.
© Santiago Espinosa
Short eared dog (Atelocynus microtis), one of the two species of dogs occurring in Yasuni. It is a rare animal, very difficult so see.
© WWF/Christopher Wong
Rare Malaysian tigress and her cub from camera trap.
© WWF Nepal
Leopard captured by a camera trap. Babai Valley, Bardia National Park, Nepal.
Latest snaps
31 Jul 2014
Conservation efforts in Vietnam are proving successful after a rare Asiatic black bear was recently recorded by WWF camera traps 
Our camera traps in Java, Sumatra, and Southwest Australia have captured some incredible footage of tigers, rhinos and a long-tailed dunnart. This video helps us to better understand the behaviour of the species and often it can clearly illustrate the threats that many of them face.
These videos capture:
3 Sumatran tiger cubs playing in an area under immiment thret of being cleared.

A long tailed dunnart in Australia sharing the same location as a feral fox.

A forest being cleared for palm oil plantation just days after capturing footage of a Sumatran tiger in the exact same location.

Donate to WWF and continue to support this important work.
WWF's work to protect species
Take action
Sign up to receive alerts on important actions you can take to protect species!