ADIL NAJAM
July 2023 -
© WWF
Dr. Adil Najam is a global public policy scholar whose teaching, research and public engagement focuses on international environment and conservation policy with a particular emphasis on climate change, on global governance, and on international and human development. An active researcher, he was a lead author for the Third and Fourth Assessments of the Intergovernmental Panel on Climate Change (IPCC) and has written over 100 scholarly papers and book chapters.
In 2014 he was named the inaugural dean of Boston University's Frederick S. Pardee School of Global Studies, a position he stepped down from in 2022 when he was appointed Dean Emeritus. He is also a Professor of International Relations and of Earth and Environment at Boston University. Earlier he served as the Vice Chancellor of Pakistan's Lahore University of Management Sciences (LUMS); and prior to that as a professor of negotiation and diplomacy at the Fletcher School of Law and Diplomacy at Tufts University.
Adil Najam holds a PhD (in environmental policy) and two master's degrees (in technology policy and in environmental engineering) from the Massachusetts Institute of Technology (MIT), a Specialization in Negotiation from the Program on Negotiation at the Harvard Law School, and a bachelor's of engineering degree from the University of Engineering and Technology (UET), Pakistan.
Adil was a board member of WWF International from 2012-2019 and also served as Chair of the Luc Hoffmann Institute (2017-2020).
Neville Isdell
May 2022 - June 2023
© WWF
Neville Isdell is the former chairman and CEO of The Coca-Cola Company where he worked for 43 years. Neville took the world's largest beverage company to new heights during his tenure. He expanded on the company's proud legacy of corporate responsibility by embedding sustainability throughout every facet of the organization and helping ensure its role as a community-connected twenty-first century enterprise.
A native of Ireland, Neville Isdell joined The Coca-Cola Company in 1966 in Zambia. In 1972, he became general manager of Coca-Cola Bottling of Johannesburg.
In 1989, he was elected senior vice president of the company and appointed president of the Northeast Europe/Africa Group and led the company's re-entry into new markets in India, the Middle East, Eastern Europe, and the former Soviet Union.
Neville Isdell serves on the boards and executive committees of a number of NGOs, including Peace Parks Foundation and World Wildlife Fund, where he was also formerly chairman. Mr. Isdell was also former co-chair of the Investment Climate Facility for Africa and a former member of the Board of Directors of General Motors. He is a recipient of the Clinton Global Citizen Award and received the 2008 Ellis Island Medal of Honor - International.

Prior to becoming President a.i. Neville Isdell was Co-Chair of WWF-US and former board member of WWF International from 2012-2018.

Neville received a bachelor's degree in social sciences from the University of Cape Town and is a graduate of the Harvard Business School PMD. He is the recipient of four honorary degrees.
Pavan Sukhdev
2018-2021
© WWF
Pavan Sukhdev is a scientist by education, an international banker by training, and an environmental economist by passion. His interest and many years of work in sustainability and the invisible economics of nature led to his appointment to head the United Nations' "Green Economy Initiative" and to lead the G8+5 study TEEB (The Economics of Ecosystems and Biodiversity).

In his book 'Corporation 2020', which he wrote while he was the McCluskey Fellow at Yale University, he envisioned tomorrow's corporation as a producer of not just profits for shareholders, but value for all stakeholders, a creator of positive as against negative externalities. He describes four key changes in micro-policy and regulation which can rapidly transform today's corporation to deliver tomorrow's green and equitable "economy of permanence". As founder and CEO of his sustainability consulting firm, GIST Advisory, Pavan works with C-suite executives and senior government officials on transition techniques, with a particular emphasis on metrics, as we cannot manage what we do not measure.

Pavan spends considerable time on his role as Goodwill Ambassador for UN Environment, promoting TEEB implementation and Green Economy transitions around the world. He has served on the boards of Conservation International (CI), the Global Reporting Initiative (GRI), the Stockholm Resilience Centre (SRC) and on the TEEB Advisory Board.
Yolanda Kakabadse
2010-2017
© WWF
Yolanda Kakabadse's work with the environmental conservation movement officially began in 1979, when she was appointed Executive Director of Fundación Natura in Quito, where she worked until 1990.
In 1993, she created
Fundacion Futuro Latinoamericano
, an organization dedicated to promote the sustainable development of Latin America through conflict prevention and management. She was its Executive President until 2006 and remains as Chair of the Advisory Board.
From 1990 until 1992, Yolanda Kakabadse coordinated the participation of civil society organizations for the United Nations Conference for Environment and Development (Earth Summit).
From 1996 to 2004 she was President of the World Conservation Union (IUCN), and Member of the Board of the World Resources Institute (WRI) during the same period.
Yolanda was appointed Minister of Environment for the Republic of Ecuador, position she held from 1998 until 2000.
She is a Member of the Advisory Board of Arabesque, of the Stakeholder Panel of AXA and Chairs the Independent Science and Technology Panel of Fundacion Renova in Brazil. Yolanda is also a Member of the Board of Sistema B and the B Team.
H.E. Chief Emeka Anyaoku
2002-2009
© WWF
His Excellency Chief Eleazar Chukwuemeka Anyaoku was elected 3rd  Secretary-General of the Commonwealth by Heads of Government in 1989, serving 2 consecutive terms from 1990 to 2000.
A Nigerian national, born at Obosi, he studied Classics at University College, Ibadan, and graduated in 1959 with a London University Honours Degree as a College Scholar. After 2 years with the Commonwealth Development Corporation, and 4 years in the Nigerian Foreign Service, including a period at the United Nations, he joined the Commonwealth Secretariat in 1966.
Aside from a short term as Nigerian Foreign Minister in 1983, Chief Anyaoku spent 34 years with the Commonwealth and held the positions of Director for International Affairs, Assistant Secretary-General and Deputy Secretary-General.

Chief Anyaoku has also been a member of the International Board of the United World Colleges and the Governing Council of the International Institute for Strategic Studies in London, the Malaysian Commonwealth Studies Centre at Cambridge and the World Commission on Forestry.
He has also been President of The Royal Commonwealth Society , The Royal African Society, and Trustee of the British Museum, UK.
The Hon. Mrs Sara Morrison
2000-2001
© WWF
Sara Morrison is a former Director of GEC and a non-Executive Director of Carlton Television Ltd. and Kleinwort Charter Investment Trust PLC. She is a member of the UK Round Table for Sustainable Development, and sits on the Council of the Family Policy Studies Centre.

On 1 January 1998 Mrs Morrison became Chairperson of WWF-UK and was elected to the Board of WWF International. She was elected Vice-President of WWF International in November 2000 and served as Acting President in 2001. She is now Trustee Emeritus of WWF-UK and Vice President Emeritus of WWF International.
Prof. R.F.M. "Ruud" Lubbers
2000-2000
© WWF
Ruud Lubbers served three terms as Prime Minister of the Netherlands between 1982 and 1994, thus becoming the longest serving Dutch Prime Minister. A graduate of the Netherlands School of Economics, his political career began in 1973 when he joined the Den Uyl government as Minister for Economic Affairs.

He continued in Parliament as Senior Deputy Leader, and later Parliamentary Leader of the Christian Democratic Alliance. He became President of WWF International on 1 January 2000, but only served for one year as he was appointed United Nations High Commissioner for Refugees from 2001-2005.
Syed Babar Ali
1996-1999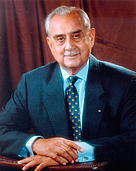 © WWF
Babar Ali is a Pakistani national and was Managing Director of Packages Ltd. in Lahore from 1955-1973 and later became Minister of Finance, Economic Affairs & Planning. Babar Ali was first elected as a Trustee of WWF International in 1973.

He also served as Chairman of both the WWF International Advisory Council and the WWF Conservation Committee (later the Programme Committee), and was appointed Vice-President and Honorary Treasurer, before being elected President in 1996 to succeed HRH The Duke of Edinburgh. He retired as President of WWF International at the end of 1999 and is now WWF Vice-President Emeritus.
H.R.H. The Duke of Edinburgh
1981-1996
© WWF
HRH The Duke of Edinburgh served as International President of WWF for 16 years until his retirement at the end of 1996, but his continuous involvement with the organization goes back to its foundation in 1961 when he was appointed President of WWF-UK. Since his retirement he continued as President Emeritus until his death in 2021.

During these 40 years His Royal Highness' contribution to the organization has been inestimable - visiting WWF projects in over fifty countries on five continents, promoting conservation issues at the highest governmental and corporate levels and helping with fundraising and awareness promotion.
The Duke of Edinburgh died in 2021 at the age of 99.
John H. Loudon
1976-1981
© WWF
Better known as "the Grand Old Man of Shell", John H. Loudon, a Dutchman, headed Royal Dutch Shell from 1951 to 1965. The son of former Shell Board President, Hugo Loudon, he joined the company in 1930, when he went to work in the Lake Maracaibo oilfields of Venezuela.

He was President of WWF from 1976 to 1981, and also a member of The 1001. John H. Loudon died in 1996 at the age of 90.
H.R.H. Prince Bernhard
1962-1976
© WWF
Known as the "Flying Prince of Conservation", HRH Prince Bernhard of the Netherlands is the Founding President of WWF, a position he held from 1962 to 1976.

His Royal Highness also established the endowment fund The 1001: A Nature Trust in 1971, and continued to be deeply involved in WWF and its activities throughout the subsequent years. Prince Bernhard died in 2004 at the age of 93.