Posted on 04 November 2015
A city that is not wasting energy
A city that is not wasting energy
Lahti, Finland´s National Earth Hour Capital of 2015, has set itself the goal of reducing GHG emissions by half by 2025 from a 1990 baseline. Key to this goal is the new CHP gasification power plant Kymijärvi II, which was first in the world to efficiently generate electricity and district heating from solid waste unsuitable for recycling. Lahti´s Green City Development Programme of 2011 is a comprehensive sustainability policy with actions across the board.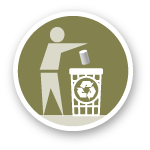 Keywords: Waste to energy, district heating, solid waste, climate plan, green vision

Lahti is a city with just over 100,000 inhabitants that is famous for its waste management, with less than 10% going to landfill, and several waste to energy projects, including a ST1 bioethanol production plant, gas from landfill, and the Labio biogas and compost facility, Finland´s largest biogas production facility (see also Kalundborg).

Groundbreaking technology
When Kymijärvi II started operating in 2012, it was groundbreaking in efficiency and low environmental impact, cutting CO2, SO2 and NOx emissions through a new gas purification process. It was the first plant to use solid recovered fuel, mainly from plastic, wood and paper products unsuitable for recycling. The fuel is gasified, the gas is cooled down and cleaned, and the clean gas is then burned in the boiler, supplying Lahti with all its electricity needs and heat for the equivalent 30,000 one-family houses through Lahti´s district heating network, which covers 90% of the city (see also Stockholm).

Kymijärvi II helped the city-owned Lahti Energy company to reduce its carbon dioxide emissions by about one third. It was also an important step in Lahti´s development as a significant center for environmental research, education and business activity in which 130 companies employ almost 5,000 people, especially in the fields of waste to energy and water and soil research.

Lahti´s environmental work goes back to the 1960s with the discovery of the over-fertilization of Lake Vesijärvi. An environmental management program was set up already in the 1970s, and the Lake Vesijärvi project was one of the world's largest bio-manipulation operations in the 1980's and 1990's.

Green City Development Programme
Lahti´s Green City Development Programme of 2011 is a broad sustainability policy with foundations in the Agenda 21 process, the Aalborg commitments (a European agreement regarding sustainability for local administrations), and the Covenant of Mayors. Apart from the waste to energy programs, it includes land use, energy, transport and renewables programmes, all with a high level of per capita investments.

The residential sector is responsible for the largest part of GHG emissions in Lahti, and the city has embarked on a large project to increase energy efficiency in buildings. The city's own construction work must meet a low or zero energy level by 2020 (see also Brussels). The city also launched an ESCO-project for its own buildings, where an energy service company helps identify and guarantee energy savings while outreach programs have been launched to provide energy advice to the larger community.

Transit Oriented Development
While emissions from energy production, industry and waste management have decreased, greenhouse gas emissions from traffic have continuously increased. To reverse that trend, Lahti has started a program with the goal to double the share of trips made by bicycle (now 13%) and mass transit (now 5%) for travel within the city by 2020. A green development plan for the city center plays a key role in achieving those goals. Lahti is pursuing a transit oriented development with a master plan for land use integrating public transport and zoning for buildings.

The Green City Development program also aims to engage stakeholders and citizen through a range of outreach programs. Together with companies, residents and the employees of the city government, and in cooperation with the Demos Helsinki Think Tank, Lahti has developed an "electronic timeline", a visionary document of ideas and solutions for meeting its environmental targets for the period 2014 – 2025, and if possible for even surpassing them.


References:
City of Lahti, Environmental protection, http://www.lahti.fi/www/cms.nsf/subpages/housingandenvironmentenvironmentalprotection

City of Lahti, Climate Programme, http://www.lahti.fi/www/cms.nsf/pages/A7538F9AA0BE1BFFC22576C400426E3D

City of Lahti, "Lahti – Green City", http://www.lahti.fi/www/images.nsf/files/4ED2D2CEC202C8ADC2257ED70048CE5B/$file/Lahti%20ymp%C3%A4rist%C3%B6kaupunki%20-%20Green%20City%202014.pdf

City of Lahti, "Lahti Sustainability Programme 2011", http://www.lahti.fi/www/images.nsf/files/4EC795304BBC5293C2257956003B09B3/$file/Sustainability_programme2011_EN.pdf

Lahti 2025 Timeline, http://lahti2025.fi/en

Lahti Energia, "Kymijärvi II Power Plant", http://www.lahtigasification.com/

Ricardo – AEA, "Lahti Gasification Facility, Finland", http://www.zerowaste.sa.gov.au/upload/resource-centre/publications/waste-to-energy/Case%20Study%201%20Lahti%20Gasifier%20Finland%20FINAL.pdf

carbonn Climate Registry, City Climate Report: City of Lahti, http://carbonn.org/data/report/commitments/?tx_datareport_pi1%5Buid%5D=600


Text by: Martin Jacobson