Singapore water management
Posted on 01 March 2012
Water scarcity prompts water self-sufficiency 
Water scarcity prompts water self-sufficiency
Singapore has become a world leader in water management firstly because of its location as a densely populated city-state on an island lacking freshwater lakes. Thanks to the award-winning holistic work of its public utilities agency, the city currently receives more than half of its water supply from the unorthodox sources of rainwater collection (20%), recycled water (30%) and desalination (10%). The long-term plan is to become entirely self-sufficient in water.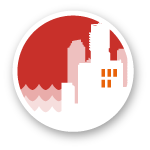 Keywords: Water management, resilience, rainwater collection, water recycling, desalination
The lack of an independent source of fresh water has meant that Singapore is dependent on the import of water from Malaysia. Singapore had two favourable import agreements, established during the British colonial era, one of which expired in 2011. The disagreement between the two countries on the future price of water resulted in Singapore intensifying efforts to become self-sufficient before the second contract expires in 2061.
Rainwater collection
Work on rainwater collection in Singapore harks back to 1867, when the British built the MacRitchie Reservoir. After independence in 1965 this work was intensified, with big projects in catchment areas, and currently the city gets 20% of its water supply from rainwater collected in reservoirs and catchments. Two-thirds of Singapore's surface area is classified as protected drainage basins, with regulated land use which facilitates the collection of rainwater (see also
Auckland
).
The city has 19 fresh water reservoirs, 9 water treatment plants and 17 reservoirs for purified water. The largest reservoir, Marina Bay, opened in 2008 and is constructed in an estuary closed off with a dam to keep out salt water. Singapore is one of the pioneers of this relatively new technology. With two more dams under construction, the technique not only provides the city with fresh water but it also protects against flooding.
Branding recycled water
In 2001 Singapore's Public Utilities Agency (PUB) also took charge of drainage systems, and this resulted in a more integrated management of water. In 2002, the city opened its first production plant for recycled water, which currently provides 30% of the city's water supply (see also
Stockholm
). Singapore has developed a new technique for recycling wastewater: a four-stage treatment process (conventional treatment, micro-filtration, reverse osmosis and UV treatment), branded NEWater. This water is drinkable, and is distributed to the city's drinking water reservoirs, but most of it is utilised in industry. Today Singapore has five NEWater plants. A deep, 50-km pump-free sewage system is under construction to provide these five plants with wastewater.
Desalination and spillage
In 2005 Singapore opened its first desalination plant, which is one of the largest in the world and provides 10% of the city's water supply. The city's long-term goal is to multiply the production of desalinated water, and a tendering process is under way for another plant of twice the capacity. Experts say that Singapore is evolving into a hub for science and technology regarding water recycling and desalination. Singapore is already contributing expertise and technology to large water projects in China.
Singapore's public utilities agency has also been industrious on the consumption side. With campaigns and economic incentives per capita water consumption is continuously being reduced and is now down to 155 litres per person per day. The 5% loss through water spillage is among the lowest in the world (see also
New York
). Despite all the investment in water and in spite of taxes, prices are very low compared with Germany and other European countries, for example.
Sustainable water management
It is the goal of Singapore to become self-sufficient, with 40% of water from recycling, 30% from desalination, and 20% from rainwater collection. Well on the way to achieving this goal, the city has now broadened its views on water management with an ambitious plan for sustainable water management called ABC Waters (Active, Beautiful, Clean), from 2006. The vision is to integrate water management more closely with the urban environment, and the plan includes more than 100 projects for the next 10 years. One example is the Marina Bay, which in addition to providing fresh water, also functions as a green area for recreational activities.
In 2007 Singapore's public utilities agency PUB received the prestigious Stockholm Industry Water Award for its "holistic approach to water resources management which made water use sustainable for different sectors of society in a unique and challenging urban island environment".
References
Singapore's Public Utilities Agency (PUB), http://www.pub.gov.sg/Pages/default.aspx

Stockholm International Water Institute (SIWI), Prizes and Awards, PUB Singapore, http://www.siwi.org/sa/node.asp?node=83

"Singapore: Active living with clean water", Sustainable Cities, http://sustainablecities.dk/en/city-projects/cases/singapore-active-living-with-clean-water

"Water supply and sanitation in Singapore", Wikipedia, http://en.wikipedia.org/wiki/Water_supply_and_sanitation_in_Singapore

Key data are retrieved from the UN World Urbanization Prospects: The 2011 Revision, http://esa.un.org/unup/unup/index_panel2.html


Text by: Martin Jacobson