Posted on 01 March 2012
From wine country to eco hub 
From wine country to eco hub
Sonoma Mountain Village is the largest approved One Planet Community project to reach the construction phase. Two solar power plants, of more than 1 MW each, will help provide 5,000 people there with green energy. The ecological footprint is expected to be reduced by 80% compared to the average US residential area. Developed in the spirit of new urbanism, Sonoma Mountain Village has also become a new hub for green technology.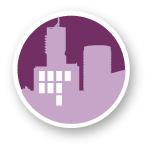 Keywords: Sonoma, One Planet Living, housing, solar power, new urbanism
With a population of almost 0.5 million, Sonoma County, just north of San Francisco, is mostly known for its wine production. It also has a history of nature conservation and environmental activism (see also
San Francisco
). Twice, voters have endorsed public purchase of land to protect forests, coastlines, and open areas. In 2002 a local NGO Sustainable Sonoma County made one of the world's first estimates of a regional ecological footprint (see also
Calgary
). In its campaign, "Time to Lighten Up", the NGO got all Sonoma municipalities to sign onto ICLEI's Cities for Climate Protection campaign, including a commitment to reduce carbon dioxide emissions by 20%.
Footprint reduced by 80%
In Sonoma Mountain Village (SOMO), the developer Codding Enterprises is building a city district with about 80% lower ecological footprint than the average US residential area. The $1 billion project is a redevelopment of an industrial site of 200 acres in the Rohnert Park municipality (41,000 residents). It will provide some 2,000 dwellings and 77,000 sq m of office space (see also
Malmö
).
The project was one of four that had been fully endorsed as a One Planet Community by the British entrepreneurial charity BioRegional as of mid-2011. This means that a project is committed to the 10 principles of One Planet Living: zero carbon, zero waste, sustainable transport, local and sustainable materials, local and sustainable food, sustainable water, natural habitats and wildlife, culture and heritage, equity and fair trade, health and happiness (see also
Masdar
,
Mata de Sesimbra
and
Sutton
).
Renewable energy sources
All of SOMO's energy needs will come from local renewable sources. A 1.14 MW solar power plant of 7,710 sq m, with a capacity to power 1,000 homes, is already built, and another 1.18 MW plant is soon to be completed. Compared to US averages, carbon dioxide emissions from transport will be reduced by 82%, water consumption by 65%, and local food production will cover 65% of consumption needs.
Among the strategies to achieve these ambitious goals are a comprehensive plan in the spirit of new urbanism, with walking distances to shops and workplaces, a year-round locally sourced food market in the square, the use of non-drinkable water for toilet flushing and irrigation, and integration with public transport.
This integration will become a reality with SMART: Sonoma-Marin Area Rail Transit. This is a 110 km rail link being developed by Sonoma, in collaboration with Marin County – something of a revolution in an area where the highway has long been the only travel option. SMART is planned to be the backbone of a public transport system of the future, with buses, ferries, trams, and bicycle lanes.
Innovation hub for cleantech
Sonoma Mountain Village has attracted so much business that it already is Rohnert Park's largest employer with more than 1,100 employees. This includes the Sonoma Mountain Business Cluster, a centre for green technology where some 20 young, sustainability-oriented enterprises are active. In 2010 SOMO was appointed by the state authorities as one of six Innovation hubs in California.
Overall, the SOMO project aims to create more than 4,400 new jobs. This is considerably more than a replacement of the 2,500 jobs lost when the industrial area's main employer closed its operations. The area will also contain a fixed proportion of affordable homes, to prevent SOMO turning into a residential area only for the rich.
References
"Sonoma Mountain Village, USA: An Endorsed One Planet Community", One Planet Communities, BioRegional, http://www.oneplanetcommunities.org/communities/endorsed-communities/sonoma-mountain-village/

First image http://www.bioregional.com/

Sonoma Mountain Village, http://www.sonomamountainvillage.com/

Sonoma-Marin Area Rail Transit (SMART), http://www.sonomamarintrain.org/

Skaidra Smith-Heisters, "What Exactly Is One Planet Living?", Reason Foundation, June 10 2008, http://reason.org/news/show/what-exactly-is-one-planet-liv

Loralee Stevens, "Business Cluster named one of six iHub job centers", North Bay Business Journal, February 22 2010, http://www.northbaybusinessjournal.com/18626/sonoma-mountain-business-cluster-sonoma-mountain-village-california-business-transportation-and-housing-agency-innovation-hub-ihub-michael-newell-eloisa-klementich-sonoma-state-university-san/?tc=ar


Text by: Martin Jacobson