The WWF-Zimbabwe Country Office with financial support from the European Commission (EC) is implementing a four and a half year bioenergy project entitled, "Biofuels Policies and Practices for the Sustainable Socio-economic Development of Zimbabwe". The project is working with communities in Mutoko and Mudzi districts in the Mashonaland East province of Zimbabwe. Partners and associates on the project include; Environment Africa, University of Zimbabwe, Department of Research and Specialist Services, the Ministry of Energy and Power Development, the Ministry of Environment, Water and Climate, Mutoko Rural District Council and Mudzi Rural District Council.

Focal Areas


Climate Change
Sustainable livelihoods
Enhanced household energy security

Objectives
Create an enabling policy environment for biofuels investments in Zimbabwe
Enhance the knowledge base on jatropha feedstock production, processing, utilization and marketing and
Promote community based jatropha feedstock production, processing, utilization and marketing

Project components
The project has the following three closely inter-related components:
A Comprehensive National Biofuels Policy and Strategy Developed
Zimbabwe already has a National Energy Policy, which briefly touches on renewable energy and biofuels. However, a detailed biofuels policy is needed to ensure that future investments are sustainable. This project will assist the Government of Zimbabwe to come up with a comprehensive and stakeholder driven biofuels policy and strategy that incorporates four key pillars: environmental, economic, social and institutional.
Research and Development in Biofuels Production Facilitated
There is currently a very large knowledge gap on sustainable and cost effective biofuel feedstock production and processing. This is evident in feedstocks such as jatropha, a predominantly wild plant, and therefore its genetics and agronomic characteristics are little understood. This limited knowledge impacts negatively on the productivity and attractiveness of the plant. This project therefore seeks to increase the knowledge base and genetics of jatropha through on station and on-farm experimentation.
Community level production and utilization of biofuels facilitated
Biofuels are seen as a socio-economic tool for income generation. In Zimbabwe, a number of smallholder farmers in drought prone areas began growing the jatropha plant as a live fence as far back as 1980. However, limited knowledge and interest existed then to add value to the seeds that the plant produces. This has changed in recent years with some communities collecting the seeds and marketing them or processing them into oil, soap and other products. This project will therefore help smallholder farmers in Mutoko and Mudzi to realise more returns from jatropha through improved production techniques, value addition and marketing.
 Members of an Environment Action Group in Mudzi District extracting oil on a manual press from Jatropha seeds
School Research Nursery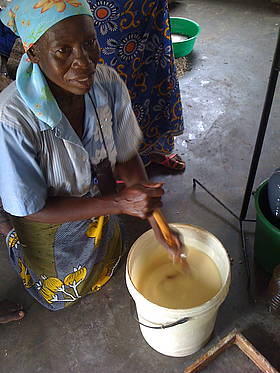 A member of an Environment Action Group in Mudzi District making soap from Jatropha oil