© WWF
Keeping landscapes of Armenia clean is vitally important to the protection of our wildlife and ecosystems, which was why WWF Armenia chose to join "Let's do it Armenia!" cleanup event held on September 15, 2012. It is a collective day-long effort aimed at removing and preventing the occurrence of waste in and around Armenia's cultural landscapes and monuments of nature. It unites and carries out the biggest PanArmenian volunteer initiative under the slogan "Armenia without waste". The event, coordinated by "Young Biologists Association" NGO of Armenia is part of an international campaign that started in 2008 in Estonia and now operates in over 85 countries.

The flagship experience brought together a number of local and international NGOs in Armenia, State organizations, private businesses, communities, schools, Embassies and other actors across the country with groups of volunteers also benefiting through an increase in public awareness and civic education. Around 2,600 people participated in the cleaning works, inclusive of 40 organizations and 400 employees thereof.

WWF Armenia staff members, along with local schoolchildren were engaged in cleaning up waste sites in "Lake Arpi" National Park and its Buffer Zone with participation of up to 5 neighboring rural communities, this being in Shirak region. In the meantime, planned "Gnishik" Protected Area encouraged participation of 3 neighboring rural communities in Vayots Dzor region in close cooperation with "Arpi" State Historical and Cultural Reserve. There were about 140 partakers in those two areas as coordinated by WWF Armenia, who collected up to 500 bags of waste.

With the consumer waste being recycled on the day, schools and other communities also learnt about the link between recycling and climate change (one of the biggest issues facing the world today).

Withal, they accept now "coming together is a beginning, keeping together is a process, and working together is success" (Henry Ford).


© WWF Armenia
Collected Garbage by Schoolchildren
© WWF Armenia
Cleaning Upi Gorge in Noravank Area
© WWF Armenia
Cleaning Participants in Noravank Area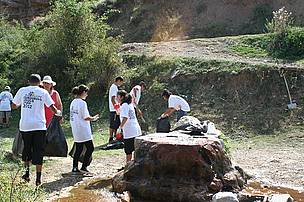 © WWF Armenia
Cleaning "Gravi" Water Spring area
© WWF Armenia
Schoolchildren are cleaning "Lake Arpi" National Park area