World Pioneer On The Horizon
Belo Horizonte, Brazil, is well on its way to becoming the next Latin American urban sustainability success story. The city has launched an
ambitious Greenhouse Gas Reduction Plan for 2030
with a number of innovative actions, including mandates to the private sector for energy efficiency and solar water heating. Another highlight is MOVE, a new high quality BRT system already capable of transporting 700,000 passengers on a daily basis.


Energy efficiency – Top of a busy urban agenda
Belo Horizonte is Brazil's third largest metropolitan area with 6.3 million inhabitants. Outstanding for its ambition in any global city, let alone in Brazil, its plan for 2030 is a broad sustainability program with 40 major projects and over 500 actions. For example, Belo Horizonte's innovative energy efficiency program mandates the private sector to dedicate 1% of their net operating income for energy efficiency measures and research. The city has also launched a program that provides certificates to public and private companies that have taken actions to reduce emissions and energy and water consumption, especially in buildings. Furthermore, it has switched all public lighting to efficient sodium vapor lighting, and changed all traffic lights to safer, more efficient LED lights.
Belo Horizonte is also prioritizing renewables. One reason for the relatively low carbon dioxide emissions is that 94% of the city´s electricity is generated from hydropower. Electricity is also generated from biogas from closed landfills and wastewater treatment plants. In addition to this, Belo Horizonte is widely considered as the solar energy capital of Brazil with its almost 3,000 installations of solar water heaters in residential buildings, more than 10 times the national average per capita (see also Cape Town). Belo Horizonte will likely retain this solar leadership due to a new mandatory solar water heating bill for all new constructions, in addition to the rooftop solar panels set up on the 2014 World Cup stadium.

MOVE – new bus rapid transit
One of the first steps of mayor Marcio Lacerda after he was elected in 2009 was to give top priority to the development of a new, high-quality Bus Rapid Transit-system, starting on a similar path as Peñalosa 15 years ago in Bogotá. The first phase of the network, called MOVE – two corridors, for a total of 38 kilometers – was opened in time for the football World Cup in 2014. The new corridors have the ability to transport 700,000 passengers daily, reducing travel times by up to 50%. This capacity makes Belo Horizonte's one of the largest BRT systems in the world, together with those in Bogotá, Curitiba, Mexico City and Guangzhou. Belo Horizonte's system follows best practices in BRT design by including centre-aligned stations, off-board fare collection, and integrated intermodal connections. It was designed in cooperation with the Institute for Transportation & Development Policy (ITDP), an NGO that works with cities worldwide to bring about transport solutions that cut greenhouse gas emissions, reduce poverty, and improve the quality of urban life.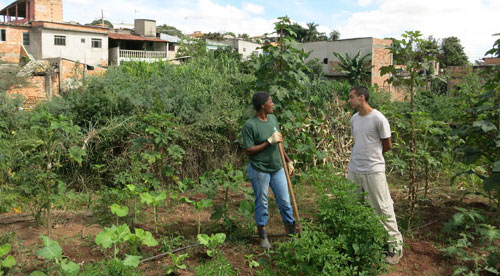 © fao.org
Belo Horizonte won the global 2015 Sustainable Transport Award, organised by ITDP, together with Rio de Janeiro and São Paolo. In addition to MOVE, Belo Horizonte has developed the Sustainable Urban Mobility Plan, which includes non-motorized modes of transport, parking restrictions, and promotes transit oriented development. The city is building new bicycle lanes, and plans to increase the cycle network from 70 km to 360 km in the coming years. It has invested in a bicycle share system with 34 stations, 340 bicycles and 10,000 members. And Belo Horizonte has started to pedestrianize streets in the historic centre.
'The City That Ended Hunger'
Belo Horizonte has become known worldwide as "the city that ended hunger". In 1993, it launched so-called Food Security System (FSS), co-ordinated by a Secretariat for Food and Nutrition Security (SMASAN) that almost eliminated hunger, reduced poverty, created price stability, generated rural sustainability and a thriving urban agriculture sector. The reforms also addressed a range of other social issues, including resilience of poor neighborhoods to flooding and landslides, and urban and environmental renewal in slums.
As with many other sustainability success stories – Freiburg, Vancouver, Copenhagen – green development in Belo Horizonte has its origins in a grassroots movement that in the 1990s kick started democratic and social programs in the city. In 1993, following the rise of the Brazilian Movement for Ethics in Politics and Citizenship Action against Hunger, Poverty and for Life, the new mayor of Belo Horizonte, Patrus Ananias, declared that food was a right of citizenship and it was the duty of the government to guarantee this right, and created the Food Security System and SMASAN.
Here are some of the System's highlights:
The city subsidizes food sales in certain popular restaurants serving nutritious food to all at low prices, and catering directly to poor neighborhoods through food vans.
The city supplies food directly to public schools and daycare centers, health clinics, nursing homes, homeless shelters, and other charitable institutions, with a special program for nutritious supplements to families, whose children show signs of malnutrition. The city has also created food banks to collect and distribute excess fresh fruit and vegetables from markets and stores.
Food markets are regulated and the city has introduced food outlets, which are licensed to private operators under the agreement that a selection of 25 quality-controlled products are sold at set prices – about 20–50 % below market price. The city has facilitated direct trade between local producers and consumers at fixed sale points throughout the city with regulated quality and prices. It has also organized dozens of farmers markets, and keeps the public informed on the lowest prices of a list of 45 basic household items.
The city´s support of urban agriculture has led to the establishment of over a hundred community and school gardens.
As a result of these policies (which cost the city less than 2% of its budget) Belo Horizonte has almost eliminated hunger, reduced poverty, created price stability, and generated rural sustainability and a thriving urban and local agriculture sector (see also Lubumbashi). Within 10 years of the launch of the program, child mortality was reduced by 60%, child hospitalization for malnutrition by 75% and poverty by 25%, while 700,000 farmers had access to credit for the first time in their lives, leading Belo Horizonte to become known as "the city that ended hunger."

Want to know more about Urban solutions?
Contact Barbara Evaeus
Global Communications Manager,
WWF One Planet City Challenge
+46 70 393 9030
barbara.evaeus@wwf.se
Comment and ask your questions about Urban solutions
Text by: Martin Jacobson
Last edited: 2017-03-15