© Hector Argüello Canals / Unsplash (CC0)
One Planet City Challenge
Climate change - a crisis cities can solve
To come on board for the 2023-24 One Planet City Challenge, either log into the CDP-ICLEI Track (opens April 3, 2023) and click to join the OPCC; speak to your local WWF office; or contact us at opcc@wwf.se. The reporting deadline is August 31, 2023.
The climate crisis is the defining issue of our time and what we do today will help determine a safer future for everyone. It's a planetary emergency where local action is crucial.
The One Planet City Challenge is our invitation to cities to stand up and be counted in the global action against climate change. Show the world what your city can do to help solve the crisis.
Our challenge is open to every local government on the planet, provided that they transparently report their climate work on a standardized international platform.
As a participant we will guide you towards science-based climate action, and shine the light on those of you that are frontrunners in your field. You will have ample opportunities for exchange, learning and recognition along the way.
Ultimately, we believe that we are united by the same goal – to create cities that enable people to thrive in balance with nature now and in the future. Read more.
Cities drive global GDP and generate the majority of the world's carbon emissions. Cities are also the place where the rubber meets the road when it comes to climate action. When urban citizens want action, it is usually their locally elected officials they turn to first – city officials have both the mandate and the influence to answer the call for climate action
Cities are where multiple, interlinked issues come into play, and where climate change solutions can be tried and tested. Cities can provide the world with much needed hope, ingenuity, and creativity.
Enhance your reputation
Best-performing cities are put forward to an international jury of experts that chooses national and global winners according to criteria set by the OPCC based on the latest science.
© WWF Cities
Strengthen your climate work
Finalist cities can participate in WWF's international social media enabled public engagement campaign We Love Cities. In 2022 We Love Cities reached over 400 million globally and garnered over 1.3 million votes.
© Jasper Doest / WWF
Be part of a global community
Participating cities can access capacity-building webinars organized by WWF along with specific local programs and events run by local WWF offices – building their network and strengthening their work through peer exchange.
© WWF Cities
Strengthen your climate work
Each participant receives a Strategic Feedback report with the results of our assessment. This includes information on whether submitted targets align with the Paris Agreement goal of limiting global warming to a maximum of 1.5°C. We do this based on data from IPCC's Special Report on Global Warming of 1.5 °C (2018).
© Shutterstock / Creativa Images / WWF
Enhance your reputation.
National and global frontrunners are rewarded with public recognition and helped to promote their actions and plans to their citizens.
© WWF Cities
Strengthen your climate work
We review whether the climate action plans are well-balanced towards the 1.5 °C goal, and provide high level guidance on the most effective actions to meet such targets – helping cities translate the IPCC findings to their context.
© Free Photos / Pixabay (CC0)
Be part of a global community
Participating cities can join hundreds of other cities and be counted in the global climate arena – becoming part of the call for science-based climate action. Inspire other cities to act through your participation!
© Ola Jennersten / WWF-Sweden
Support in setting science-based targets that reflect Paris Agreement goals.
Customized feedback report on each city's alignment with the Paris Agreement and assessment of their climate work including:

Support in understanding and structuring your overall climate performance
Guidance on science-based targets

Collaboration with leading city networks including the Global Covenant of Mayors, ICLEI, C40 and CDP.
Recognition of achievements on WWF and partners' communications channels.
All OPCC finalists are invited to participate in the We Love Cities public engagement campaign.
Toolbox with guidance on design of a climate action package and educational materials aimed at increasing public participation and involvement.
Opportunity to tap into available WWF programs on capacity-building, urban nature-based solutions, transport, waste, food and more.
© Chuttersnap / Unsplash (CC0)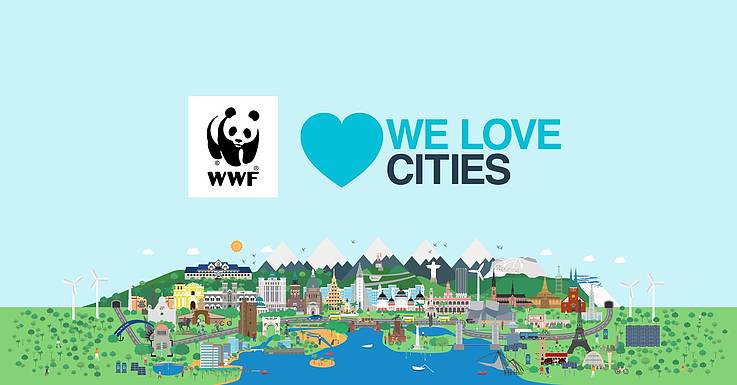 © WWF
© NeONBRAND / Unsplash (CC0)
Join the movement and inspire the world!
Email us at opcc@wwf.se for instructions on how to participate in the OPCC.
Join OPCC
Explore Our Other Projects
Program Coordinator, One Planet City Challenge, WWF Cities
Global Communications Manager, One Planet City Challenge, WWF Cities