Glass Frogs
The glass frog has translucent skin. If you are lucky enough to find one, you will see its internal organs, including its heart, liver, stomach, and intestines.
Why are Glass Frogs in danger?
This frog, like many other animals, is faced with the loss of its habitat due to deforestation and the growing cultivation of crops and livestock.
JABIRU BIRDS
The jabiru is the largest flying bird in Central and South America. You can easily recognize the jabiru by its large beak, red neck, and white feathers.
Why are Jabiru Birds in danger?
The rapid transformation of the wetlands threatens their survival, a situation even more serious due to their low reproduction rate. The jabiru lays only two eggs per year.
MONARCH BUTTERFLIES
At the end of summer in North America, millions of monarch butterflies migrate from Canada and the United States to the temperate forests of Mexico where they hibernate for winter at the Monarch Butterfly Biosphere Reserve.
Why are Monarchs in danger?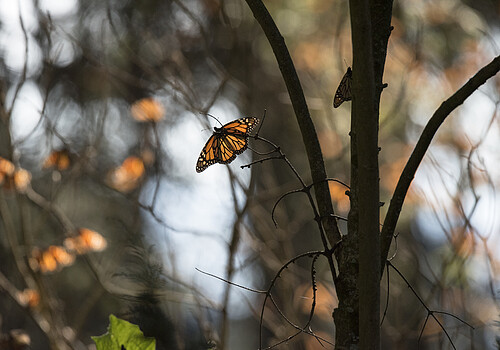 The use of herbicides and pesticides in the United States along its migratory route has depleted Milkweeds, the only plant where monarchs lay their eggs and where caterpillars (baby monarchs) feed from. In Mexico, they are faced with the cutting down of trees in the forests where they spend the winter.
BLACK JAGUARS
The jaguar is the largest feline in the Americas and is only surpassed in size by the lion and the tiger. It has the most powerful bite of all of the big cats and is a very skilled and effective solitary hunter.
Why are Black Jaguars in danger?
Deforestation, the fragmentation of their habitat, conflicts with humans, hunting, and the illegal wildlife markets are the main threats that the jaguar faces. These actions have caused a considerable decrease in their habitats, their populations, and their prey.
COATIS
There are two species: the ring-tailed coati and the white-nosed coati. Thanks to its strong claws, the coati can climb and sleep high in the tallest part of the trees as well as dig into logs for food. Its flexible joints allow them to easily climb trees.
Why are Coati's in danger?
Poaching and illegal trade of the coati threaten its survival. The coati is considered an invasive species, as it has been introduced in countries other than its natural habitat.
QUETZAL BIRDS
The quetzal's coloration changes depending on the quantity and quality of light. Sometimes it can look reddish or blue, other times blueish green, yellow, and even violet.
Why are Quetzal Birds in danger?
Deforestation and climate change threaten their survival, since they only live in well conserved places. Their great beauty falls victim to illegal wildlife markets to be sold in different countries or with false papers.
CORAL SNAKES
In the Americas, there are more than 60 species of coral snakes with the genus Micrurus, popularly known as corals. They are famous for their beautiful tri-color skin which is believed to serve as a warning to its predators.
Why are Coral Snakes in danger?
As a venomous snake, it is highly targeted by people who, in fear of being attacked, kill it. Additionally, the coral snake faces degradation of the forests where it lives, which affects its population.
ANACONDAS
Anacondas are experts in ambushing to catch their prey! There are two types of species that exist: the green, or common anaconda and the yellow anaconda. They can measure between 5 and 7 meters long, weighing up to 95 kg.
Why are Anacondas in danger?
The destruction of its habitat, the hunting by humans who consider them a risk for domestic livestock, and the capturing of these animals for the illegal wildlife markets represent huge threats to the anaconda's survival.
TAMARIN MONKEYS
Emperor tamarin monkeys are a very graceful, friendly, and playful species of monkeys. They love to jump and move through the trees with quick and sudden movements.
Why are Tamarin Monkeys in danger?
The main reason that they are in danger is due to the destruction of habitat. Although the emperor tamarin tends to reside in remote areas, its spaces are increasingly surrounded by humans with the construction of highways and deforestation for the raising of livestock.
AXOLOTLS
The Axolotl is considered to be one of the most fascinating species on the planet. It retains the characteristics of a larva, or baby, when it has become an adult. It's like a giant tadpole! The axolotl spends its entire life in water and can live up to 15 years old and measure 30cm.
Why are Axolotls in danger?
The axolotl faces multiple threats, such as the loss of habitat that has been fragmented or disappeared due to the growth of Mexico City. The waters in which it lives are contaminated by human waste, the use of fertilizers, and invasive species that consume its resources.
TAPIR
The tapir is the largest land mammal in South America. They are herbivorous animals, but their digestive systems are not very efficient, so they spend a good part of the day eating and chewing herbs, fruits, and seeds to obtain the energy that they need.
Why are Tapir in danger?
Illegal hunting, habitat loss, and unusual dry seasons threaten their survival.
ARMADILLOS
There are more than 20 species of armadillos! Most can curl into a ball when they feel threatened. Their body is covered with a bony armor made up of discs, or plates, that serve as protective shields in moments of danger.
Why are Armadillos in danger?
Almost all species of armadillos are threatened, with the main cause being hunting for their meat and the use of their parts by beliefs and superstitions associated with certain cultures.
HUMMINGBIRDS
Hummingbirds are a large family, with more than 320 species, and not all of them are miniature. There is a giant hummingbird that can measure up to 18 cm and exists in several countries throughout South America.
Why are Hummingbirds in danger?
Logging and the breaking up of forests where the hummingbirds live are the main threats for this animal.
CHARAPA TURTLES
Being the largest river turtle in all of South America, its shell can measure up to one meter long! Charapa Turtles are very peculiar because they don't retract their necks, like most turtles do.
Why are Charapa Turtles in danger?
In Colombia, they are considered endangered. Their populations are considerably decreasing due to the hunting and illegal trade of its meat and eggs. River contamination also poses a huge threat.
OCELOTS
The ocelot belongs to a group of spotted wild cats in the Americas. They weigh around 11 kg and can live up to 10 years in the wild. They are usually active during twilight, hunting from night fall until sunrise.
Why are Ocelots in danger?
Loss and fragmentation of habitat due to the development of agriculture, livestock, and infrastructures as well as the act of poaching are the main threats that the ocelot faces.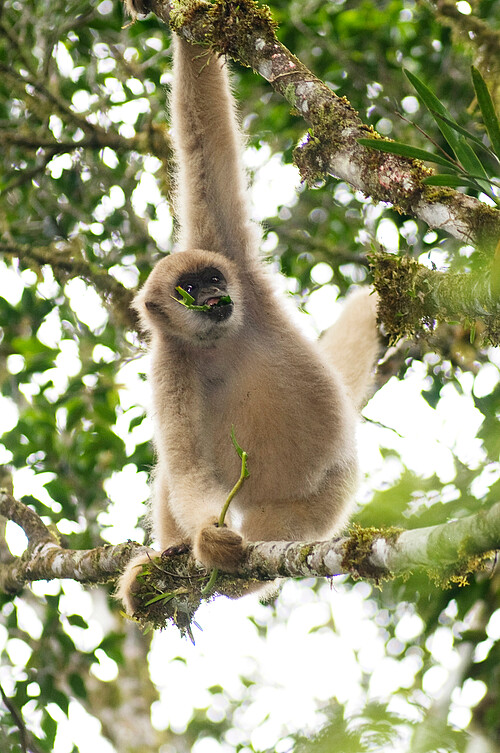 SPIDER MONKEYS
Spider monkeys are the best acrobats of the tropical forests! They are known as spider monkeys because of the extension of their limbs. Their tail is prehensile, meaning that it can grasp and take hold, and is used as an extra hand.
Why are Spider Monkeys in danger?
In the last 45 years, their population has declined 50%. Deforestation, as well as illegal capturing and hunting, pose a great threat.
GREEN IGUANAS
The green iguana is a large lizard that likes to live in the trees. It can measure up to 2 meters and has an extremely long tail that is about three times the length of its body! When they are scared, they usually freeze or hide.
Why are Green Iguanas in danger?
The green iguana is a good indicator of the health of its environment, since it is so sensitive to changes in its habitat. It faces destruction of its habitat for the use of cattle grazing. In some countries, iguanas are raised for their meat and skin as well as sold as pets.

Learn about the environments
TEPUIS
These gigantic landforms are made of various types of rocks and can exceed 2,000 meters in height. They are over 2.4 billion years old, from a time when present-day South America and Africa formed a supercontinent. These are the most ancient rocky formations of the continent.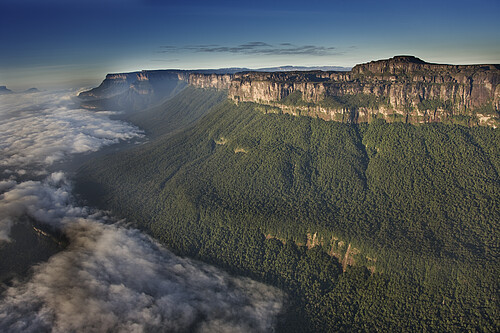 In Venezuela you can find the tallest tepui in the world - the mountain, or tepui, Roraima at 2,810 meters tall. In Colombia, you can find tepuis in the Chiribiquete National Park, located in the heart of the Colombian Amazon. There, they emerge from the plains and the humid forests, reaching 900 meters in height.
The Amazon
This is the largest tropical forest in the world and can be found in South America. The Amazon is a shared region between nine countries: Brazil, Bolivia, Peru, Colombia, Ecuador, Venezuela, Guyana, Suriname, and French Guiana.
Its size exceeds that of India, one of the largest countries in the world, with an area of 6.7 million km2. The Amazon is also home to 35 million people, with over 2.6 million being indigenous.
TEMPERATE FORESTS
The temperate forests, where the monarch butterfly takes shelter during the winter, are integrated with fir trees and mixed with cedar, pine, and oak trees.
All of these trees generate a special microclimate that the butterflies need to hibernate. They are located in the center of Mexico between 2,400 and 3,600 meters above sea level.
CENOTES
The word "cenote" comes from the Mayan word "ts'ono'ot" which means cavity of water. They are a particular type of water reservoir that are distinguished by their underground spaces that open to the outside by some degree.
The most famous cenotes in the world are located on the peninsula of Yucatan in southeast Mexico and in the northern parts of Guatemala and Belize. The cenotes are threatened by the expansion of human settlement, industrial expansion, deforestation, and the contamination of organic materials from pesticides and heavy metals.
IGUAZU FALLS
They are the biggest waterfalls in the world! They were formed millions of years ago as a result of a volcanic eruption and the gradual movement of tectonic plates.
Their height varies between 60 to 82 meters, with the tallest part known as the Devil's Throat. You can find Iguazu Falls in the Iguazu National Park, a protected area in Argentina, and in the state of Parana in Brazil.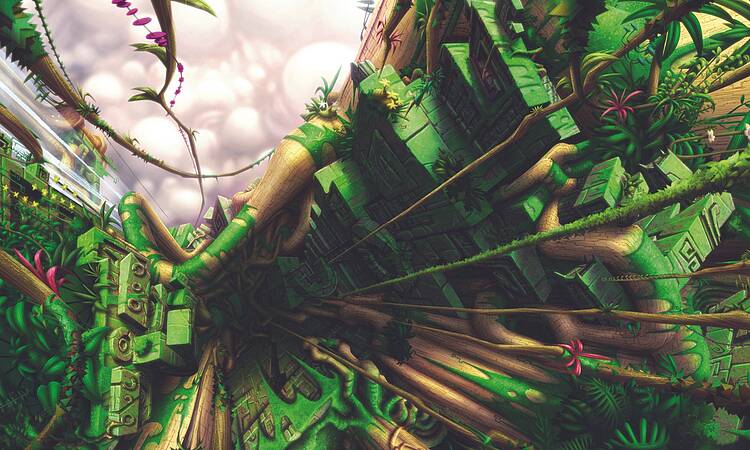 WWF & KOATI
WWF partnered in 2021 with KOATI in a united effort to develop and create a comprehensive and powerful communication and education strategy to promote more sustainable lifestyles.

As conservation partner, WWF supported the KOATI team with the development of various educational products to help raise awareness about the relevance of nature.
Together we can save nature
WWF joined forces with the team and cast of the much-anticipated animated comedy film 'KOATÍ' to bring to light one of the most biodiverse regions in the world, Latin America.

WWF & KOATI encourage the world to deepen its relationship with nature and prioritize and safeguard our beautiful planet and the people and animals that live on it. Human and planetary health are interconnected, we need to raise awareness, inspire action and connect with environmental issues. We all can do our part to save our collective home: Planet Earth.
Find out what you can do
We can all play our part and help our planet. Together we can save nature, and in turn we will discover that nature will save us
© Court Whelan/Natural Habitat Adventures
Featuring a family of exotic creatures from the Latin American rainforests in their biggest adventure ever, to discover that anyone can be the hero of their own story.
Koati™ is an animated film starring three unlikely heroes: Nachi™, a free-spirited coati; Xochi™, a fearless monarch butterfly; and Pako™, a hyperactive glass frog, who embark on an exciting journey to prevent a wicked coral snake named Zaina™ from destroying their land of Xo.