© Shutterstock / COULANGES / WWF-Sweden
Friends and colleagues,
This new month is marked by big achievements, positive events, unfortunate news, challenges ahead and ambitious paths, on which we have already taken our first steps. And that is how we work, moving forward and building the environmental balance that future generations deserve.
Regarding work in the Oceans Practice, the Smart Coasts Project, focused on ecosystem-based adaptation in the Mesoamerican Reef System, continues to be carried out virtually. On the other hand, the new regional initiative "Pacific Blue Corridor", led by WWF-Chile, seeks to identify and conserve the habitat of migratory whales from Central America to Antarctica.
In relation to Wildlife, scientists from the South American River Dolphin Initiative (SARDI) launched a platform with previously unreleased information to support river dolphin conservation. Additionally, Argentina was part of the Great South Bio Search, a regional citizen science event, that was organized locally by the Argentine Museum of Natural Sciences and Fundación Vida Silvestre.
In the Forests Practice, the Chingaza National Natural Park in Colombia was included in the IUCN Green List. By contrast, the Government of Bolivia declared a state of National Disaster due to fires and droughts that have affected various regions within the country.
The Food Practice also had various highlights, such as with WWF-Ecuador, which started its work with the San Francisco de Quito University and a group of leading companies in the "Ecuador Without Residues" project. On another note, WWF-Mexico participated in an international discussion regarding the importance of food systems' role in biodiversity conservation during a virtual World Food Day summit organized by the United Nations.
Lastly, in Governance, several NGOs, including WWF-Ecuador, issued a statement on the institutional situation of the Ministry of Environment and Water of Ecuador. On the other hand, WWF, Fundación Gabo, and WCS joined forces to train journalists in the coverage of wildlife and timber trafficking. Finally, WWF-Paraguay presented the Living Planet Report at the digital event "Plan V, a green world".
Enjoy this new edition,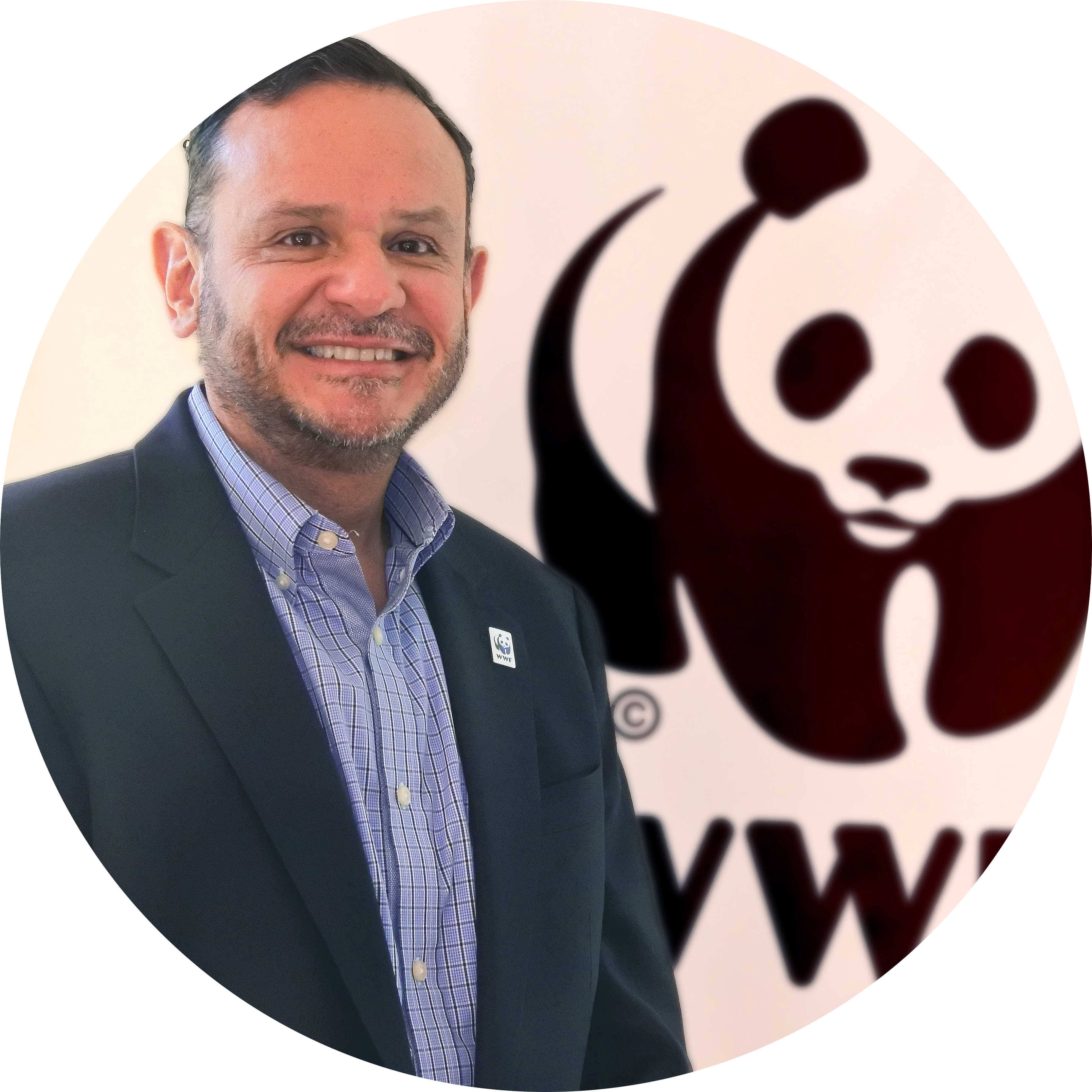 Roberto Troya
Vice president & Regional Director
Smart Coasts project progresses despite COVID-19 challenges
Despite challenges due to the COVID-19 pandemic, the Smart Coasts regional project which is carried out in the countries that share the Mesoamerican Reef System, continues. The initiative seeks to support and implement ecosystem-based adaptation measures, from scientific data and analysis, in marine protected areas inside the coastal areas of the system.
New WWF regional initiative to identify and conserve oceanic Blue Corridors in Latin America
Through a regional effort called the Pacific Blue Corridor, WWF offices in Latin America - led by WWF-Chile - will work with scientists, civil society, fisheries and national governments to identify priority areas for conservation and solutions for migratory whales whose critical habitats are in the waters of Central America, Colombia, Chile, Ecuador, Mexico, Peru and Antarctica. The project will focus first on blue and humpback whale habitats, connecting all countries in the Eastern Pacific to mitigate and control growing transboundary threats.
SARDI scientists launched a platform to conserve river dolphins
The culmination of 20 years of scientific work in six countries, which focused on the conservation of South American river dolphins, is now available to everyone on the "River Dolphins" platform launched on October 24 during the International Freshwater Dolphin Day. The page is currently available in English and hosts key information as well as a story map in Spanish and Portuguese, to learn about the size of the current populations and determine if they increase or decrease; specific data on the genetics of each species and the threats they face in the different regions where they live. This data visualization tool is key for governments, companies and researchers to make better decisions when it comes to conserving these species and their habitats.
Great South Bio Search through ArgentiNat
Between September 25th and 28th, the Great South Bio Search was carried out. This is a global citizen science initiative held in several countries, from Ecuador to the South Pole. In Argentina, the event was organized by the Argentine Museum of Natural Sciences and FundaciónVida Silvestre. The objective was to identify and record observations of nature through the Argentine iNaturalist platform - ArgentiNat.org. Projects were created at national level in all provinces, with the participation of more than 450 people, 10,000 observations and the identification of 1,900 species.
Chingaza National Natural Park included on the IUCN Green List
This is a testament to the efforts that this protected area has made to work with public, private, academic and civil actors; to address threats and pressures to ecosystems and species, mainly in climate change scenarios; and to maintain a good conservation state. To achieve this inclusion on the list, WWF helped the Park's team to organize and to prepare technical information and went on the field trips in which experts from IUCN and EAGL evaluated the management, the relationships building process among stakeholders and conservation processes.
© WWF / Fundación Natura Bolivia
The Government of Bolivia declared a national disaster due to fires and droughts
Human action caused 79 active fires in 6 departments of Bolivia, putting nature at risk. On October 8, the Government of Bolivia declared a national disaster due to fires and droughts that affect different regions of the country. The heat sources during the week of October 15, have exceeded the average of this same period in 2019. Almost 30% of the fire outbreaks are within protected areas and at date October 14, the country was close to reaching a historical record of outbreaks, in relation to the last 10 years.
Ecuador Zero Waste Project
In Ecuador, 939,000 metric tons of food are wasted per year (FAO 2019), and not only food is wasted, also all the resources used to produce it. We are devouring our planet, which is why WWF-Ecuador decided to start its work with the San Francisco de Quito University and a group of leading companies participating in the "Ecuador Without Residues" initiative, to reduce food waste in pilot companies. The objective is to ensure that more and more companies are able to measure how much they waste and take the appropriate measures to make food production, processing and consumption more efficient.
WWF highlights connection between biodiversity and traditional cuisine
On October 16, WWF joined the 24-hour global stream during World Food Day, organized by the United Nations and Future Food Insititute. It included famous chefs, indigenous peoples, youth climate activists, small farmers and Heads of State. Among WWF's interventions, the ones from João Campari, Global Leader of the Food Practice, and the Mexican chef Ricardo Muñoz Zurita are highlighted. In the case of the latest, WWF worked with Zurita to highlight the relationship between biodiversity in Latin America, native cultures and the valuable regional cuisine, such as the Mexican one, which is recognized as Cultural Heritage of Humanity.
Without a strong environmental and water authority, there is no conservation
WWF-Ecuador joins the statement of leading environmental NGOs that work in the country, to express their concern about the current situation of the Ministry of Environment and Water, as the national authority for the protection and care of nature. In the letter, they request to channel sufficient resources so that the economic recovery of the country does not destroy nature, the most important heritage for Ecuadorians.
Gabo Foundation, WCS and WWF join forces to train journalists in the reporting of wildlife and timber trafficking
In order to continue promoting a journalism committed to the environment and conservation, the Gabo Foundation has joined forces with WCS (Wildlife Conservation Society) and WWF to carry out a series of free activities geared towards reporters and media in the Andean-Amazonian countries, with recognized figures of environmental journalism from the region.
Living Planet Report presented at the "Plan V, A Green World" event
WWF-Paraguay participated in the "Plan V, A Green World" digital event that promoted new and more sustainable economic models through talks, workshops, opportunities and networking spaces. The initiative also included the "Green Challenge", an innovation competition for entrepreneurs. Plan V was a collaborative space that reached more than 2,500 people and was presented by Koga, in conjunction with the European Union, WWF-Paraguay, the United Nations Development Program (UNDP) and COOPI. On this occasion, our Director Lucy Aquino presented the Living Planet Report 2020.
Facebook
+9,200 interactions (likes, reactions, comments and shares) generated by contents in Spanish at WWF International's Facebook.
+217K users reached.
Featured posts:
David Attenborough: A life in Our Planet
6,339 interactions
Stop Ghost Gear
2,754 interactions
Data: October 1-31, 2020 (Facebook Statistics)
Twitter
+210.4 K impressions and +3.5K engagements (1.2K retweets) in @WWF-LAC.
Featured tweets:
Positive Nature for 2030
131 retweets, 179 likes
David Attenborough: A Life in Our Planet
103 retweets, 148 likes
Data: October 1-31, 2020 (Twitter Analytics)