© Antonio Busiello / WWF-US
Friends and colleagues,
This month was marked by the important steps taken in conservation and sustainable development initiatives, as well as the preparation for the next climate summit. In addition, February saw a breakthrough in environmental action against plastic pollution.
In Oceans, two regional workshops on illegal fishing and conservation of migratory marine megafauna were carried out in Peru and Ecuador respectively.
Regarding Forests, WWF-Colombia promoted the campaign 'Protected Areas: Our Life Insurance', that shows the direct relationship between the daily life of Colombians and these areas. In addition, the Paraguayan Government presented monitoring data of land use change with the support of WWF. In addition, Fundación Vida Silvestre Argentina presented the documentary "Chaco Gualamba - the last opportunity" that shows the deforestation problem in the Argentinean Gran Chaco.
In relation to Climate and Energy, WWF-Bolivia presented its experience in the use of alternative energies.
As for the work in Education, WWF-Mexico opened its Listen To Me exhibit at the Museo Soumaya where hundreds of students from around the country showed 80 pieces made out of recycled materials as a part of the Nature in Your School program.
Finally, in Governance, WWF-Peru, in partnership with municipalities and government institutions, presented the First Report of Cities. And WWF celebrated the total ban of plastic bags in supermarkets and large stores in Chile, which makes it the first Latin American country to apply this law.
Enjoy this new edition,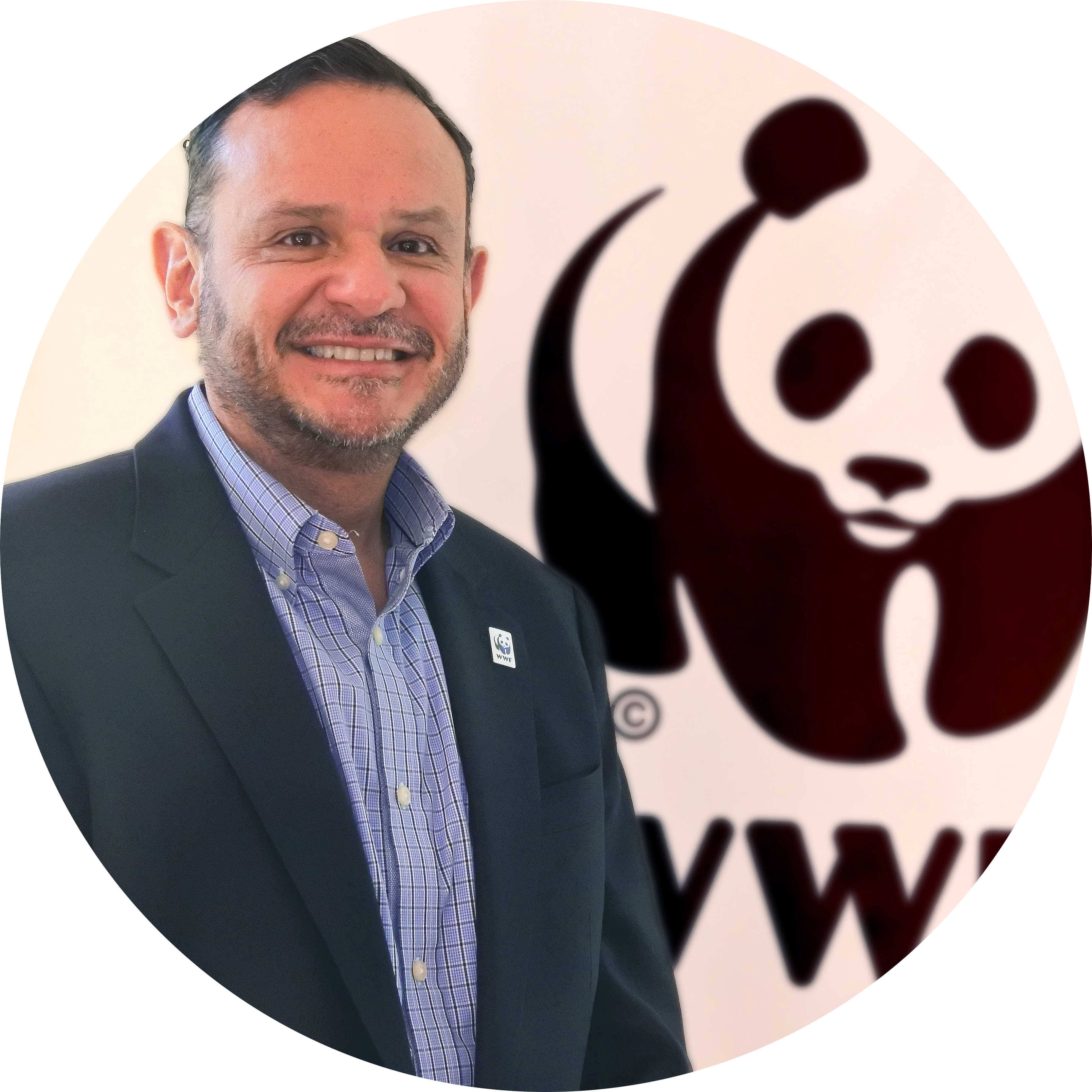 Roberto Troya
Vice president & Regional Director
© Naoyuki Yamagishi / WWF-Japan
Regional Climate and Energy experts analyze COP25 perspective
From February 12 to 14, the annual focal points meeting of the Climate and Energy Practice was held in Salvador de Bahía, Brazil, which was attended by representatives from Mexico, Colombia, Peru, Brazil, Chile and Argentina. During this meeting, advances in ACAIs were shared and key issues were discussed such as the New Deal for Nature and People and the policy strategy towards COP 25, that will take place this year in Santiago, Chile.
© Brian J. Skerry / National Geographic Stock / WWF
Experts meet in Lima to address illegal fishing in the region
Illegal, unreported and unregulated fishing is a serious threat to sustainable management of fishing resources. Because of this, the International Workshop on Traceability Systems for Fishing Resources in South America was held in Lima to optimize Fishery Management and combat IUU Fishing was held to generate opportunities to develop traceability systems for regional fishing resource management by exchanging experiences and best practices.
Experts Prepare Initiative for the Conservation of Migratory Marine Megafauna
The migratory marine megafauna extends from the Gulf of Alaska to the Patagonian Sea and integrates large marine ecosystems: the Eastern Pacific Ocean (OPO in Spanish). Experts met in Galapagos to discuss conservation opportunities while searching for a regional initiative. The current work of WWF offices at a national level already reports progress marine species conservation, the management of marine protected areas, fisheries, governance, among others.
Protected Areas: My Life Insurance
In Colombia there are more than 30 million hectares of protected areas in different conservation categories. Maintaining them is fundamental to human well-being. This is precisely the concept of the new WWF-Colombia campaign: 'Protected Areas: My Life Insurance', a digital communication strategy that shows the direct relationship between our daily lives and these areas that guarantee food, clean air, water and other benefits.
Paraguayan Government presents land use change monitoring data
The National Forestry Institute (INFONA) presented preliminary data regarding forest cover change. Those results were made possible through the application of an instrument that allows the detection of irregularities related to deforestation in Paraguay.
Cristina Goralewski, INFONA's president, highlighted the upcoming signing of an agreement with the World Resources Institute (WRI), with the support of WWF. This agreement will allow INFONA to verify and differentiate between legal and illegal deforestation.
"Chaco Gualamba – the last chance"
An online version of "Chaco Gualamba- la última oportunidad" is now available. The documentary, produced by Marcelo Viñas, Timbó Films and Fundación Vida Silvestre Argentina, shows the deforestation problem in the Argentinean Gran Chaco and its environmental, social and economic impacts. The documentary was presented in theaters in various key cities within the Chaco region and Buenos Aires, where more than 300 people attended.
WWF-Bolivia shares its experience with alternative energies
After the installation of 25 solar panels in its office in the city of Santa Cruz, private companies and other institutions attended to an informational meeting on WWF's experience with clean energies. The system, with a capacity of 8KW, has allowed the organization to reduce its energy consumption by 35% in almost a year.
© Alianza WWF - Fundación Telmex-Telcel
The Soumaya Museum Opens Humpback Whale Exhibit
The award-winning sculptor Sebastián, recipient of the National Fine Arts Prize, opened the Escúchame (Listen to Me) exhibit, which is made up of 80 works of art inspired by the humpback whale and created by middle school and high school students. The participants took part in the Nature in Your School program, established by the WWF-TELMEX Telcel Foundation Alliance, that has reached more than 60,000 students at 580 schools around the country with their lectures in the past five years.
First Cities of Peru Report is Published
The cities are home to 8 out of 10 Peruvians and produce over 60% of the national GDP. However, their management is far from ideal, as was stated by the experts behind "Cities of Peru," the first report of urban indicators led by WWF and PERIFERIA. According to the study, not even 1 in every 4 cities evaluated has all of the urban and land planning instruments required by regulations. The result is a spontaneous spatial growth that compromises soil and ecosystems.
WWF-Chile celebrates ban on plastic bags
The beginning of the total ban on the delivery of plastic bags in supermarkets and large stores, starting on Sunday, February 3, was celebrated by WWF-Chile as a great step forward to reduce pollution and move towards a more sustainable country.
With this law, Chile becomes the first Latin American country to prohibit the delivery of plastic bags, an achievement that was promoted by WWF since 2015 with its 'REDUCE+' campaign.
In the Social Media
··· WWF-LAC ···
Facebook
+14.277 interactions (Likes, reactions, comments and shares) generated by contents in Spanish in WWF International's Facebook.
+572K users reached.
Featured posts:
Big-headed Amazon River Turtle
3.272 interactions
Chile's plastic bags ban
2.210 interactions
Data: February 1 to 25, 2019 (Facebook Statistics)
Twitter
+152K impressions and +5,8K engagements (1,2K retweets) in @WWF-LAC.
Featured tweets:
International Day for the Protection of Bears
77 retweets, 123 likes
Valentine's Day
61 retweets, 109 likes
Data: February 1 to 25, 2019 (Twitter Analytics)