Friends and colleagues,
Climate change is the great challenge we face today and our efforts to mitigate and adapt to it will be key in the years to come. This month we celebrate great news, which will transform this future into a more resilient and sustainable one, in addition to other important regional news in the field of conservation:
In the Climate and Energy practice, Ecuador received financing of 117.6 million dollars from the Green Climate Fund to implement a comprehensive climate transformation program in the Galapagos that makes the islands self-sufficient and promotes low-carbon local livelihoods, thanks to the support of several institutions including WWF-Ecuador. Meanwhile, the global coordination of the Alliances for Climate Action (ACA) moved to the south, headed by Manuel Pulgar-Vidal of the Climate and Energy Practice and under the coordination of the director of WWF-Chile.
With regards to Forests, more than 200 livestock producers from Madre de Dios, in the Peruvian Amazon, were trained in agroecological practices through Farm Field Schools. Furthermore, in Paraguay, two indigenous communities carried out their first transaction under the payment for environmental services scheme.
In the Wildlife practice, Mexico is coming forward as a leader in white shark research.
With work in Governance, WWF-Colombia in alliance with Transforma and Gaia Amazonas, developed the "Guide for journalists to cover environmental issues during electoral times."
Lastly, in the field of education, in Bolivia, Scouts and WWF launched the Tribu Tierra initiative seeking to inspire more than 4,000 scouts to carry out actions for nature. Finally, educational booklets on Argentine ecoregions created by Fundación Vida Silvestre became part of the National Library of Teachers of the Ministry of Education of the Nation.
Enjoy this new edition,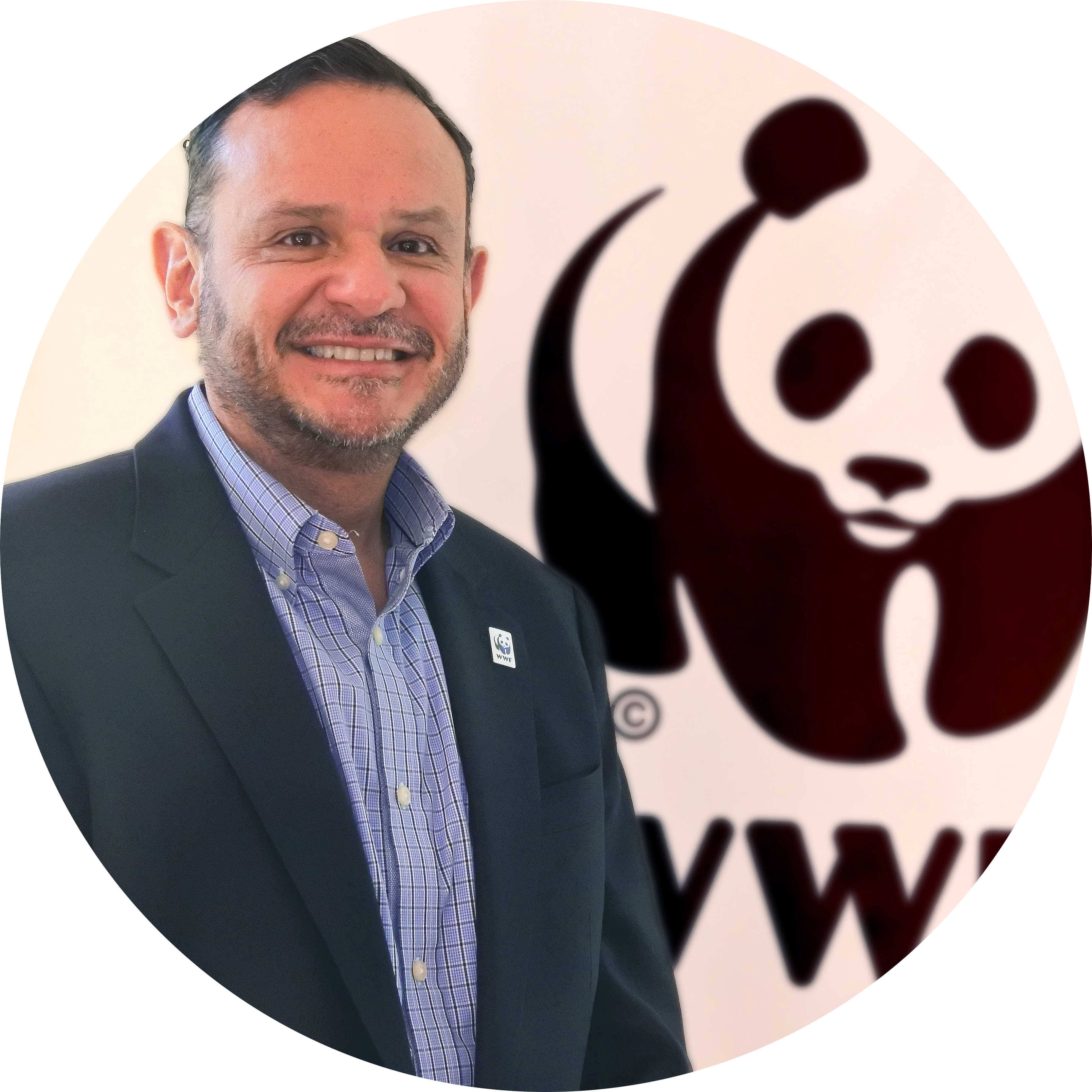 Roberto Troya
Senior Vice president & Regional Director
© Antonio Busiello / WWF-US
$117 million for climate transformation in Galapagos
The Green Climate Fund (GCF) board has approved the financing of USD 117,6 million for a climate-transforming action program in the Galapagos, a five-year initiative. This program seeks to catalyze a transformation towards a self-sustained system with low carbon emissions livelihoods model, and a greater capacity to adapt to climate change.
The program will be implemented by the CAF, and carried out by FAO and WWF-Ecuador under the coordination and leadership of the Ministry of Environment, Water and Ecological Transition and the Galapagos Special Regime Government Council. The program integrates a mitigation and adaptation approach and will focus on the energy, ecosystems, agriculture, fishing, and tourism sectors.
Global ACA Coordination Moves South
Alliances for Climate Action (ACA) is a network of national initiatives driven globally by WWF, in close collaboration with local and international institutions. It seeks to bring together private sector institutions, municipal and regional governments, academic institutions, civil society and others to more effectively address the challenges of climate change in their countries. On this path, ACA will now be led by the Climate and Energy Practice of WWF International, headed by Manuel Pulgar-Vidal, under the coordination of Ricardo Bosshard, director of WWF-Chile.
© Pierina Bellota / WWF-Perú
Regenerative Cattle Ranching in the Peruvian Amazon
WWF-Peru looks to impact the Peruvian Amazon to continue regenerating its forests with agroecological practices, which prioritizes innovation and inclusion. Through a "learning by doing" methodology, more than 200 farmers in Madre de Dios begin to witness and experience positive changes in their farms and cattle.
Indigenous Communities Paid for Environmental Services
The Pykasu and Sirakua indigenous communities, of the Guaraní Ñandeva people located in the department of Boquerón in the Paraguayan Chaco, carried out their first transaction under the environmental services program, selling approximately 200 certified hectares. This achievement represents a milestone for the conservation and protection of forests.
This comes less than a year after certifying the forest areas within the PROMESA CHACO PHASE II project, executed jointly by MADES-Ministry of Environment and Sustainable Development and WWF-Paraguay.
Mexico is a Leader in White Shark Research
For a decade, Mexico has been developing leadership in national and international partnerships for white shark research and conservation.
Given this, the WWF Alliance, Telmex-Telcel Foundation, and the National Commission of Protected Natural Areas (Conanp), organized the first annual forum of conservation and management actions of the white shark. The objective was to create a meeting between the social and institutional actors linked to the conservation of the species who participated in the update of the Action Program for the Conservation of the Species (PACE) for white sharks, as well as to promote the process of evaluation and implementation of said program.
Environmental Election Guide
Presidential elections in Colombia were held on May 29, so WWF worked with Transforma and Gaia Amazonas, to develop the 'Guide for journalists to cover environmental issues during electoral times', a tool to read the electoral context from an environmental perspective. The Guide includes eight strategic topics that were decisive, not only for the presidential candidates' proposals but also for the next government. These include deforestation and land use; mining and energy transition; climate change; climate finance and financial instruments; food systems; marine-coastal; Amazon; crime and environmental justice. The tool was shared through the institutions's digital media channels, as well as the Writing Counsel, a national association of journalists.
Earth Tribe Initiative Launched
On World Earth Day, the Bolivian Scout Association, through a partnership between the World Organization of the Scout Movement and WWF, officially launched the Earth Tribe initiative for Bolivia. This movement seeks to address environmental and sustainability issues, including climate change, promote the development of sustainable habits and protection of nature, and hopes to inspire more than 4,000 Scouts in Bolivia to carry out actions for the nature.
© Fundación Vida Silvestre Argentina
Environmental Materials Added to the National Library
Since May, the educational booklets of Antarctica, Chaco, Argentina Sea and Pampas are part of the catalog of the National Library of Teachers of the Ministry of Education of Argentina.
Through environmental education, Fundación Vida Silvestre seeks to bring teachers and environmental multipliers closer to specially customize teaching materials, to promote the appreciation of nature and build better and healthier relationships with the environment.
Facebook
+3,4 k interactions (likes, reactions, comments and shares) generated by contents in Spanish at WWF International's Facebook.
+122.8 K users reached.
Featured posts:
World Bee Day
652 interactions
Happy Mothers Day
425 interactions
Data: May 1-31, 2022 (Facebook Statistics)
Twitter
+94.7k impressions and +3.1k engagements (859k retweets) in @WWF-LAC.
Featured tweets:
Photo of the Day
56 retweets, 145 likes
Photo of the day
32 retweets, 107 likes
Data: May 1-31, 2022 (Twitter Analytics)