Friends and colleagues,
During this month we have promoted a series of initiatives to stop the degradation of the natural environment of our region. We share some actions that show that together is possible to build a future where humanity and nature live in harmony.
In relation to Oceans, WWF-Peru has been working to achieve sustainable fishing in its sea, one of the most productive in the world.
In the Forests practice, high school students and teachers from Bolivia came together to recover the forest nurseries of the Municipality of Santa Rosa del Sara. Meanwhile, WWF-Chile, promotes the creation of the National Landscape-Scale Restoration Plan. In addition, Argentina maps land cover and land use in the Trinational Atlantic Forest through Landsat satellite images on the MapBiomas platform.
In our Wildlife efforts, Colombia carried out its first national condor census with support from WWF.
With regard to Freshwater, Mexico stood out for its contribution to the study and evaluation of ecological flows for the protection and connectivity of aquatic ecosystems.
In the Food practice, WWF-Paraguay launched a public awareness campaign on responsible consumption habits.
In Governance, WWF-Paraguay was part of the virtual event "The world we want" organized by the European Union and shared stories about its work with local communities.
Finally, in Finance, five Amazonian indigenous enterprises in Ecuador were selected to receive technical support and financing.
Enjoy this new edition,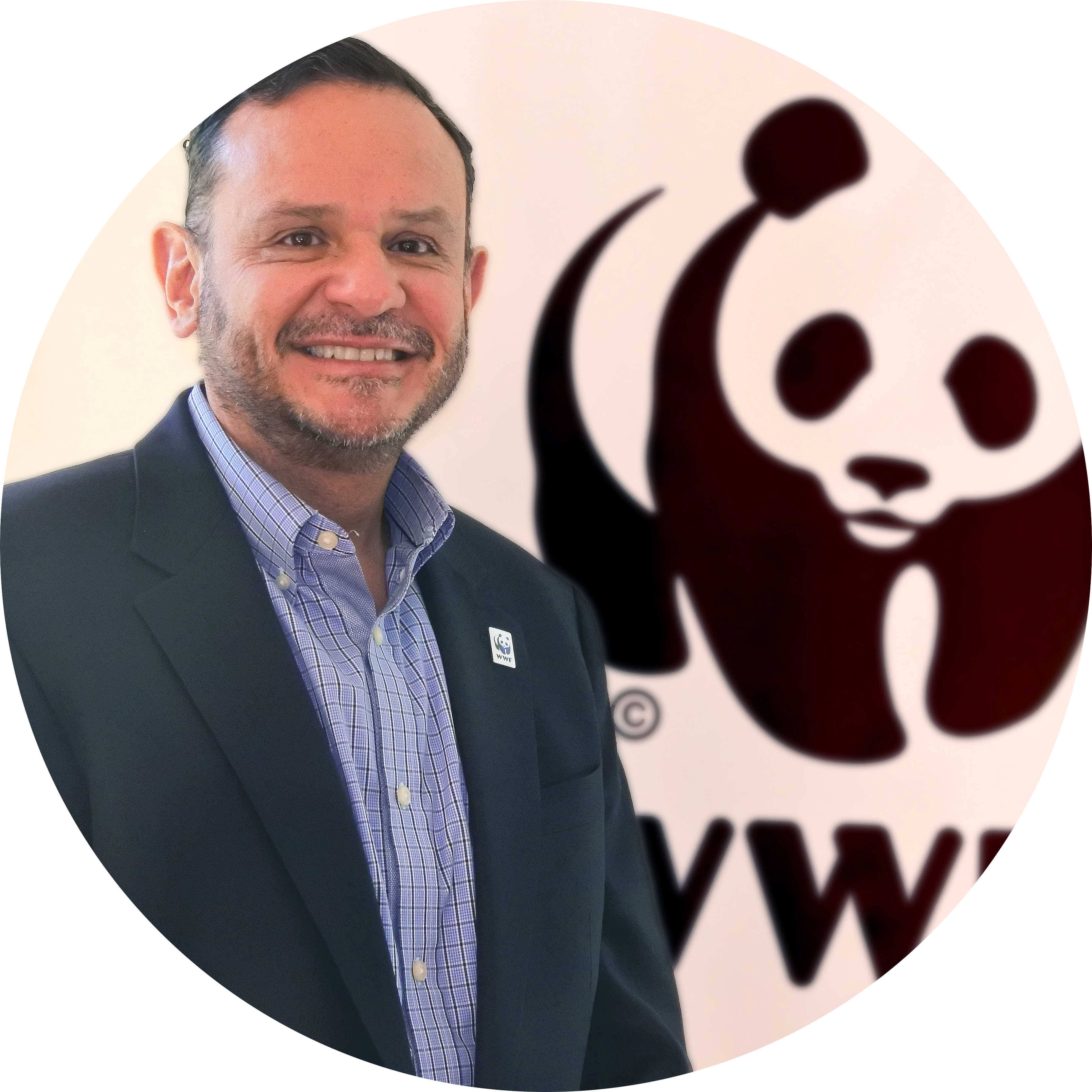 Roberto Troya
Vice president & Regional Director
© Yawar Films / WWF Perú
Sustainable fisheries in Peru
The Peruvian sea is one of the most productive in the world; many activities that create jobs for hundreds of coastal communities and industries depend on it. However, in recent years various threats have put it at risk. Find out what WWF is doing to contribute to sustainability and transparency in various fisheries.
Arborization and reforestation by educational units of Santa Rosa del Sara Municipality
High school students, guided by their teachers, reached a production of 24,000 seedlings in the forest nurseries of the Municipality of Santa Rosa del Sara, as part of the actions to recover degraded soils due to mechanized agriculture. The 12 educational units involved, carried out tree planting in their educational units, squares and parks, streets and main access road of the rural community.
WWF-Chile promotes a National Landscape-Scale Restoration Plan
An urgent implementation, which prioritizes native forests, water supply, climate change and community participation, are some of the main topics that WWF-Chile will seek to emphasize within the framework of the National Landscape-Scale Restoration Plan.
The initiative, led by the Ministries of the Environment and Agriculture, presented its National Restoration Advisory Committee, among whose members is Ricardo Bosshard, director of WWF-Chile.
MapBiomas Trinational Atlantic Forest was launched by Vida Silvestre and researchers from Brazil and Paraguay
On a virtual event, Fundación Vida Silvestre Argentina together with organizations from Brazil and Paraguay, presented MapBiomas Trinational Atlantic Forest platform, an initiative that is part of the MapBiomas Network that began in 2015.
Thanks to this platform, which maps soil coverage and use of soil with satellite images, it was possible to determine that native vegetation now covers only 37% of Atlantic Forest biome area with a high secondary vegetation index and many fragmented areas, highlighting the urgency of conservation and restoration of these ecosystems.
© Thor Morales / WWF México
Mexico stands out for its contribution to ecological watershed evaluation
New research found that commitments to biodiversity will be the key to protect freshwater. The study shows that only 17% of the world's rivers are free of infrastructure that affects their flow regime and are within protected areas, leaving the rest of these systems highly threatened and the species that depend on them at risk. The Mexican case stands out because of the performance evaluation of the water reserves which were established in nearly 300 river basins. Water reserves promote interinstitutional coordination and participation of civil society and academia never seen before in the country, commented Ignacio González Mora, Deputy Director of the WWF-Mexico Water Program Now water reserves transcend borders with a regional initiative promoted from Mexico to Latin America.
First national census of the Andean condor in Colombia
Colombia already has a preliminary diagnosis of the populations of the Andean condor, its national symbol, and apparently there is fewer condors than what was estimated. The first national census of this species, which was carried out in February of this year with the help of 207 volunteers and the support of organizations such as WWF, recorded the presence of at least 63 specimens in the country, as well as a slight trend in favor of the males. Regarding age, it was evidenced that there are more adult than immature condors, which raises concern. This exercise, added to new censuses, will be a key input for the conservation efforts of this species to be more effective.
Planet-T: Healthy eating habits, healthy planet
On May 21, within the framework of International Tea Day, WWF launched a new campaign to raise awareness among the population about responsible consumption habits that are in turn related to sustainable production. Through the message "Improve your digestion and the planet's one too", the campaign seeks to raise awareness in the citizens about the close relationship between eating habits and how their daily choices can affect the health of the planet and people. The central actions of the campaign consist of an educational web page and activations to offer citizens a product, created especially for the campaign.
WWF-Paraguay participated in the event "The world we want"
In commemoration of Earth Day, the virtual event "The world we want" was held, promoted by the European Union and partner organizations, presenting projects financed by the EU that are being carried out in Paraguay and telling stories about the beneficiaries of that job.
The consortium formed by Pro-Comunidades Indígenas (PCI) and WWF-Paraguay told the story of the weavers of the Paraguayan Pantanal, where the "Life in the Pantanal" project is being implemented. This initiative seeks to empower women and girls to ensure food security and improve their quality of life.
Five Amazonian indigenous enterprises were selected to receive technical support and financing
"We need the courage to dream" is the phrase that Alicia Illanez repeats when talking about Challwa Mikuna, a women's association that is part of the five Ecuadorian indigenous enterprises, located in the provinces of Orellana and Sucumbíos. These enterprises will receive technical accompaniment and financing, with the aim of scaling up their business and promoting social transformation in their communities. The generation of sources of employment from these emerging companies allows them to positively transform their localities, generating new sustainable livelihoods in the midst of the deep crisis resulting from the pandemic caused by COVID-19.
Facebook
+18,7 interactions (likes, reactions, comments and shares) generated by contents in Spanish at WWF International's Facebook.
+384,7 K users reached.
Featured posts:
Happy Mother's Day
4,683 interactions
Nature is the pillar of everything
2,629 interactions
Data: May 1-30, 2021 (Facebook Statistics)
Twitter
+202K impressions and +3,7K engagements (1,0K retweets) in @WWF-LAC.
Featured tweets:
Nature is the pillar of everything
81 retweets, 146 likes
World bee day
51 retweets, 134 likes
Data: April 1-30, 2021 (Twitter Analytics)