Friends and colleagues,
The world faces an unprecedented challenge due to COVID-19, therefore, despite being separated, solidarity, collective action and the search for a harmonious relationship with nature is more important than ever. This was the basis of Earth Hour 2020, which brought millions of people together from within their homes, making it an historic edition.
In Latin America, more than 100,000 people watched the 'Earth Hour at Home' digital event, which featured artists, influencers and celebrities from across the region. The environmental movement was built by people, bringing together voices and wills to lead transformational change.
In relation to Oceans, the Dorado National Action Plan and the Dorado Traceability Pilot were presented in Ecuador, to regulate this resource and ensure that it comes from sustainable sources.
In the Freshwater practice, eleven indigenous communities studied fish from a Ramsar site with the support of WWF-Colombia. Meanwhile, WWF-Peru promoted a citizen science initiative, that includes tourists in the monitoring of aquatic biodiversity in the Amazon. In addition, WWF-Chile and other organizations called for a moratorium on salmon concessions in two of the country's southern regions.
With regards to Forests, the low temperatures during Spring 2019 in the Southern United States affected the reproduction of monarch butterflies that migrate to Central Mexico.
Regarding work in Climate and Energy, the first climatic projections in the Mesoamerican Reef Ecoregion were validated. In Bolivia, regional technical roundtables on energy transition were held in search of a low-carbon and accessible model.
Lastly, in Finance, WWF-Paraguay and other stakeholders were part of a joint mentoring for agricultural technology projects in an innovation contest.
Enjoy this new edition,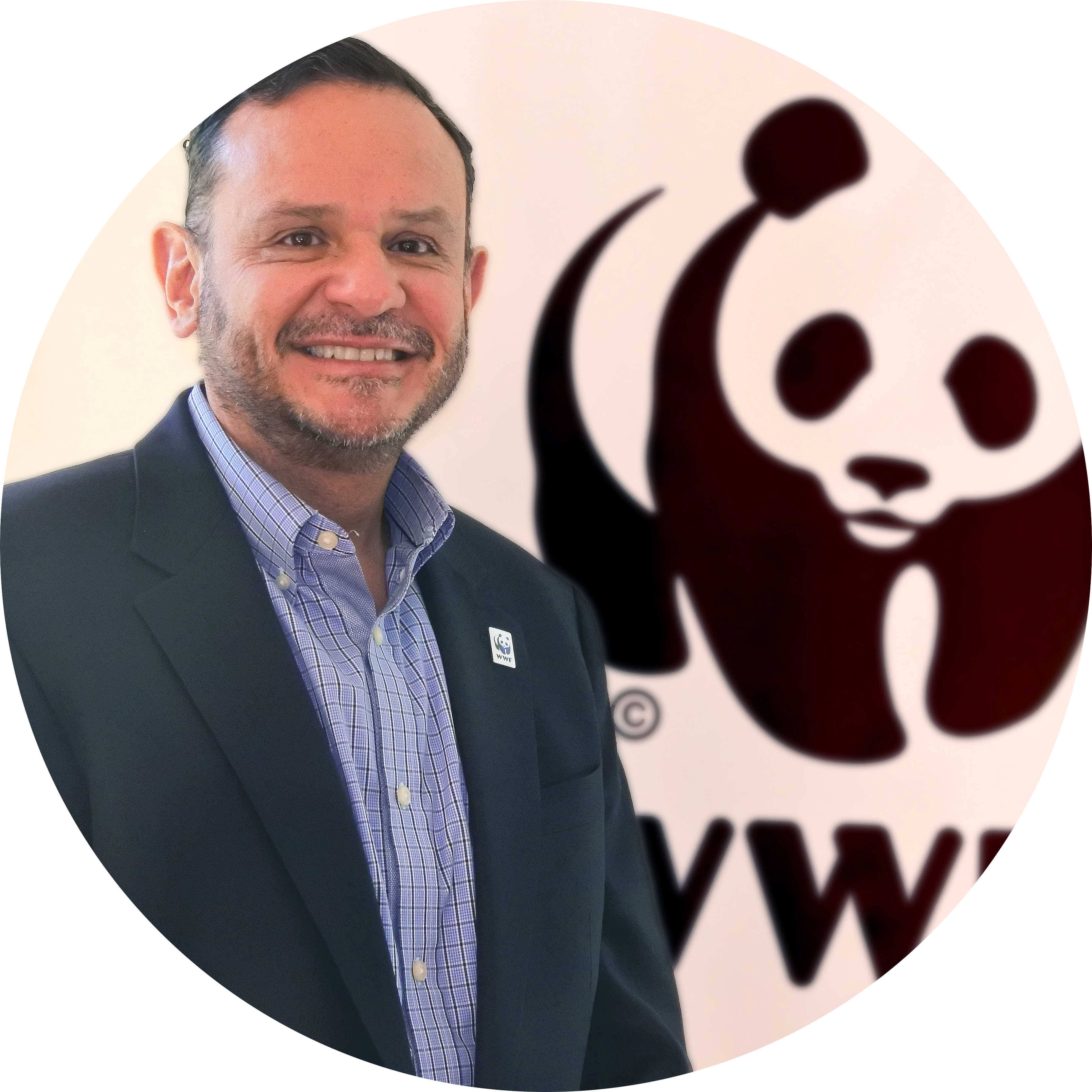 Roberto Troya
Vice president & Regional Director
Historic edition of Earth Hour brought millions of people together from their homes
From their balconies or through social media, people from 190 countries and territories joined the first edition of Earth Hour at home. The event was well received, with more than 3 billion impressions on social media networks worldwide, becoming a trending topic on Google and Twitter, making it one of the most successful online events in its history. In Latin America, the digital event "Earth Hour at Home" was seen by more than 100,000 people and received the support from artists, influencers and celebrities of the region who, together, have more than one hundred million followers on their social media networks.
Towards sustainable mahi mahi
In San Mateo, Manta, the Dorado National Action Plan was launched to regulate and sustainably manage the most important resource for Ecuadorian artisanal fishing. In addition, the pilot project of traceability of this resource was presented, which allows to know the history behind a mahi mahi from its fishing to its consumption.
This effort is part of the Coastal Fisheries Initiative project, implemented by the Ministry of Production with the support of UNDP Ecuador and the execution of WWF-Ecuador.
© Jorge García Melo / WWF-Colombia
Indigenous groups who study fish species in Colombian Ramsar Site
Eleven indigenous communities that share the "Estrella Fluvial Inírida" Ramsar Site investigate various fish species that are a key resource for their consumption and livelihood. This process, supported by WWF and other partners, has made them more aware of the need for measures to conserve threatened species. After five years of research, the communities are waiting for approval from National Fisheries and Aquaculture Authority (AUNAP) on local fishing agreements that were developed in this process.
Tourists help monitor aquatic biodiversity in the Peruvian Amazon
Three tour operators are part of a citizen science initiative in the rivers of Peru's Northern Amazon. Tourists take samples of environmental DNA by collecting water or sediment that contains cells with genetic material from various species that are present in this ecosystem. Thus, they engage in biodiversity monitoring and raise awareness about the importance of aquatic ecosystems in the Amazon.
The operators also found this experience to be an added value to the services they already provide.
© WWF Chile / Matthew PERL
WWF and other organizations call to maintain moratorium on salmon concessions
The ISA virus crisis, which hit the Chilean salmon industry between 2007 and 2009, led to the review of health and environmental regulations, allowed for improvements to aquaculture regulations.
One of the measures was the application of moratoriums in Los Lagos and Aysén regions, which suspended the entry and granting of new concessions for salmon farming centers since 2010. This moratorium expires on April 8, and WWF-Chile, together with the organizations Terram and Fundación Melimoyu, asks the Government to keep these measures to avoid new sanitary and environmental crises.
Winter in the United States affected monarch butterfly migration to Mexico
The monarch butterfly's hibernation in Central Mexico's temperate forests, where they migrate every year from Canada and United States, was reduced by 53% during the 2019-2020 winter season. This was due to various factors, including low temperatures during Spring 2019 in Southern United States, which delayed reproduction and development in monarch populations.
During this season, eleven hibernation colonies were established in the Michoacán and Estado de Mexico forests, occupying 2.83 hectares, compared to the 6.05 hectares from 2018-2019.
Validation of Mesoamerican Reef Ecoregion climate change projections
The Smart Coasts transboundary project continues focusing on climate-smarting marine protected areas and improving coastal management in the Mesoamerican Reef Ecoregion. After having conducted the first climate projections and ecosystem service modelling for the areas identified by the project, several workshops were carried out to validate these results in all the four countries that share this region. Also, different education and awareness raising activities were conducted in coastal communities to foster a better understanding of the expected impacts of climate change and seek general options for adaptation.
© © WWF-Bolivia / Natalia Ramirez
Towards a low carbon energy model in Bolivia
Commissioned by WWF, Energética has developed a work that explores different energy scenarios by 2040 for Bolivia, from a emissions reduction perspective in line with the goals set by the IPCC. From March 3rd to 6th, regional technical roundtables on energy transition were carried out in search of a low-carbon model, with accessible costs and minimal conflicts.
Several experts from different sectors participated, and the necessary actions to start this process in Bolivia were identified.
WWF was a mentor at the Koga Impact Lab StartCamp event
WWF-Paraguay, Koga Impact Lab and the Regional Consortium for Agricultural Experimentation (CREA) jointly conducted the mentoring of agrotech projects.
There, the project review was carried out based on three challenges: difficulty in collecting and processing real-time data for agricultural producers, the lack of traceability of products that facilitate commercialization and the high pressure that our natural resources face.
In the Social Media
··· WWF-LAC ···
Facebook
+30,300 interactions (likes, reactions, comments and shares) generated by contents in Spanish at WWF International's Facebook.
+525K users reached.
Featured posts:
New species with plastic
5,702 interactions
Earth Hour 2020
4,596 interactions
Data: March 1-30, 2020 (Facebook Statistics)
Twitter
+575.4 K impressions and +9.2K engagements (2.8K retweets) in @WWF-LAC.
Featured tweets:
Earth Hour
179 retweets, 285 likes
Earth Hour program
111 retweets, 178 likes
Data: March 1-30, 2020 (Twitter Analytics)