© Karina Mansilla / WWF-Perú
Friends and colleagues,
This month, a great reunion of the WWF family of our region took place, where the management team analyzed the challenges and opportunities to achieve excellence in our conservation work. The LAC Management Team Meeting 2022 took place in the city of Lima, Peru, and constituted an axis for continuous improvement.
In our Forests practice, WWF-Paraguay implemented the Sustainable Production Ideas contest to promote ideas that improve the efficient use of natural resources.
With Governance, WWF-Ecuador promoted, together with three prefectures, the declaration of the Llanganates Sangay Ecological Corridor as a Special Conservation Area. On the other hand, in Chile, WWF stated that nature and climate change must be an essential part of the Constitution after the constitutional process in the country.
With regards to Oceans, WWF-Mexico carried out a temporary employment program with beach cleaning days and maintenance of the whale shark habitat ecosystems. This initiative helped reduce the economic crisis generated by Covid-19.
In Wildlife, within the framework of the National Biodiversity Day, WWF-Colombia held its first sporting event: Panda Crossing.
Further, several other events took place this September, such as Yurumí in Argentina, the free annual cycle of talks organized by the Fundación Vida Silvestre to reflect on environmental issues. And, in Bolivia, cycles of interregional meetings were held, bringing together more than a hundred Indigenous and Afro-Bolivian youth from Santa Cruz and Tarija.
Lastly, the great challenges of being an indigenous woman living in rural areas were discussed in an informative note by WWF-Peru.
Enjoy this new edition,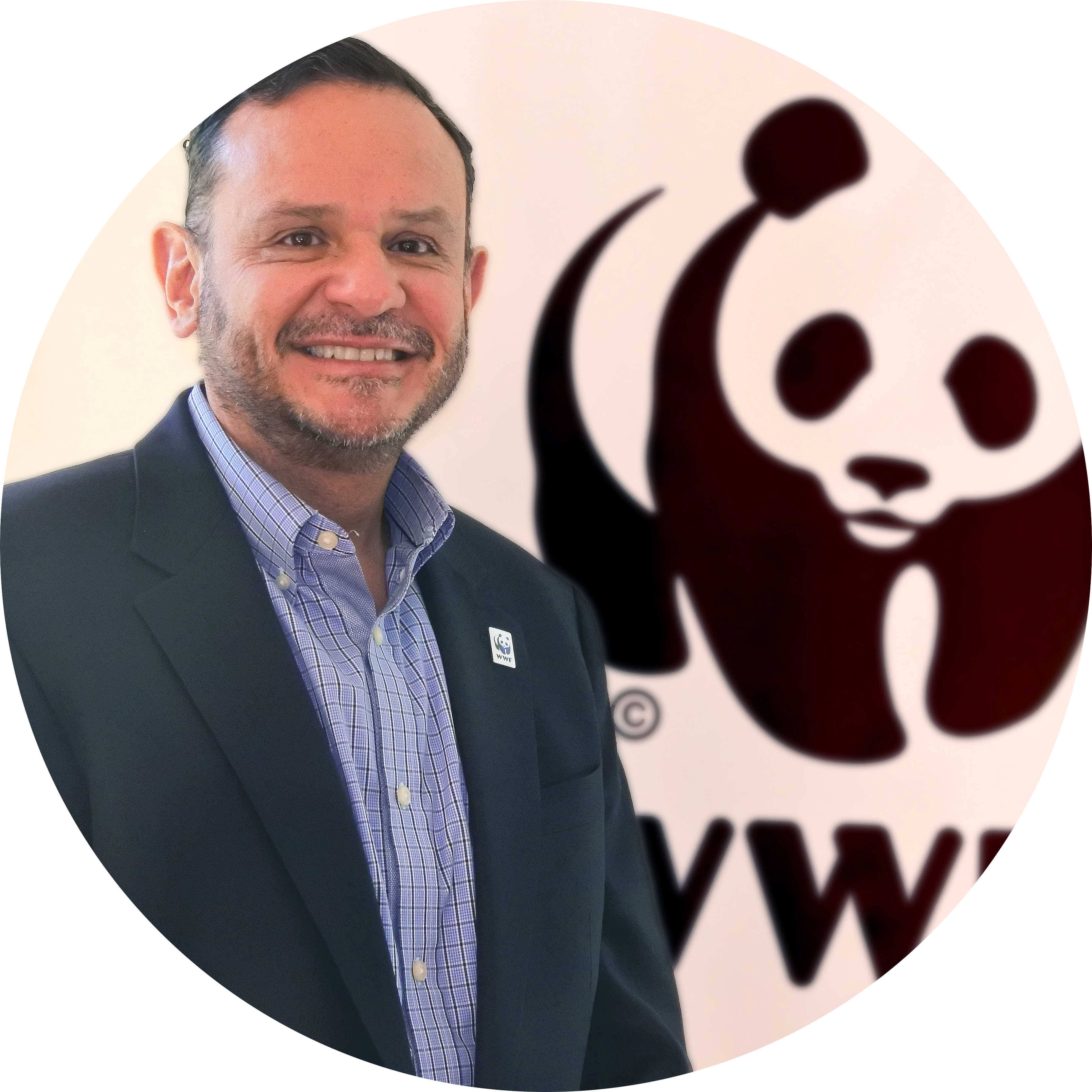 Roberto Troya
Senior Vice president & Regional Director
© Karina Mansilla / WWF-Perú
Panda family seeks excellence for conservation
The LAC Management Team Meeting 2022 was held in Lima, Peru, from September 27 to 29, 2022. Focused on the Path to Excellence to achieve a greater impact in conservation, Roberto Troya, Regional Director for Latin America and the Caribbean, and Kurt Hole, CEO of WWF-Peru and host of the meeting, led dynamics, panels and discussions that addressed topics such as the sociopolitical context, the challenges of indigenous women, transformational initiatives, organizational development and the impact of our food on nature.
The event was attended by Carter Roberts, CEO of WWF-US, Yolanda Kakabadse, President of the LAC External Advisory Council and Margaret Ackerley, VP and General Counsel of WWF-US, and the directors of the countries of the region.
The "Conscious Kitchen" activities, where everyone learned to make a Peruvian ceviche, and a warm welcome at the WWF-Peru house, which included typical national dances by the local team, were added to the processes of innovation and continuous improvement.
Hackathon for sustainable production
WWF-Paraguay is implementing the Sustainable Production Ideas contest, within the scope of the "Alliance for Sustainable Development" project, financed by USAID. The main goal of this contest is to promote ideas that improve the efficient and sustainable use of natural resources for production, conserve biodiversity and regenerate degraded areas in the Paraguayan Chaco. The prize consists of funding for inputs and advice of up to $50,000 USD. During the Hackathon, the pre-selected candidates turned their ideas into projects, then the finalists were selected and are receiving personalized advice from our team to further enhance their projects.
Ecological Corridor is declared a Special Conservation Area
Thanks to the technical support of WWF-Ecuador, the prefects of Tungurahua, Morona Santiago, and Pastaza signed an Institutional Cooperation Agreement and Declaration of Wills on September 13, in which they expressed their desire to jointly request the declaration of the Llanganates Sangay Ecological Corridor (CELS) as a Special Area for the Conservation of Biodiversity to the Ministry of the Environment, Water and Ecological Transition (MAATE).
WWF-Ecuador works in the area as part of its project: "Connecting People and National Parks", supporting the consolidation of living, diverse and conserved territories. This initiative ultimately promotes biological connectivity corridors as a strategy to protect biodiversity, increase resilience to climate change and create economic alternatives that are positive for people and nature.
Nature and climate change must be an essential part of Constitution
For WWF-Chile, the country's constitutional process was an experience that highlighted several relevant issues for the future, among which the environment is very much a point of emphasis. Both the climate crisis and the loss of biodiversity are already affecting the well-being of communities, and these effects will worsen in the coming decades.
In this context, WWF-Chile believes that these challenges can be addressed in a better way and with a consistent and long-term vision, if they are included in the Political Constitution of the Republic. To this end, WWF-Chile is available to collaborate with its technical and scientific expertise.
Activate community economy with beach cleaning
WWF-Mexico launched a temporary employment program with clean-up days that creates 196 community jobs and maintaining whale shark habitat ecosystems. This led to the removal of 40 tons of solid waste from 331 hectares of mangroves and beaches in Bay of La Paz. Work was also done to support the water flow recovery to restore 2 hectares of mangroves. Conservation buoys were installed and 1 ton of solid waste was also removed from the seabed in the Espiritu Santo Archipelago. In collaboration with the National Commission for Protected Natural Areas, tourism service providers, civil society organizations and financing from the German Cooperation for Sustainable Development (GIZ, for its acronym in German), WWF-Mexico's temporary employment program helped to reduce the economic crisis even generated by Covid-19, since for many of them their income dropped and some lost their jobs.
Travesía Panda (Panda Ride), the first WWF sporting event in Colombia
More than 300 people connected with nature through Travesía Panda (Panda Ride), the first sporting event that WWF has organized in the country, which took place during Colombia's National Biodiversity Day, on September 11. During this active experience, attendees had the opportunity to take two bicycle tours of different difficulty, through the cloud forests and moorlands near the municipality of Guatavita (located 1-hour away from Bogotá). The event included yoga and pilates classes, a sustainable entrepreneurship fair and the presence of Frailejón Ernesto Pérez, an animated character who has achieved enormous relevance in the country for its conservation messages.
© Fundación Vida Silvestre Argentina
Celebrated Yurumí, its annual event 2022
Yurumí, the free annual cycle of talks organized by the Fundación Vida Silvestre to reflect on environmental issues, took place on September 15. In this special edition, the 45th anniversary was celebrated and some of the most emblematic moments in the history of the organization and of conservation in Argentina were reviewed.
The event consisted of 4 themed discussion panels, in which current and historical references of Vida Silvestre participated, who shared the results achieved and the upcoming challenges, to build a future in which people develop in harmony with nature.
© FGutierrez / WWF-Bolivia
Together more than 100 indigenous and Afro-Bolivian youth
The main goal of these meetings was to strengthen the capacities of the youth, and to build their own narrative on climate change, by proposing actions to mitigate its effects in their territories and urban centers. Discussion topics included political advocacy, climate governance, youth and digital activism, adaptation, and mitigation to climate change, as well as the socialization of international and national regulatory frameworks on climate change and the rights of Indigenous and Afro-Bolivian peoples in the face of climate change.
© Gustavo Carrasco / WWF-Perú
Indigenous woman: courage, resilient, and restless fighter
Being a woman in Latin America continues to be a significant challenge. But being Indigenous woman in rural areas where education, work, and health are limited is even more challenging. According to data from the National Institute of Statistics and Informatics (INEI), by 2018 only 36% of Indigenous women had completed their secondary studies. "We carry too much of a burden at home. It makes it difficult for us to concentrate on studying, developing our own businesses, supporting other spaces within the community," highlights Erika Valera, a student at the first school of Indigenous Government and Amazon Development (EGIDA).
Facebook
+4.7 K interactions (likes, reactions, comments and shares) generated by contents in Spanish at WWF International's Facebook.
+148.9 K users reached.
Featured posts:
Tiger population in Nepal
1.355 interactions
Whale Shark Day
395 interactions
Data: August 1-31, 2022 (Facebook Statistics)
Twitter
+90.9K impressions and +3,6K engagements (831 retweets) in @WWF-LAC.
Featured tweets:
Environmental Education
138 retweets, 266 likes
Recognize the spots of these 3 felines
43 retweets, 128 likes
Data: August 1-31, 2022 (Twitter Analytics)