Dear friends and colleagues,
In July, efforts from offices in several of our work areas stood out, highlighting the different meetings and ongoing conversations with key stakeholders to address environmental problems and promote joint conservation efforts. These are some of the milestones from the month:
In the Oceans practice, small-scale fishers from northern Peru help protect humpback whales by participating in the pilot implementation of acoustic technological devices to mitigate the bycatch of marine cetaceans. In addition, WWF-Chile celebrated the creation of the first marine park in the Gulf of Corcovado.
With work regarding Forests, Brazil, Bolivia and Paraguay joined in the Sixth Tri-national Meeting of Park Rangers of the Great Pantanal organized by WWF-Paraguay and other groups. On its behalf, WWF-Colombia carried out the Panda Summit, "Amazonas Revealed," along with 14 local influencers to connect with nature, learn from it and improve communications efforts to promote it. Additionally, in Bolivia, State Actors and Civil Society Organizations discussed Illegal Timber Trafficking.
Meanwhile, in Wildlife, WWF-Mexico, Panthera, and UNDP led the first Jaguar 2030 Committee meeting of the year to discuss the species' conservation efforts, biodiversity and sustainable development.
In Governance work, WWF-Mesoamerica announced that it will implement a five-year project to strengthen equitable and transparent environmental governance in Honduras.
Additionally, in the Finance practice, WWF-Ecuador and Pichincha Bank joined forces to raise funds for the conservation of nature and the sustainable development of Ecuador.
Lastly, in Markets, cocoa farmers from the Colombian Amazon who are committed to conservation arrived to Germany to present their product and sign agreements.
Finally, in the aspect of education, Fundación Vida Silvestre Argentina launched a free citizen training course on how our actions affect nature.
Enjoy this new edition,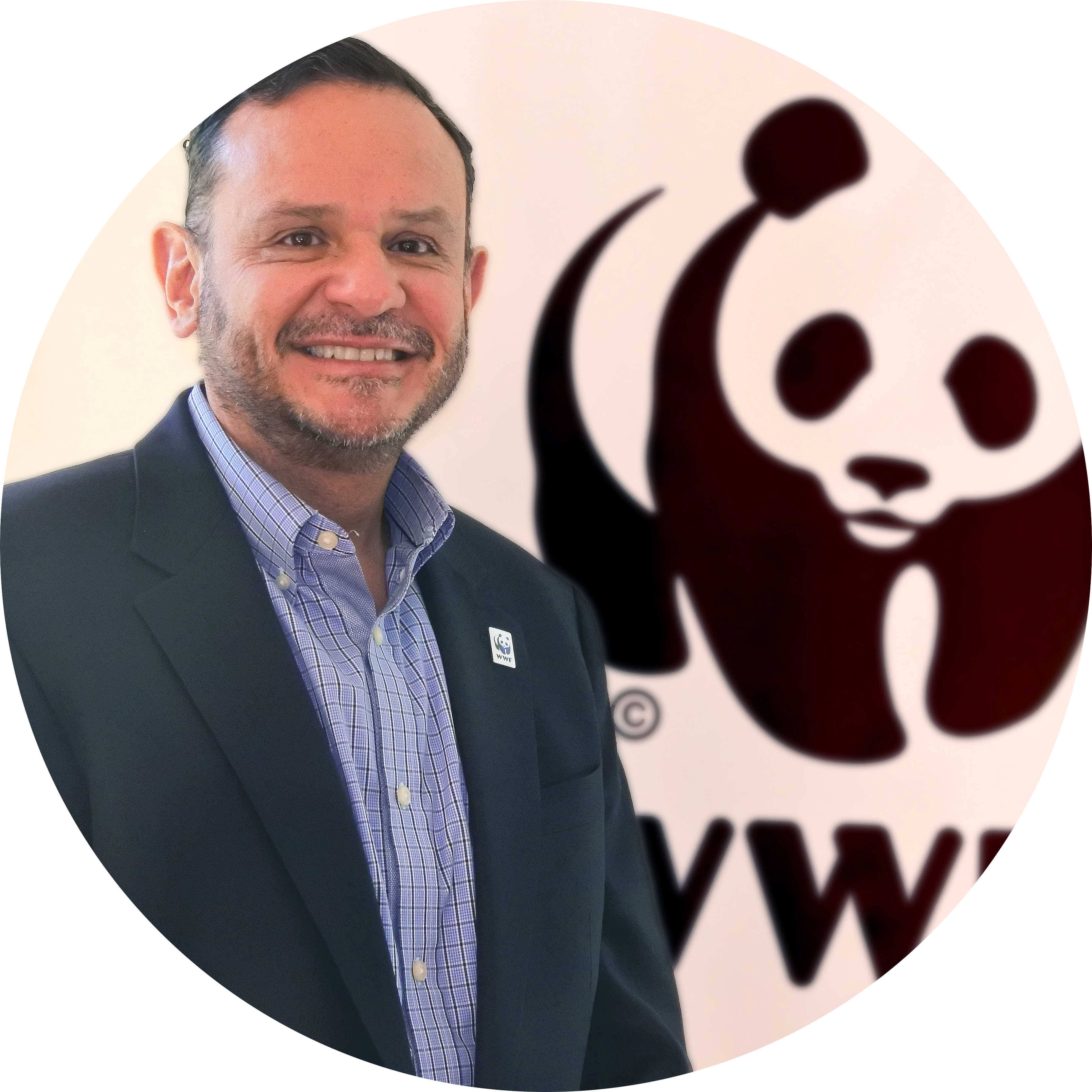 Roberto Troya
Senior Vice president & Regional Director
© Shutterstock / Tomas Kotouc / WWF
Technology helps save the whales
Beginning in July, humpback whales start to arrive on the northern coast of Peru, where many small scale fishers carry out their work. However, like other cetaceans such as dolphins, whales often get entangled in fishing gear and take it with them, seriously injuring themselves and causing economic losses for fishermen. Therefore, these workers are using acoustic technological devices to mitigate the bycatch of marine cetaceans.
© Marcelo Flores / WWF Chile
First marine park in the Gulf of Corcovado
Chile has a new Marine Protected Area: the Tic-Toc Marine Park, with an area of 1,019 km2, located in the Gulf of Corcovado, south of Chiloé.
WWF-Chile celebrated this achievement, which is the result of the work that the Melimoyu Foundation and the Blue Whale Center have been developing for more than a decade in this area, one of the most important feeding and breeding sites for blue whales in the Southern Hemisphere. WWF also contributed to this objective, helping to identify the Gulf of Corcovado as a crucial point for large cetaceans in southern Chile, and providing resources for various studies and research that support the protection proposal.
© Santiago Acosta / WWF Colombia
Panda Summit held in the Amazon with influencers
From June 3 to 6, 2022, the first WWF Panda Summit was held in the Colombian Amazon. WWF-Colombia took a group of 14 celebrities from music, art, acting, content creation and sports to the Calanoa nature reserve. The goal was to create a deep connection with nature and delve into knowledge about conservation, ecosystems, biodiversity and climate change. After this experience, members of Team Panda Colombia will be able to communicate messages in defense of nature to their large audiences in a more effective, emotional and conscious way.
The Great Pantanal park rangers come together once again
Through the collaboration of WWF's offices in Brazil, Bolivia and Paraguay and the support of the European Union, the Sixth Trinational Meeting of Rangers of Protected Areas of the Great Pantanal was held. The event was organized jointly by WWF-Paraguay and the Paraguayan Organization for Conservation and Sustainable Development (OPADES), in the Teniente Agripino Enciso National Park, in Paraguay.
During this meeting, rangers from the three countries shared an extensive schedule of activities with the objective of exchanging experiences and improving the management work in their respective protected areas.
Dialogue on Illegal Timber Trafficking
Last month, the Alliance for Wildlife and Forests, which has the financial support of the European Union, WWF-Bolivia and the National Indigenous Forestry Association (AFIN), invited stakeholders from the public sector and civil society organizations, to a sectorial discussion on Illegal Timber Trafficking. The meeting was held at the offices of the Autonomous Municipal Government of Rurrenabaque, in the Department of Beni. The aim was to address illegal trafficking and wood piracy in the Bolivian Amazon. The dialogue allowed to know the different points of view on the causes of this phenomenon and set the possibility of new schemes and models to deal with this problem.
Jaguar Committee meets with government leaders
In the past weeks, during the High-Level Political Forum (HLPF), on July 15th, the Jaguar Committee 2030 and the governments of Costa Rica, Guatemala, and Peru co-hosted their first meeting of the year. This came as they look forward to turning the jaguar into a symbol that enables to coordinated actions and make progress on the global agenda to halt and reverse biodiversity loss and mitigate climate change.
Panthera, UNDP, and WWF-Mexico took the lead for this meeting. They updated the jaguar range countries on the Jaguar 2030 Roadmap, a strategy that was developed to promote conservation efforts, provide common ground and language to address opportunities and challenges, as well as facilitate policy coherence. Additionally, regional collaboration and multisectoral integration achievements were presented by María José Villanueva, Conservation director of WWF-Mexico and lead on the Jaguar Initiative for WWF.
© Antonio Busiello / WWF-US
Honduras will strengthen its environmental governance
With the support of the United States Agency for International Development (USAID), WWF-Mesoamerica will implement a five-year project to strengthen environmental governance in Honduras in order to reduce wildlife and timber trafficking, illegal logging, and wildfires. This is an Associate Award from the Targeting Natural Resource Corruption initiative, led by WWF-US.
This project will be implemented in several phases. Phase one will identify the main drivers of the environmental crimes, the connections between conservation crimes, deforestation, forest degradation and biodiversity loss, and will identify and prioritize entry points and pathways to improve natural resource governance in Honduras. Phase two, through a participatory design process, will identify and implement pilot activities to test interventions to increase equitable and transparent environmental governance in the country.
A joint force to raise conservation funds
WWF-Ecuador and Pichincha Bank joined an alliance to promote the voluntary contribution of the clients of the financial institution and thus support nature conservation efforts in the country. Under the slogan "Subscribe to the planet," both entities seek to raise funds that contribute to increasing the impact of the work carried out by the NGO. Pichincha Bank clients could contribute voluntarily under two schemes: with contributions from one dollar, through their debit or credit cards; or, by donating their miles, an amount which once settled in dollars, will be delivered to WWF-Ecuador.
© Verónica Tellez / WWF Colombia
Producers presented cocoa in Germany
Leaders of peasant organizations that produce organic cocoa from the Colombian Amazon presented an exhibition of this fruit in Germany in June and signed an export agreement with a chocolate manufacturer. The event and agreement had the support of WWF-Germany and WWF-Colombia. The exhibition, which will later travel to different cities in Germany, was held in the state of Bayern, at the Confisserie Dengel plant, a German company dedicated to gourmet chocolates, whose manufacture will henceforth include organic Colombian cocoa. Representatives of cocoa farmers' organizations from Caqueta region (Colombian Amazon), which changed coca crops for cocoa, were present at the launch. WWF supports the efforts of these families through the Protected Areas and Peace project, supported by the Federal Ministry for the Environment, Nature Conservation and Nuclear Safety of Germany (BMU for its acronym in German) and carried out in alliance with National Natural Parks of Colombia.
© Fundación Vida Silvestre
A free citizen training course is lanched
With the aim of providing educational tools and materials to the community, Fundación Vida Silvestre Argentina created a free one-week course to share and educate people about how our actions affect nature. The course addresses questions such as what is biodiversity? How is it threatened? Why is it important to take care of it? How do our daily actions impact nature? In this way, the ONG promotes the appreciation of nature, for building better and healthier relationships with the environment.
Facebook
+2.9 K interactions (likes, reactions, comments and shares) generated by contents in Spanish at WWF International's Facebook.
+136.5 K users reached.
Featured posts:
Giant oarfish
599 interactions
Six lynx cubs, two mothers and a haystack
298 interactions
Data: July 1-29, 2022 (Facebook Statistics)
Twitter
+71K impressions and +3,9K engagements (768k retweets) in @WWF-LAC.
Featured tweets:
Jaguar or leopard quiz
38 retweets, 450 likes
International Day for the Conservation of the Mangrove Ecosystem
50 retweets, 196 likes
Data: July 1-29, 2022 (Twitter Analytics)