Friends and colleagues,
Over the last 60 years, we have come a long way towards building a future in which people and nature thrive. WWF celebrated its 60th anniversary this month, recalling its largest accomplishments since 1961 and reflecting on the great challenges that still lie ahead. We call for unity and collaborative work because that is the only way can we build a healthy and sustainable future.
In Oceans, WWF-Ecuador and the group of mahi mahi export companies signed a Memorandum of Understanding to continue the mahi mahi fishery improvement project.
In the Forests practice, Fundación Vida Silvestre promoted the campaign "Making a tree is easy, the hard part is being one" with support from social media influencers.
In regards to Wildlife, scientists from WWF-Colombia returned to the jungle on the Guaviare 2021 Expedition, a year since the beginning of the pandemic. On its behalf, a groundbreaking study estimates the threats and health status of the Chilean dolphin in Northern Patagonia.
Related to Governance, WWF-Mesoamerica participated in a forum organized by Stanford University on Natural Capital. Moreover, WWF-Peru mobilized to provide support to the communities living in the Amazon who are impacted by COVID-19. Meanwhile, the WWF-Paraguay team celebrated 21 years of the organization's presence in the country.
In the Climate and Energy practice, experts presented five strategies to restructure and diversify Mexico's coal energy region's economy as a part of the "Just Transition" project.
Lastly, Earth Hour 2021 broke every record in Bolivia for action in a crucial year for climate, people and nature.
Enjoy this new edition,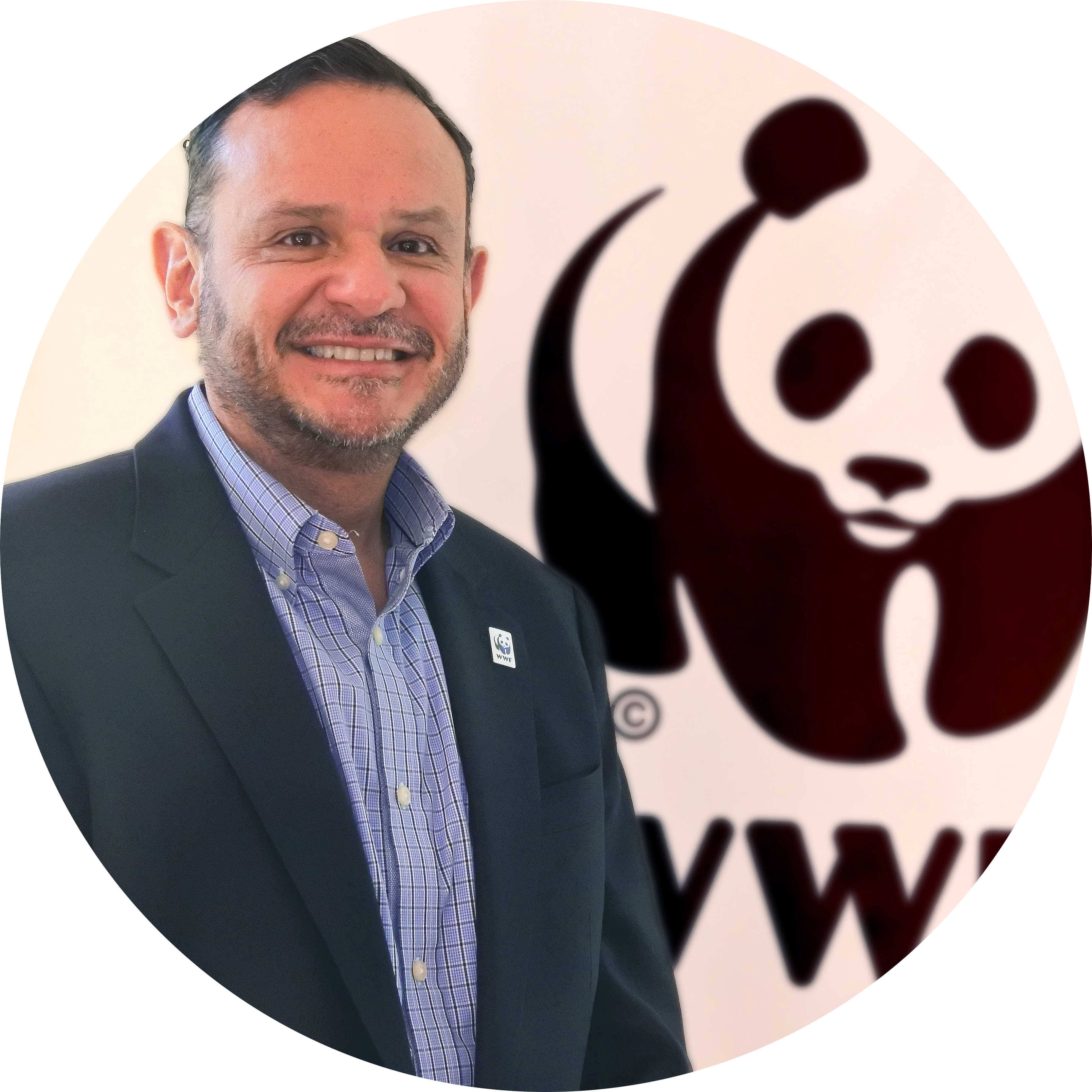 Roberto Troya
Vice president & Regional Director
WWF celebrated 60 years of conservation and calls for urgent action for people and nature
We have come a long way these last 60 years, building towards a future in which people and nature thrive. Our mission has become even more relevant since the organization was founded in 1961 and today we call urgently to act on global climate and nature crises to ensure a sustainable future for all. Together with governments, businesses and communities, we must achieve more in the next 10 years than we have in the last 60.
Mahi mahi fishers aims for sustainability and MSC certification
WWF-Ecuador, and the group of exporting companies of mahi mahi signed a Memorandum of Understanding through a virtual event. This MOU will continue with the cooperation across the fishing improvement project and the MSC Certification for mahi mahi fishing with longline in Ecuador. WWF has been developing this project since 2009. The partnership includes medium and long-term efforts with the main objective of helping the practice achieve sustainable levels and the MSC certification. During 2019 and 2020, a complete evaluation process was developed for the MSC certification of this fishing, which did not meet the required score, making this project an ongoing necessity, in order to make progress on solving the issues detected in the report. The memorandum reflects the commitment, persistence and need for a joint collaboration for a healthy and resilient marine ecosystem.
Argentina launches campaign to protect forests
Native trees and forests are seriously threatened by rising rates of deforestation, degradation and fires, due to human activities. Despite Argentina's Forest Law, 50% of deforestation is still illegal. This is why Fundación Vida Silvestre launched the "Pretending to be a tree is easy, but the tricky thing is to be one" campaign on social media by partnering with influencers through an Instagram filter in order to reinforce the need to achieve effective forest protection.
© Jorge E. García Melo / UniIbagué / WWF Colombia
Colombian scientists returned to the jungle a year after the beginning of the pandemic
WWF-Colombia organized the first scientific expedition in the country since the pandemic began in order to analyze the abundance of river dolphins and other species. The 'Guaviare Expedition 2021' was carried out from March 2-11 and brought together 30 researchers from different universities and organizations. They traveled 410 kilometers through the Guaviare River on a stretch that was barred from research for several years due to the armed conflict.
With the support of the Omacha Foundation, scientists installed a satellite tag on a female dolphin which will record its movements for 240 days. Various aquatic macroinvertebrates, butterflies, dragonflies, fish, amphibians, reptiles, birds, bats and plant species were also analyzed. The results will be the first biological characterization of this territory in Colombia.
© CayetanoEspinosa / WWF Chile
Groundbreaking study estimates the threats and health status of the Chilean dolphin
For 20 consecutive years, Chilean dolphin populations (Cephalorhynchus eutropia) have been monitored continuously on the coasts of Chiloé and neighboring areas, the central region of their distribution, making up the longest-lasting systematic and multidisciplinary study for the species. Through research carried out by the Marine Ecosystems Conservation Research Center CECEM - YaquPacha Chile and WWF-Chile, a remarkably small number of Chilean dolphins has been estimated, even for the largest populations that are located in the region. At the same time, the main threats have been characterized and the bacteria on the dolphins' skin have been examined to determine their health status.
WWF-Mesoamerica participated in a forum organized by Stanford University
Stanford University's Natural Capital project organized an Earth Day forum that included participation from several members of the Smart Coasts project (led by WWF with different partners), including WWF-Central America's Sustainable Tourism Officer, Luis Chévez. In this session, government leaders, practitioners, and academics discussed recent initiatives and scientific advancements in the Central American Reef Region that can serve as examples for climate adaptation and sustainable development efforts globally.
This session was presented in both in English and Spanish with live simultaneous translation.
WWF-Peru supporting Amazon communities affected by COVID-19
The COVID-19 pandemic has affected the entire world, but magical places like the Amazon are even more vulnerable due to difficult access and shortages of basic services.
As a response, WWF along with other groups in Peru launched a plan to provide basic tools to the Amazon people, and in this way help them to face the health emergency.
WWF celebrated 21 years of presence in Paraguay to kick-off a decade of restoration in 2021
WWF-Paraguay celebrated its 21st anniversary on April 4, 2021, leading programs and projects for the conservation and management of ecoregions. In addition, it has generated strategic alliances committed to its mission of promoting conservation in priority landscapes at the national level and reconnecting people with nature.
With more than two decades of presence in the country, WWF recognizes that the organization "does nothing alone," as it constantly collaborates with government institutions, civil society organizations, specialists, scientists, academia, companies, agricultural producers, Indigenous peoples, local communities, donors, volunteers and of course, with the support of the WWF network worldwide.
© Centro de Investigaciones Socioeconómicas de la Universidad Autónoma de Coahuila y WWF México
Researchers present economic development strategies for coal-based region
Researchers from the Socioeconomic Research Center (CISE) of the Autonomous University of Coahuila presented the From coal to renewables: Economic analysis for the electricity transition in Mexico analysis, where they propose five potential strategies for restructuring and economic diversification, aimed at offsetting the impact of the slow withdrawal of the use of coal in energy development in Mexico. The researchers highlight that strategies to diversify productive activities should encourage investment, stimulate import substitution policies and boost productivity in economic sectors with potential for growth such as renewable energy, metalworking, electronics and textiles. This study is part of the project "Creating Enabling Conditions for the Just Transition away from Coal in Mexico," implemented in a partnership between WWF-Mexico and the International Labor Organization (ILO).
Earth Hour breaks every record in Bolivia while calling for action in a crucial year for climate, people and nature
Leaders from 68 public, private and civil society institutions, along with celebrities and individuals, gathered on Saturday, March 27th, to support the Planet. More than 100 virtual and non-massive face-to-face events were held across the country during the week before Earth Hour. The main event, broadcast through WWF-Bolivia's digital platforms, was attended by 459 people connected. the 3-hour stream included talks on climate change, educational content for children, an interactive virtual platform, and participation from key partners and artists
Facebook
+7.9 interactions (likes, reactions, comments and shares) generated by contents in Spanish at WWF International's Facebook.
+248,4 K users reached.
Featured posts:
A healthy planet protect us
1,127 interactions
HRH The Duke of Edinburgh
930 interactions
Data: April 1-30, 2021 (Facebook Statistics)
Twitter
+276K impressions and +4.2K engagements (1.1K retweets) in @WWF-LAC.
Featured tweets:
Regional Agreement Escazú
153 retweets, 72 likes
Picture of the day
88 retweets, 21 likes
Data: April 1-30, 2021 (Twitter Analytics)