A conservation framework for empowerment in Namibia's Caprivi region
Challenges
Conflict and poverty have long gone hand in hand in Namibia's Caprivi region, one of the poorest in the country. When not divided by secessionist impulses within, it has suffered from too close a proximity to civil war in Angola and civil unrest in Zimbabwe. In recent years, its best hopes of turnaround have been linked to its wildlife resources and the empowerment of its communities through a framework known as Community Based Natural Resource Management (CBNRM).
One legacy of Namibia's colonial past was a deep community suspicion of top down wildlife protection programmes, which denied traditional food and income sources to communities and increased costs from incursions into farmland by the now protected wildlife.
The usual result was widespread subversion of programmes, unhappy communities, and continuing degradation of landscape and resources and continuing declines in the populations of species such as the
African elephant
. Among the great variety of other wildlife found there are impala, duiker, roan, sable antelope, bushpig, francolin, springhare, baboon, lion, leopard, cheetah, wild dog,
hippopotamus
, hyena and crocodile.
Regional CBNRM Project for Capacity Building
WWF has been involved in developing the CBNRM programme throughout Namibia, and in the Caprivi area supports Namibian NGO Integrated Rural Development and Nature Conservation.
Links between Livelihoods and Wildlife
CBNRM, given legislative force in 1996 is incorporated in Namibian development planning. It gives communities conditional ownership of natural resources and the ability to benefit from consumptive and non-consumptive use of wildlife. This opens up sustainable additional revenue sources for communities, including conservation based employment, game hunting, sale of game and game products, sale of craft products and tourism.
Strengthening the people's assets
A 2003 study found key benefits from the creation of governance structures for the conservancies - the creation of pools of people with skills in management, organisation and negotiation and the creation of mechanisms for engaging with the private sector. Communities are more linked to their resource base and this helps not only with identifying threats but also opportunities.
Tourism as a strategy for rural development & poverty reduction
Capacity is being built through training and appropriate infrastructure that includes offices, craft markets and campsites that give local communities a more direct stake in tourism. The emphasis on participation extends to ensuring that women in particular are involved in conservancy activities and have opportunities to be elected to positions.
The resultant improved wildlife management practices are increasing this resource, and wildlife is returning to areas from which it had disappeared. The more positive attitude to wildlife has meant that conflicts between humans and wildlife are better managed through initiatives such as targeted compensation and "Problem Animal Management" schemes.
Benefits Generated from CBNRM
A number of studies conducted in the area note that it is the poorest people who are most dependent on natural resources and the most likely to suffer from resource depletion or animal depredations. Wildlife provides an important safety net to them and during times of adversity and resource shortage, its use is more commonplace. It provides both food and to a lesser extent income security.
CBNRM initiatives are directly addressing the issues of the poorest groups through improving resource security, addressing conflicts and reducing risk by providing more diverse livelihood options.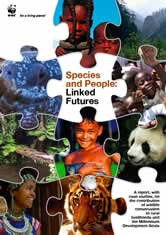 ...
"Strengthening CBNRM has led to its recognition as a rural development strategy by the government. It has subsequently been incorporated into the second Namibian National Development Plan."