WWF and the UN Food Systems Summit
The first ever UN Food Systems Summit took place in September 2021, providing a key opportunity to accelerate and scale food systems transformations to deliver progress across all Sustainable Development Goals, halting and reversing biodiversity loss, keeping global warming within 1.5oC and feeding the world healthy and nutritious diets, within planetary boundaries.
The Summit helps advance and acclerate the delivery of WWF's stated Food goals. WWF works both as a convenor for the Summit and and as an active partner in the process.
WWF Global Food Lead and Chair of Action Track 3, Joao Campari, and several members of the Action Track 3 leadership team share their reflections on the Summit in this blog. Watch this video for a summary of WWF's work throughout the Summit.
Bringing together stakeholders from across food systems, the Summit is structured around five key Action Tracks that have far-reaching goals and provide opportunity to deliver systemic change.

Through the Global Food Practice Leader Joao Campari, WWF chairs Action Track 3 of the UNFSS: Boost nature-positive production at scale. Other members of WWF's Food Practice are involved in the implementation and further development of other action areas, most notably in Action Track 2 which works on sustainable consumption and diets as well as on food loss and waste.

These Action Tracks align with WWF's Food Practice vision of food systems that conserve and enhance nature while providing healthy and nutritious food to all current and future generations. The Summit and Action Tracks help advance and accelerate the delivery of WWF's stated Food goals.

Through research and thought leadership and by building action platforms for multi-stakeholder dialogues, WWF helps inform the development of solutions coming from the Summit, accelerate action and challenge the outcomes of the Summit when needed. With a presence in over 100 countries, that align systemic transformation with area-based conservation, WWF provides the Summit with real opportunities to translate concepts and commitments into action on the ground.

We co-shape Food Systems Dialogues and work directly with stakeholders from governments, to civil society, to private sector, to ensure that all voices are part of the Summit process.
© UNFSS
AT1
© UNFSS
AT2
© UNFSS
AT3
© UNFSS
AT4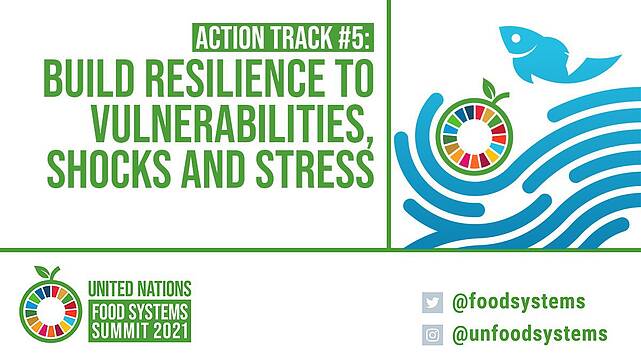 © UNFSS
at5
Outcomes of the Summit, with WWF´s support:
Catalyse bold, game-changing solutions that lead to systemic change,
Deliver systemic change with solutions that are locally relevant and context-specific,
Drive broad participation, particularly of the most vulnerable and under-represented, ·
Bring food systems transformation to the core of the climate and biodiversity agendas, to drive integration of Summit outcomes into upcoming agreements like the CBD COP15 post-2020 Global Biodiversity Framework, the UNFCCC COP26 update of Nationally Determined Contributions to the Paris Climate Agreements, and the UNCCD land degradation neutrality targets.
This will set us on a path aligned with WWF's broader conservation goals, to reduce the impact of food systems on biodiversity and climate, and aid development for all people. Specifically, our leadership role in Action Track 3 uniquely positions WWF to help:
Ensure no net loss of biodiversity from food production, supporting a net positive increase, on lands and in water, by 2030 and a full recovery by 2050 (compared to 2020 levels)
Achieve net zero greenhouse gas emissions from food production by 2030 and achieve net negative emissions from the food system by 2050
Stop deforestation and conversion of natural habitats for agriculture and aquaculture production by 2030
Rehabilitate or restore at least 50% of all degraded agricultural lands by 2030
We require commitments and action plans from Heads of State and other constituency members such as food producers, civil society organizations, private sector companies and financers. WWF will work with stakeholders to implement specific actions in several key areas.
FOCUS AREAS
Our stories
Get involved
LATEST FROM THE UN FOOD SYSTEMS SUMMIT