Ms Hantanirina Joelle RABEARIVELO is a training officer at WWF Madagascar since 2010. The strong theoretical and conceptual backgrond of the course at CIEDEL, Lyon, France will help her to conduct thoughtful analysis on how effectively mobilize the civil societies to allow innovative and effective ways to influence decision making and also leading conservation activities in Madagascar.
Mr Francis IRUNGU is working at the National Environment Management Authority in Kenya and mandated to coordinate climate change activities and also govern WWF's global wildlife and forest goals. The Master Degree of Climate Change & Environmental Sustainability at the Kenyatta University will help him to find solutions for natural resources to be managed sustainably and equitably.
Ms Faustina ADU BOAHENE is a Senior Research Assistant in the Department of Animal Biology at the University of Ghana. With the Masters Programme in Wildlife and Range Management at the Kwame Nkrumah University in Ghana, she will have the knowledge and skills to pass on to her students.
Mr Lameck MKUBURO is an Elephant Researcher in Southern Tanzania Elephant Program. Pursuing an Msc. in Biodiversity Conservation at the University of Dar Es Salaam in Tanzania will help him to contribute to the conservation of wildlife through investigating new ways of managing and conserving critical species such as elephants.
Ms Bernadette KABONESE works as a Research Technician at the Forest Management and Conservation Program at the National Agricultural Research Organisation and the National Forestry Resources Research Institute in Kampala. She will be attending the Agroforestry Masters Program at the University of Kampala. After the training she will focus on developing protocols to enhance multiplication of priority plant species with the aim to promote the conservation of priority plant species for improved health and nutrition for the endangered wild animals and to boost farmers' income.
Mr Musonda NG'ONGA is a District Agricultural Coordinator in Zambia. He is pursuing his studies at the Copperbelt University in Zambia as PhD student in Climate Change. Using the modern applied technics he will better understand the impacts of climate change and how best the local communities should adopt to these.
Ms Fideline MBORINGONG is Assistant to Business and Industries at WWF Cameroon since 2013. This summer she participates a short course at the University of California in Berkeley on Sustainable Environmental Management.The skills learnt on this course will help her in developing innovative solutions that balance environmental, economic and social equity objectives. The course will also promote green growth in the Congo Basin which is one of WWF's local priorities.Fideline's blog post got published after her training at Berkeley. The access, please click on https://iep.berkeley.edu/content/future-generations-shall-hold-us-accountable.
Ms Monika SHIKONGO is a promising young conservationist in Namibia working at the Ministry of Environment and Tourism. She has been also nominated for the WWF Young Consevationist of the World in Livingstone in June 2016. She is pursuing her studies at the Colorado State University to do a master program in Conservation Leadership. After the course she continues her duties as Chief Warden for Environmental Education and Awareness at the Ministry.
© Francis Irungu
Francis Irungu, Kenya, PBS 2016
© Ms Faustina Adu Boahene
Ms Faustina Adu Boahene Ghana, PBS 2016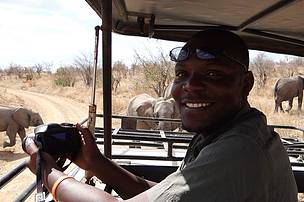 © Mr Lameck Mkuburo
Mr Lameck Mkuburo Tanzania, PBS 2016
© Ms Bernadette Kabonese
Ms Bernadette Kabonese Uganda, PBS 2016
© Mr Musonda Ng'Onga
Mr Musonda Ng'Onga Zambia, PBS 2016
© Ms Fideline Mboringong
Ms Fideline Mboringong Cameroon, PBS 2016
© Ms Monika Shikongo
Ms Monika Shikongo Namibia, PBS 2016
© Ms Hantanirina Joelle Rabearivelo
Ms Hantanirina Joelle Rabearivelo Madagascar, PBS 2016