" It took a Panda to change my life and it can change yours too!"
I am sure that anyone of you who had seen the Panda logo in your childhood, wanted to be a part of the WWF.
 
My fantasy to work with WWF started with just that. And without knowing, I was reading about animals, conservation, clicking photographs of nature, teaching geography in a small community school, and then enrolling in to a full fledged degree in BSC Geography and Environment.
 
Filling applications for WWF became my daily routine and my attempts landed me to the WWF office in Pakistan. I thought that I achieved most of it, until I was asked to volunteer for the WWF's Explore- Youth Volunteer Programme. It was then I realized that the opportunities to learn more about conservation were endless...It was time to Fly off to Fiji!
My Articles in Fiji Times
So here was the new challenge in front of me - getting introduced to the field of Conservation Communication. I was placed as a commmunications intern and had to spend most of my time in front of the laptop to jazz up the social media, make media monitoring reports and help with databases, event management, writing articles for Fiji-times and WWF South Pacific's website. Communications in conservation was a completely new experience and has also become my new catch!

And then there were times when I was out of the office into the field! I snorkelled in the pristine blue pacific waters, climbed the biggest cave in the Pacific, got mudded in the Sebato mud pools, revitalized in the hot springs, spent Christmas in a village, learned about traditional salt-making, attended Natural Resource Management strategies in islands, travelled to the third biggest Great Sea Reef and witnessed the first ever Climate Summit in the Fiji region.

The experience has completely changed the way I perceive conservation and sustainability. I was surprised that being educated in sustainability is not a qualification since the village life taught me far more things which I would have never learned in books. Conservation and sustainability is closer to us than I would have imagined. Right under our nose, surrounding our own space in our very own home. In very simple terms, if you have been through hurricanes and worried about water stock that's what conservation is!

To know more about my work read the various articles I wrote during my time in Fiji.
Now that you are interested to get the best conservation lesson all you have to do is fill the application form at WWF website and take everything as it comes. Understand and observe conservation in its truest form and don't spend much time in preparation. An open mind is enough to make this placement the best learning experience of your lifetime.
To know more about life in Fiji read my blog. 
My Pictures
© WWF
with children of Vadra Vadra village.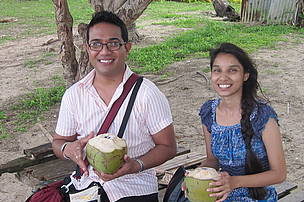 © WWF/Zehra Zawawi
Enjoying a freshly sliced coconut with a colleague in a hot ...
© Zehra Zawawi
Flower shop in the town of Suva city.
© WWF/Zehra Zawawi
What can be more lovely than this sight! This picture was taken ...
© WWF/Zehra Zawawi
I was completely blown away by the hospitality of the people of ...
© WWF/Zehra Zawawi
If you have been in Fiji there is likely any chance of not having ...
© WWF/Zehra Zawawi
Pacific water is blessed with abundance of varied fish pieces. Here ...
© WWF/Zehra Zawawi
Parrot Fish is one of the many fish species found in the Pacific ...
© WWF/Zehra Zawawi
Group shot with participants of National Summit for Building ...
And the show must go on...
It's not the end but indeed the end of beginning. I am back to Dubai and I am currently presenting my volunteership experience with WWF South Pacific in various organizations. I am now stepping into a new challenge with Lead Europe's Leadership for Sustainable Development Programme. And yet again WWF has played a vital role in awarding me with the Prince Bernhard Scholarship to pursue my new adventure.

Contact Me
Feel free to send me an email at zehrazawawi@gmail.com or follow me on twitter @zehrazawawi!