Growing up, I kept a journal filled with ideas on how I might do right by the world. Self-propelled wilderness trips with my family sparked enthusiasm for environmental protection. Time spent in remote communities ignited a passion for indigenous rights. My notebook swelled in volume; and these threads wove my deep interest in being part of the Youth Volunteer Internship Program.
Working with five other interns—a community of engaged, inspiring individuals with abounding hope for the planet—I had the chance to participate in, evaluate on and reflect on WWF's projects in a small fishing community on the Indian Ocean.

In the morning we'd wake to the first movements of the town: grinding corn by mortar and pestle. The sound was a deep hide drum that would resonate throughout the community. By noon, we would often have wet waists from having waded out to the lagoon's seaweed farming lines, completed fish surveys, or walked to the next community to complete household surveys. When the sun started to glow orange on the horizon, we were often absorbed in a local participatory management committee meeting discussing local dinas or laws. Living in Beheloka, Madagascar, we had the chance to start to paddle our way through understanding the dynamic nature of ecosystems and human communities, and the disorienting 'swamp' of challenge that come with long-term sustained conservation projects.
Beheloka: 'life amongst the thorns'
On April 28th, 2014 it rained. I remember standing in the rain in awe. It was so beautiful! Then, like a chicken with its head cut off, I ran around realizing my notes, borrowed research books, sleeping bag, first aid kit, and WWF computer, were all getting drenched. Yet what a time to highlight what a foreigner I am/was. Unlike everyone else in town, the first thing on my mind was not to put out every possible bucket to gather water in the quick 15 minute storm. This same feeling of privilege rippled throughout my experience, and was the most challenging aspect of this program.

A few hours after the April storm I took a picture of Auguste's daughter. She stood next to her house, and tilted the aluminum eavestroph to collect the last few drops of freshwater to drink. There is so much I cannot begin to comprehend, to understand about what it means to live in these conditions. I am told locally that it rained four days in the last year. Four days; for a community without ponds or creeks, rivers or aquifers.
© WWF / Dexter Waters
© WWF / Navarana Smith
Beheloke, a rural fishing community in Southwest Madagascar
The need for water
It started as a rumor, which rippled fast: "The water truck is coming!". When someone confirmed they had seen it, it took only a minute for the landscape in front of me to change. Women and children started sprinting from every direction, arms wide as they skillfully carried 4, 5, 6 jerry cans while keeping top speeds.
Within a few quick minutes, all of the water points had major line-ups. Families stood with yellow jugs stacked in front of them. Fifteen minutes later, the women and kids walked home, jerry cans empty. The government run water program may come as much as one time per month. This time, it was only passing through to the next community. This is life in Beheloka, Madagascar.

And yet this is only one element of life here. From World Food Program bearing food security, to declining reef biodiversity; from infant health to rapid forest cover loss; the fabric of what it means to live in Beheloka is a tangled relationship of ensuring both ecological integrity and human wellbeing. Like many places on this planet, solutions are far from simple. I am mired by these complexities. However this program has strengthened my perspective: by deepening my awareness of the intricacy, it has grounded my ability to take hopefully more genuine, constructive and informed actions.

The tangled relationship between livelihood and resource conservation is paralleled on all corners of our globe. Yet as I reflect on my short three months, I feel more on the balls of my feet in optimism than I ever have. My experience in Beheloka was a one-way bridge which has completely thrown me off my feet. And for this—and the lives, perspectives and efforts of those we met—I am immensely grateful.
My advice?
Take the plunge. And I hope you can bear in mind the key importance of preparation, follow-up, timing (working with the tides or weather!), providing notice, absolute listening and taking that time for appreciations when working in these community-level conservation projects. This was an immense learning curve for me.
Also, advice from a few women in Beheloka: do remove the dorsal fins of the snapper with a bottle cap before filleting it. Otherwise, perhaps like me you might gouge your thumb only to loose all sensation for the next 24 hours. Although, the uproar of hysteria it caused among the women's association, might have been worth my shock. So as a final word, I hope you can let laughter guide your experience, so that you may find that sweet spot of balancing of long days of work with shared joy in the evening sun, beyond language barriers. This is something I am so grateful for the fellow volunteers of having taught me.
Working with WWF?
Never before in my life have I seen a staff body take such short coffee breaks. It was clear from the beginning of the internship that we were collaborating with a team of passionate, motivated, immensely hard working individuals. I have learned so much from each staff member, and am very appreciative of their generosity and insight both in-country, and over the last year.
© WWF / Navarana Smith
...
"To the WWF staff and Beheloka community: "Miasa biby fe tsi vosake". And to all of you considering this program — mahafinartse!"
Stunning images that capture the conflict and a way of life for the remote Vezo people
Some of my photos...
© WWF / Navarana Smith
Vavy and her newborn daughter, Gabrielle. Vavy gave birth to her 4th daughter in a one-roomed, sand-bottomed, straw house, by candlelight.
© WWF / Navarana Smith
This experience would not have been possible without the assistance and effort of Aina Soalina, a biologist from Antananarivo and fellow volunteer
© WWF / Navarana Smith
If these feet could talk...
© WWF / Navarana Smith
It's 6:45 am in Beheloka, and surf's up!
© WWF / Navarana Smith
Mme Monique laughs as she shows me the Malagasy Way, as she used my small ripped piece of plastic to hold three different grades of ground corn
© WWF / Navarana Smith
Fishermen in the local bar, Sunday
© WWF / Navarana Smith
Blue in the water, blue on land; Beheloke beach with drying fishing nets
© WWF / Navarana Smith
Adôré—a well-known dugout canoe builder in Beheloke, and one of the most generous people I have ever met—and his youngest son.
© WWF / Navarana Smith
The landscape around Beheloka. This 'Spiny Forest' is a WWF global 200 priority ecoregion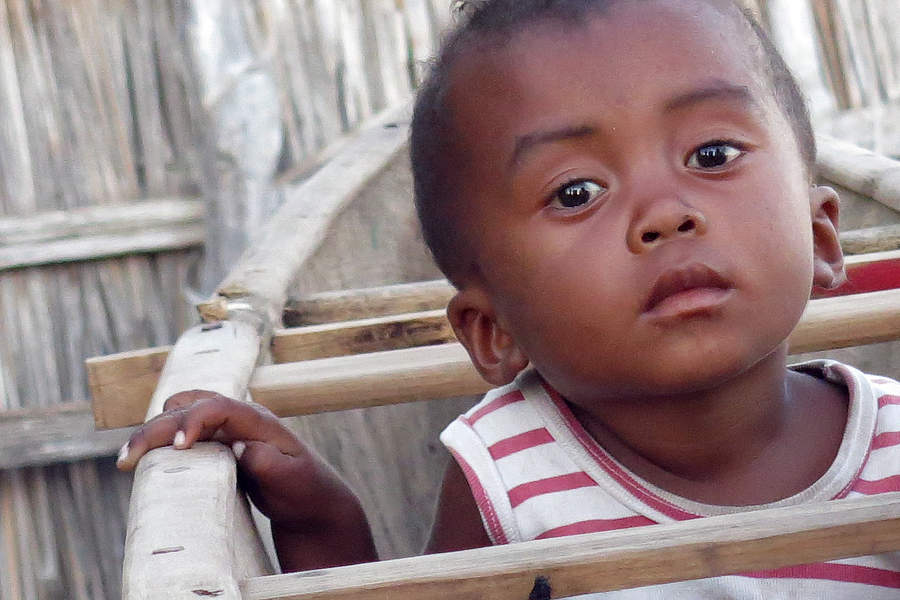 © WWF / Navarana Smith
The dugout canoe is so central to life in Beheloke
© WWF / Navarana Smith
During the World Environment Day, one women's association sings Vatohara Mahafinartse, about the importance of the coral reef
© WWF / Navarana Smith
Heading home with the sun to make dinner after a full day
© WWF / Navarana Smith
Completing household surveys on current fishing practices
© WWF / Navarana Smith
6:45 am, Vezo women pounding corn in preparation for lunch. Every morning the sound of grinding resonates deeply throughout the community