Me, ourselves and the world
I've always been amazed by nature because of the impressive beauty of the landscapes, the silent peace that reign over the forest, the music of early morning birds and the overwhelming smells of the woods after days of rains. But, when I applied on this amazing journey, frozen by the cold of my beautiful Quebec, I couldn't understand how impressive and intense the Malagasy forest is and how it would be a turning point in my life.
I've been studying biology for three years now, dreaming to find opportunities like this one since I knew there was a whole world between what I learned in classes and the reality of fieldwork conservation in developing countries. The complexity of conservation in lands of extreme poverty forced me to learn how to become an agent of change at home and then maybe… I could try overseas… Let's say Madagascar! So I jumped in, with 5 others volunteers all willing to learn as much as possible but also to give as much of themselves as they physically and mentally could.

I was there to learn more than anything
Thinking back about those 3 months, my first thought is how much of a "humbling experience" it was. From the beginning to the end, every thoughts, ideas or mindset I had were challenged with local values, cultures and knowledge. At some point, I had difficulty answering a simple question like: "Why is it important to conserve the forest?" because my answers clashed with the local agricultural culture. But I realized I didn't have to. All I had to do was to sit back, listen, ask questions and try my best to understand the reality of the Malagasy with who I was living.
But this was only the beginning of a wild adventure. One night, a villager came to us and asked, "What alternative can we give to families which are living from charcoal making? It involves cutting down the forest but provided them with money and brings us what we use to cook on an everyday basis. What are the alternative for all those people." That day I understood that long term conservation of biodiversity is not much about creating national park of pristine nature, but more about giving access to tools and knowledge to the people benefiting and using the forest. That way, they will have the opportunity to use the forest in a sustainable way, since they are, most than anyone, aware of the importance of the forest. That way, the communities can become the agent of conservation of tomorrow rather than the agent of deforestation.

So we went out in the field, to live and work in the amazing Malagasy tropical rain forest. As we walked in, doing inventories and zoning, the WWF forest agents and the porters showed us lots of medicinal plants, like that beautiful little flower (which name I forgot) that was used against leukemia. From digestive diseases to headache, the forest was literally their hospital. But as we walk further more in the forest, I started to realize that every tree had a precise use, from cooking wood to making crafts and tools but also making houses. I was so impressed by the local knowledge of the forest because everything has a use and every need was filled with the forest.

During those few months of work in the forest, I came to understand a fact that is often forbidden by urban people like me. All our humans' lives rely on a natural balance where everything we had, have or will have comes from nature. For example, in the Malagasy villages in which I worked, the water doesn't come from the tap; it comes from the forest which captures it from the clouds that come from the Indian Ocean. They're living on a direct relationship with their ecosystems. For most Canadians (and lots of other rich countries), this relationship is way more indirect and some people don't even acknowledge their dependency on nature goods and ecosystems services.

...
"From the beginning to the end, every thought, idea or mindset I had was challenged with local values, culture and knowledge"
And now?
I'm in Burkina Faso with "Engineers without Borders" (EWB) working with farmers' unions for the promotion and improvement of "counselling to families' farms" (Conseil à l'exploitation familiale - CEF). I'm working on improving the synergy between the services of the unions and the CEF. My focus is on financial services (savings, credit, etc) that are given to rural farmers by Micro-Finance Institutions through the unions. I'm also working part time with FEPAB, a provicial farmer union (Fédération des Producteurs Agricoles du Burkina).



GO ! GO ! GO! What are you waiting for…
Here's you're chance to live a "once in a lifetime" experience but to make as crazy as your wildest dream, try to read as much as you can on the country's culture, landscape, history and wildlife. Then you should try to learn the local language and ask crazy questions to former volunteers like me. Then if you're lucky enough to be selected for the program, prepare yourself for the new "mora mora" (relax) lifestyle you'll jump in. Finally, you should try to love every living creature, from scorpions, to leaches, to geckos and lemurs because they will be everywhere in the forest, in the kitchen and even in your bed!!!
Most importantly, before and after going overseas to help conservation and development, you'll have to play your part at home. Through WWF or any other good organization, there's plenty of way you can have enormous impact without having to deal with scorpions on your pillow! With the Explore program, you'll have a global view of conservation that is only valuable if put in actions in your own local environment. With this crazy opportunity comes enormous responsibilities… get crazy, jump into action!
My photos of Madagascar...
© WWF / Charles Cauchon
Sunrise over the village of Vohilava, last "city" before the forest !
© WWF / Charles Cauchon
The amazing ponds of the forest
© WWF / Charles Cauchon
The Malagasy team with who I was working for a month
© WWF / Charles Cauchon
Lemurs seen only meters from the camp, way out in the forest !
© WWF / Charles Cauchon
The incredible Malagasy sun throught the forest
© WWF / Charles Cauchon
Sunset over the forest, seen from the top of a tree on which I climbed !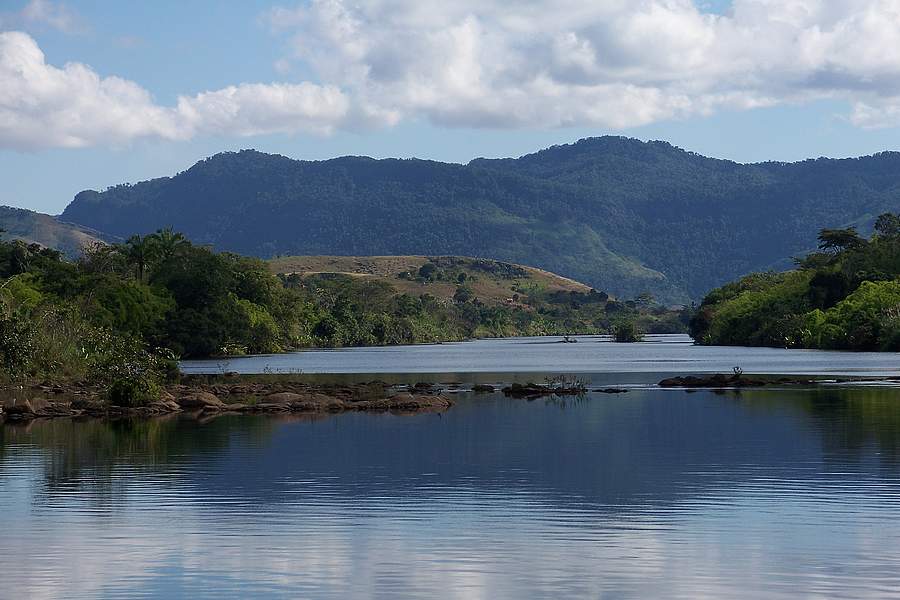 © WWF / Charles Cauchon
The Vondrozo forest corridor from the back
© WWF / Charles Cauchon
Crazy spider down the craziest fall ever !
© WWF / Charles Cauchon
The edge of the forest, pretty steep for a crop land...