About Me...
I've never studied in any environmental field and I even put aside my science books to concentrate on history of art and cinema but I've always had a strong desire to help preserve what we have that is most precious on this earth. That is the biggest reason I decided to sign up for the volunteer explore program with WWF. It was a chance for me to do a small part in helping the environment of Madagascar by using art as a tool to communicate to my community and to the rest of the world the urgency of the situation in one of the worlds most unique ecosystems.
I've done volunteer work in the past for the environment in my own country, but I realize that the whole world is my backyard and we all must do our best to preserve it.

I live in Canada where we are blessed with many natural resources and a relatively low population. I had a childhood filled with visiting my aunt's farm, camping, cottages, hiking etc and I can't imagine ever having to live without the glory of the woods that surround my home town. Going to Africa was a chance for me to experience a completely different climate and ecosystem and its fragility when man throws off its natural balance. Nothing could have prepared me for all the things I witnessed and everything I learned. I think it's a trip that everyone should make in their lifetime.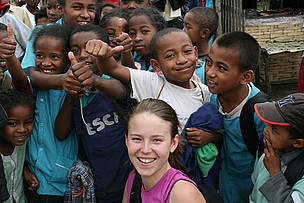 There is no way I could ever portray all that I saw and felt on my trip through the green island - but the video below is a small look into what I learned, and I hope that it can help spread the word...
What I learned from my stay...
All in all, Madagascar was an experience hard to put to words. I am still finding out what I learned from my stay there as I look back on its many adventures.
If there is one thing I would like to say to anyone contemplating such a trip is that you must simply open up your heart and mind and dive right in. It is an experience everyone should have in their lifetime. For you and for all the others who cannot make this trip or one like it, I say this, the world is a place you cannot even grasp in your wildest dreams, only by seeing it and feeling it can you begin to glimpse its wonder. Please help us to protect it in any way you can. is one of many countries that needs our help, our understanding and our love. It is a very precious island, being the only home to countless species of plants and animals including the lemur. If the destruction continues, if we don't spend time helping its people find ways to live in harmony with the environment, it wont be long before we all loose these creatures forever. We can all help just by spreading the word.
My most sincere thanks to everyone at WWF International and Madagascar for making this possible, to Sahondra for always being there, to Marcel and my family in Ambodivohitra, Andapa for their never ending kindness and to my 6 companions for their hard work and friendship.
Thank you for taking the time to read this.
I hope we can all pull through.
...
"
Madagascar now has a giant place in my heart. It taught me to open my mind and soul to a lively and deeply kind people. I was presented with a wildlife whose eyes and song haunt me to this day. It changed the way I think, the way I see, the way I feel and the way I live...
"
Contact me!
If you have any questions or would just like to chat, feel free to contact me sithiarrow@hotmail.com
Si vous avez des questions ou voulez simplement me parler de mon expérience, svp contactez-moi! sithiarrow@hotmail.com
My photos of Madagascar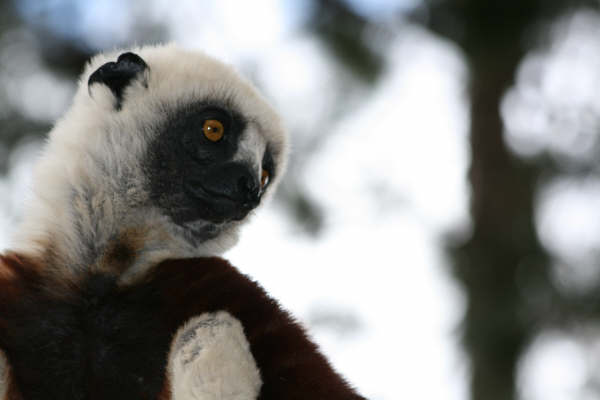 © WWF / Mélinda-Ashley Gilhen
Sifaka at the Croc Farm on the outskirts of Antananarivo
© WWF / Mélinda-Ashley Gilhen
Performer on the streets of downtown Antananarivo
© WWF / Mélinda-Ashley Gilhen
White ruffed lemur at the Timbazaza zoo in Antananarivo
© WWF / Mélinda-Ashley Gilhen
Small child in the markets of Andapa
© WWF / Mélinda-Ashley Gilhen
Slash and burn fires in the night in northern Madagascar
© WWF / Mélinda-Ashley Gilhen
The dry horizon in northern Madagascar
© WWF / Mélinda-Ashley Gilhen
Me in the forest surrounding Anbodivohitra
© WWF / Mélinda-Ashley Gilhen
The view from our 4/4 while driving through northern Madagascar
© WWF / Mélinda-Ashley Gilhen
Young boy at the Lemur Day festivities in Ambatoriha
© WWF / Mélinda-Ashley Gilhen
Children playing at dusk in Ambatoriha
© WWF / Mélinda-Ashley Gilhen
Orchids in the forest near Antilongo
© WWF / Mélinda-Ashley Gilhen
Brown Lemur in Analalava