About Me...
I'm Claire, I'm 25 and I come from Switzerland.
As soon as I finished my studies, all I wanted to do was fly south and work in the field on an environmental project. That's when I found the Explore Programme!
I loved Madagascar and couldn't leave. So I decided to stay a little longer and continue working in conservation.
I am also interested in gender issues and developing art as a tool for environmental education and communication.
My first volunteering experiences were in Latin America, a part of the world I am particularly attracted to. I then wanted to travel more, learn about other cultures and understand what can be done to make things better for the Planet.
Dancing is my other passion, and the good thing about it is that I can dance all over the world. If you come to Madagascar, you'll have to love the music as it's played full blast in each and every taxi-brousse (mini-buses that travel through the country) you will take!
What I learned while I was there
One of the important things I have learned from the Malagasy is patience.
While my European and especially Swiss background have taught me values such as punctuality, precision and effectiveness, my Malagasy experience has trained me, or rather forced me, to be patient and trust that things will, eventually, one way or another, happen.
There are many examples of this, from the long, never-ending taxi-brousse rides, to the woman at the cash desk who just doesn't seem to care that you're running late.
There's no need to rush,
"moramora"
as they say here. I'm not sure the Swiss watch industry would be successful in Madagascar.
During my volunteer placement, I was able to understand and testify to the beauty of Madagascar's nature on the one hand, and the damage caused by human activities on the other.
We were 5 Europeans working with the WWF team in Andapa, in the North-Eastern part of the fourth largest island in the world. We took part in various activities, all mainly involving environmental awareness.
Living this experience gives you the chance to see the world differently and to be seen differently. The first thing that struck me were the reactions and expressions of people, especially children, at the sight of a "vazaha" (white foreigner) in their community. They want to watch you, talk to you, play with you, touch you and laugh with you. This created a mixture of new emotions in me which I will never forget.
My Video
Below is the video that I made during my time as a volunteer. What I wanted was to show you the close tie between people and nature in Madagascar. I believe this is one of the fundamental differences between developing and developed countries. Enjoy...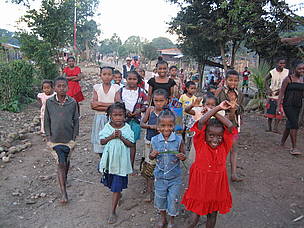 Still in Madagascar!
After the Simpona project, I spent the next 2 years with WWF Madagascar's marine programme. And now I'm with The Andrew Lees Trust. Read about their new book "Voie du Changement" on climate change & mining in Southern Madagascar
My advice would be...
Whatever you expect from this experience, it will be different, and better.
Just like a piece of chocolate: you know it's going to be good, but you don't know how much until you've swallowed it! I never stop after just one piece. Do you?

Contact me!
If you're thinking of volunteering and want to talk more about what it's like and what to expect, just e-mail me

My photogallery
© WWF / Claire Balbo
Explorers and WWF staff on our way to Andrakengy, August 2006
© WWF / Claire Balbo
Breathtaking landscapes near Andrakengy, August 206
© WWF / Claire Balbo
Me on the roof of the WWF office in Andapa, August 2006
© WWF / Claire Balbo
Me with Clane, the little girl in my host family in Ambodihasina, August 2006
© WWF / Claire Balbo
A large group of kids pose for me after playing with a kite. Ambodihasina, August 2006
© WWF / Claire Balbo
Woman working in a rice field, Ambodihasina, August 2006
© WWF / Lucia Canedo Pouso
Me in Andrakengy, August 2006
© WWF / Claire Balbo
Sechel making banana cake, our favourite! Anjialavabe, September 2006
© WWF / Claire Balbo
Vanilla drying in a village near Anjialavabe, September 2006
© WWF / Claire Balbo
People waving as we pass through a village on our way to Anjialavabe, September 2006
© WWF / Claire Balbo
Close encounter with a Silky Sifaka, or Simpona Fotsy. Marojejy National Park, September 2006
© WWF / Claire Balbo
The Explorers at the beach towards the end of our WWF experience. Antalaha, October 2006