A year after my return from the big red island of Madagascar I am sitting in local café in small town British Columbia, Canada, reflecting on my summer as it winds down. I am thinking about all the changes that have happened over the last year and the experiences that have made me grow as a person.
During the summer of 2012 I had the opportunity to visit a place I had only read and dreamed about. Having just completed a Bachelor's of Science in ecology, I thought what would be a better way to experience an epicenter of ecological diversity and absorb its splendor than to spend 3 months volunteering in a remote village in Madagascar. After the long journey- to possibly the furthest away place in the world from my hometown-I stepped off the plane in Antananarivo and my senses were overwhelmed. All the sights, sounds and smells were new and unfamiliar. I prepared myself to drop all expectations and to experience each moment as it arose.

The role of foreign volunteers in developing nations is sometimes a challenging one. We arrive full of hope that our efforts will make a real difference and change something for the better. But real change can only come from within. We can only change ourselves and lead by example to inspire those around us. We can share knowledge, experience, opinions and ideas, but it's a two way street. Soon, I realized that we had as much to learn from the Malagasy people as we could offer them. I came home with lessons on community, hope and perseverance.

The life of a subsistence farmer is not easy. With hardly any monetary income to speak of farmers grow all their own food and live off the land. Only essential commodities are purchased or traded for at markets, which are often a treacherous half-day trek away from home. Despite their lack of any knowledge of the scientific evidence or climate data we were hard pressed to find anyone who didn't acknowledge that the climate in Madagascar is changing; weather patterns are more extreme and less predictable than they used to be, and surviving off the land is proving to be increasingly challenging. With a life so intimately connected with your surroundings, the issue of sustainability becomes one of survival.

WWF has been working with grassroots groups both to improve the livelihoods of the villagers and also to help protect the remaining corridor of forest. The protection of the forest will help to preserve the biodiversity that makes the island famous and ensures ecosystem services for future generations. With programs such as apiculture, gardening, small animal husbandry and reforestation, the villagers are learning new skills to help them diversify their sources of income and food. In order to remain accountable for the resources and time that WWF has invested, villagers are required to create a council called a COBA that is responsible for organization, finance and communication. As most of the men remain busy working the rice paddies with their zebu, women are finding themselves shouldering additional responsibilities with these added activities. This has led to many changes in the villages, including the opportunity for previously illiterate adults to learn reading, writing and basic math.

I felt a special connection with the many women I met in the forgotten hamlets of the Ivohibe region. The two other girls in the volunteer group and I organized women's meetings at each new village to meet the ladies, to get to know their customs, traditions, and hardships, and to try to break down the communication barrier as much as possible. Of course this wasn't easy, we relied on male field agents to translate for us, and tried to breach subjects that were often taboo to discuss. It became increasingly evident to me that women play a critical role in sustainable development, and in order for communities to thrive the women must be empowered. The role of women in Bara and Betsileo culture (the two cultural tribes that dominate the region) remains very traditional. Hannah, Melinda and I created a video commentary (see link on Melinda's page) on what we learned about their lives, and our thoughts about how education and opportunity will help these women gain the confidence and skills to become great leaders in their communities.

What's next for me?
Inspired by the Malagasy spirit of togetherness I am continuing to look for ways to get involved to better my community. I am back at school now, studying engineering with aspirations to combine ecological theory and engineering principles in working towards sustainable solutions for our future.

I am involved with the Women in Science and Engineering at my university as well as SEEDS. I do my best to tread lightly on this earth and encourage others to do the same. We are privileged with the ability to choose how we live and what we consume.

© WWF / Roxanne Koczwarski
...
"Get out there and explore!
"
Some of my favourite photos!
© WWF / Roxanne Koczwarski
Zebu cart riding across the bridge in Ivohibe
© WWF / Roxanne Koczwarski
A hamlet in the heart of Madagascar
© WWF / Roxanne Koczwarski
Zebus on the soccer field
© WWF / Roxanne Koczwarski
Working together to make plots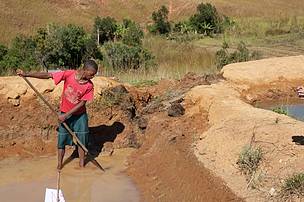 © WWF / Roxanne Koczwarski
Pisciculture: Dredging the fish pond
© WWF / Roxanne Koczwarski
A women's gathering
© WWF / Roxanne Koczwarski
Women's group discussion
© WWF / Roxanne Koczwarski
Children enjoying a drawing activity
© WWF / Roxanne Koczwarski
Reforestation: planting guava trees
© WWF / Roxanne Koczwarski
A sacred place
Recommendations for future Explorers?


This experience opened my eyes to a world previously unknown to me and helped me to learn about myself. I made memories that will stay with me for the rest of my life. My advice is to forget about anything you think you know, drop all expectations, and bring an empty journal to write your stories down. Stepping into an unfamiliar culture as an outsider can be intimating and exhausting at times but it will help you discover your limits and your strengths.

Get out there and explore!

© WWF / Roxanne Koczwarski
Check out the video I made together with Hannah & Melinda