About me!
I am a Rwandese and by then was 24 years old when I left for Madagascar to volunteer with WWF Madagascar.....
It was in April 2013 when I departed Rwanda my home country to Madagascar to volunteer with WWF Madagascar in the Youth Explore program for three months. By then I was 24 years old. It was a very exciting moment in my life. I had recently graduated in Zoology and Conservation at the National University of Rwanda, I was looking forward to getting more experience with the biodiversity of a different regions to my home country. More to that I had read through different searches on internet that Madagascar is wonderland, a small paradise on earth. This raised my curiosity to see plant and animal species on this island. Briefly, I was expecting much in biodiversity as my career.
To my great surprise, It was not only the fauna and flora species that were amazing also the warm welcome one gets from happy people with huge smiles on their faces also made me feel at home in this beautiful island.
3 months in Madagascar
During the three months we spent in Madagascar as volunteers, we were able to go to many different places; Antananarivo where we stayed to have basic Malagasy courses with our great teacher Manjaka, then we went to Fandriana where we spent most of the our time in Madagascar, and on our way there, we were able to visit Anja Park in Amboistra, and also spent some days at the Fandriana offices of WWF every after 1 month on field. Where we could do a monthly report and presentation to the Fandriana offices. After field period on our back to Tana we to visit another beautiful park called "Ranomafana" meaning hot water. It is a place you can never imagine only until you see the place. Different amazing and fascinating tree species that you only find in Madagascar. When you reach here you get to understand where people get their inspirations to write about Madagascar.
While in Fandriana, we went to 2 villages one called Vatomistangana and another called Miaranavaratra. We could work with the associations there that are supported and facilitated by WWF in trying to improve their livelihoods. WWF does this by guiding the associations in modification of agricultural techniques as well as helping them doing the research of the preferable kind of crops suitable to their areas and this helps the members of the associations who are the local people near to the protected areas to get better yields and hence improving their livelihoods. When these communities are well off, they will stop encroaching the protected areas and instead help in their protection.
It was a great experience spending all those days with the members of the associations, both career wise and socially.
© WWF / Sylvia Kawera
© WWF / Sylvia Kawera
A selection of my photos
© WWF / Sylvia Kawera
The volunteer group at Anja Park of lemurs
© WWF / Sylvia Kawera
Kate and Sylvia dancing with the women's association on World Environment Day
© WWF / Sylvia Kawera
Our hands after painting!
© WWF / Sylvia Kawera
The home of the volunteer girls at Basile's house
© WWF / Sylvia Kawera
Audrey and Sylvia sharing a blanket on a cold Sunday morning
© WWF / Sylvia Kawera
Sylvia painting the office of the association Tombotsoa in Mianavaratra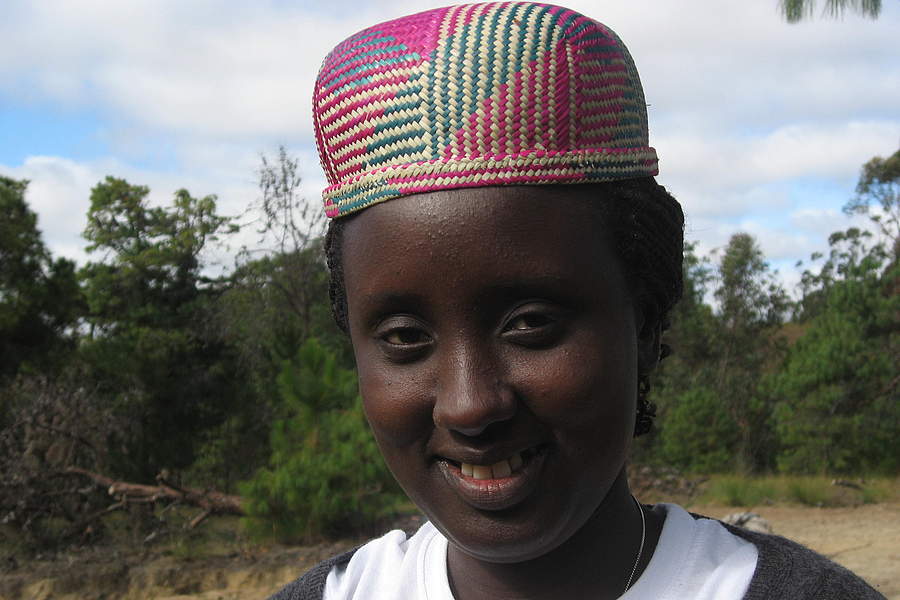 © WWF / Sylvia Kawera
In the Betseleo hat
© WWF / Sylvia Kawera
Megan, Sylvia and the members of the association Tombotsoa drumming on the celebrations of the World Environment Day
© WWF / Sylvia Kawera
Saying goodbye to our sweet neighbors in Ambavala
© WWF / Sylvia Kawera
Kate, Audrey, Megan and Sylvia with members of Vinsty club
© WWF / Sylvia Kawera
Volunteers and members of Tombotsoa association in Mianavaratra pose for a photo after working together