About me...
I got my degree in Zoology from the University of Aberdeen in June 2004 and since then I have not looked back. After becoming a Scuba Divemaster in Egypt, I went out to Bermuda to work for a year and while out there I did a lot of volunteer work for Bermuda Aquarium and Zoo and in particular their green sea turtle tagging projects which they carry out for about 3 months of the year. While out there I was very interested in getting back into terrestrial conservation and I was very excited about the opportunity to go out to India with WWF.
I have always dreamed of travelling to India because of its amazing culture and incredible wildlife and scenery.
The experience I had in India was life changing.
I met some incredible people that I will never forget who inspired me to work harder and be a better conservationist. I saw things and places and had experiences that I had only dreamed about, or I did not think were possible. Ultimately it was a life changing experience and a big success.
While out in India I kept a journal of all my experiences by writing four articles of everything I experienced and how I felt throughout my time in India. I have put them up on this website for you to have a read, so I hope you enjoy reading about my WWF placement as much as I enjoyed participating in it.
© Will Maclennan
My transport for my time in India: a motorbike.
© Will Maclennan
The forest was amazing in Dudhwa. It was a forest that had been left completely untouched for many years and had completely overgrown.
© Will Maclennan
Tiger scat (Tiger faeces) are really hairy. This is because, when a tiger eats its prey, it eats every part of it , but because the hair is indigestible it passes straight through. It is possible to easily identify what the prey was. In this case a Sambar was the tigers last meal.
© Will Maclennan
We drove the car down to an old looking wooden bridge crossing a river. We parked the car just before the bridge and crossed into some thick grassland.
© Will Maclennan
The Government paid to have stone spurs built going out into the river in order to prevent the river eroding its banks so much that it encroaches in onto the railway line.
© Will Maclennan
.The Magar crocodiles were very easy to spot between the common crocodiles,as they have very long, thin noses that have lots of very sharp teeth showing, and the male Magar crocodiles have big round bulbs on the end of their noses.
© Will Maclennan
I woke up in the morning having spent the night in a very pretty and very large guesthouse right in the middle of the jungle. It was a very colonial looking building with big stone pillars and very high ceilings. It was built in 1887 by the British and was used for a hunting lodge.
© Will Maclennan
After breakfast, we went down to the river bank and got a boat across the river. Awaiting us on the other side of the river were two buffalo drawn wooden carts.
© Will Maclennan
There was a large raised stone balcony outside the rooms where we could cook and relax without fear of being attacked by wild animals. India.
© Will Maclennan
Cooking dinner. Lagga Bagga, India.
© Will Maclennan
Taking motorbikes across an Indian river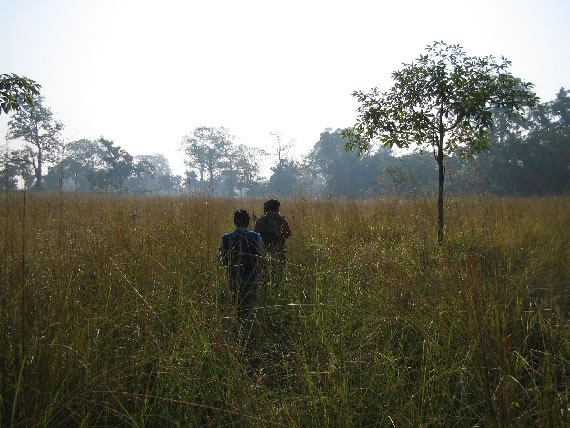 © Will Maclennan
Lagga Bagga, India
© Will Maclennan
We walked through the forest to the Nepalese border, which consisted of a large stone that was placed in the middle of some thick undergrowth.
© Will Maclennan
Undergrowth at Lagga Bagga, India.
© Will Maclennan
Drinking chai at the house of a very friendly family, of which, all the men work for the forestry division. Lagga Bagga, India.
© Will Maclennan
WWF Health Camps are organized on a regular basis to provide medical treatment for the villagers free of charge.
© Will Maclennan
The WWF Mahindra jeep/ambulance drove around the villages with a loudspeaker making an announcement that the health camp was taking place. It ran from 10 until 4 and during that time over 380 people showed up to receive medical treatment.
© Will Maclennan
It is very easy to see how these health camps have become very important to the local people who cannot afford to go to doctors where it can cost Rs 50 just to have a consultation. The volunteer 3 doctors are sitting in this picture, with WWF staff behind them.
© Will Maclennan
Eagle at Keoladeo National Park, India