The ocean's natural richness is unevenly distributed. Those parts with extraordinary value, such as corals and fish breeding areas, require special protection—not just for their inherent value, but also because of their significance for human livelihoods and well-being.

This is at the heart of WWF's approach to marine conservation.
© WWF
Protecting the right places, better
In the face of growing
threats
such as overfishing, habitat destruction and pollution, as well as acidification due to climate change, we need to protect the "right places"—vulnerable and productive ocean and coastal areas such as coral reefs, mangroves, fish spawning grounds, mudflats and deep seamounts.
This way, we can increase the ability of the ocean to better cope with these threats (increasing its resilience) and to keep delivering benefits to people and wildlife
.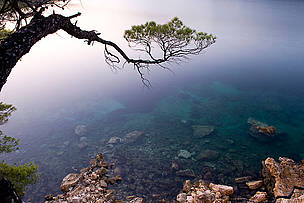 © Wild Wonders of Europe /Stefano Unterthiner / WWF
No shortage of solutions
Governments and ocean users such as coastal communities, shipping and oil & gas companies, tourism businesses and commercial and artisanal fishermen can use a wide range of specific protection measures, such as
Marine Protected Areas
, locally managed marine areas, and marine spatial planning,
particularly sensitive sea areas
, vulnerable marine ecosystems to fisheries to ensure ocean assets are not further degraded and continue to generate economic benefits.
However these measures work best when they are implemented within a larger zoning plan, so-called integrated ocean management framework.
© Roger Hooper / WWF
Integrated ocean management?
Integrated ocean management ensures key ecoystems are protected through the most appropriate measures, enhancing ecological connectivity that is so critical for marine species to thrive and important ocean processes to happen, while ensuring local communities and economies can continue counting on the ocean for subsistence and sustainable growth.

With those measures in place, effectively managed and enforced, we can boost the health of ecosystems and even turn around the current downward trend in marine biodiversity.
We are helping governments to meet their ocean protection commitments
In the last decade, the voice in favour of ocean protection has grown globally, and governments are responding.
In 2010, Governments at the
UN Convention on Biological Diversity
meeting agreed to a biodiversity rescue plan, that includes marine protected areas covering
at least 10% of our ocean by 2020
.
In 2015, the UN General Assembly adopted a resolution to develop a
legally-binding treaty for the conservation of marine life beyond national territorial waters
–that area of the ocean shared by all.
To help government meet their commitments and ensure the ocean continues to provide food and livelihoods for millions of people, the WWF Oceans Practice:
helps governments and local communities identify and manage those critical places that are in urgent need for protection in order to secure food security and livelihoods.

works with fishermen, local communities, and business sectors to implement best practices and sustainable use of marine and coastal resources.

take part in the global debate around ocean conservation and uses its decades of experience on the water and in policy fora to influence decisions at the highest level.
© naturepl.com / Steven Kazlowski / WWF
© Jürgen Freund / WWF
To find out about WWF's marine Priority Places, hover over and click on the labels on the map below:
For a larger version of this map, please click here.
30+ YEARS OF RESULTS
WWF has helped achieve protection for critical marine areas in 21 regions around the world, from locally managed areas in the Pacific and the Western Indian Ocean to larger areas such as the Baltic, Coral Triangle and the Arctic. In all cases, these successes have been due to strong partnerships including local communities, governments, NGOs, and research institutions, all working together towards a common vision to conserve marine ecosystems and the resources they support.