Every day, thousands of tons of fish are stolen from our oceans and brought to market disguised as legal catch. So, what can we do about it?

Pirate fishing is a multi-billion dollar industry that endangers marine ecosystems, hurts law-abiding fishermen, and deceives honest retailers and well-meaning consumers alike. It continues because it is profitable. And it is profitable because pirate fishers find it so easy to bring their tainted goods into ports, across borders, and onto our store shelves and restaurant menus.

WWF's Transparent Seas Project is working globally to make fishing more transparent and to ensure that the seafood reaching markets is fully traceable to legal sources.
At a global scale, illegal, unreported and unregulated (IUU) fishing has escalated over the last two decades. Every year, millions of tons of fish are stolen from our oceans and brought to market disguised as legal catch. IUU fishing is estimated to take 26 million tonnes of fish each year, adding to the pressures on stocks and the financial value of IUU fishing was estimated at up to 23 billion USD per year in 2015.Therefore, combating IUU fishing is key to improve food security worldwide.
Transparency and traceability are crucial for good governance and to fight illegal, unreported and unregulated fishing, to protect sensitive areas, and to increase the overall safety of fishermen.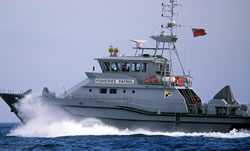 Port State Measures Agreement
© WWF / Edward PARKER
A major step to curb illegal fishing
WWF welcomes the entry into force of the Port State Measures Agreement (PSMA) on June 5 2016. As the first binding international treaty specifically aimed at preventing illegally caught fish from entering ports around the world, PSMA is a huge step in the global fight to eliminate illegal fishing.

PSMA is a cost effective way of leveraging market forces to close ports everywhere to vessels suspected of illegal activities.The more countries join the Agreement and effectively implement it, the better the chances of keeping illegal products out of global markets.

WWF Traceability Principles for wild-caught sea products
The six Traceability Principles provide a basic framework for the effectiveness and successful implementation of traceability systems, enabling transparency in wild-caught fish product supply chains
The stakes are high for the marine environment, for billions of people who depend on fish for their protein, and for hundreds of millions who catch and sell fish for their livelihoods.

- David Schorr, Head Transparent Seas Project, WWF Smart Fishing Initiative
Our initiatives include:
Promoting laws and policies to keep stolen fish from entering ports or crossing international borders
Working with industry towards "business smart" solutions to make all seafood fully traceable "from bait to plate"
Helping fishermen, industry, and governments adopt tracking systems to monitor fishing activity and document catches
Educating consumers on how they can be part of the solution
Some key vocabulary
IUU = Illegal, Unreported or Unregulated fishing

Traceability = the ability to track fish products through the entire supply chain

Find out more...