Year 2017
© WWF
19-21 March, International Seafood Show, Boston, USA
25-27 April, Brussels Seafood Expo, Brussels, Belgium
2 May World Tuna Day
22-26 May: 21st Session of the Indian Ocean Tuna Commission (IOTC), Yogjakarta, Indonesia

21 November, World Fisheries Day

3-8 December: Western and Central Pacific Fisheries Commission (WCPFC),14th regular session of the commission, Philippines
WWF, NGOs and fishing industry demand tuna harvest strategies in the Pacific
In a collaborative letter, WWF, non-governmental organizations and fishing industry organizations are calling for better regulation of tuna fishing within the Pacific.

The organizations believe that the development of harvest strategies is fundamental to sustainable fisheries management and necessitates immediate action by the
Western and Central Pacific Fisheries Commission (WCPFC).
Read the letter here.











© WWF LAC
Meeting with fishermen in El Hierro
© WWF/SFI Wetjens Dimmlich
Learning from local, progressive fisheries communities
WWF´s Smart Fishing Initiative travelled to La Restinga, El Hierro, a small volcanic island off the Western Sahara to develop new sustainable fishing projects. This island has a unique approach in becoming 100% energy self-sufficient, using a combination of wind and hydroelectric power. Local fishermen are determined to protect their fishing resources through planned expansion of marine parks around the island. El Hierro's outstanding reputation as "green" island with a sustainable energy supply and fishery made the island a perfect choice to learn more about the local community´s fishery management methods and solutions to avoid overfishing.
"As a global conservation organisation, WWF not only relies on, but also benefits from the experience of regional and local partners. Small-scale fisheries in El Hierro could become a global example for successful, responsible and sustainable fisheries management",
said Alfred Schumm, WWF's Smart Fishing Initiative Leader.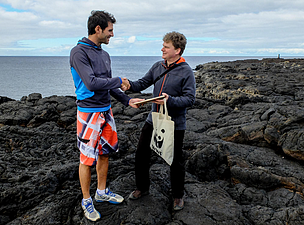 © WWF/SFI Wetjens Dimmlich