WWF believes that all companies should source palm oil that is sustainable, meaning that it protects and respects wildlife and the environment, and is free of deforestation and conversion, planting on peat, and exploitation of communities.
Underpinning that effort is the support of sustainable palm oil production. WWF believes companies can be drivers of change and are better placed to help develop solutions for sustainably sourced palm oil from within the value chain, rather than forfeiting leverage and allowing demand to simply shift to other products and markets. We applaud companies that source deforestation and conversion-free palm oil, while also taking extra steps to work with others in the palm oil value chain to create and support models for sustainable production and best practice, particularly models that are inclusive of smallholders.
Certification, complemented by other approaches and strong governance, can play a key role in ending irresponsible palm oil production. Joining the RSPO and committing to purchasing responsible palm oil is an important first step that all concerned companies should take. With the 2018 revision of the RSPO's Principles & Criteria, the RSPO Standard now represents an essential tool that can help companies achieve their commitments to palm oil that is free of deforestation, expansion on peat, exploitation and the use of fire.
© UNODC
What is WWF asking from companies buying palm oil?
All companies should be able to demonstrate how the actions that they are taking support sustainable palm oil and cover the entirety of the palm oil that they use in their operations globally.
WWF expects responsible companies to:
Make commitments to palm oil that is free of natural habitat conversion, deforestation, planting on peat, and exploitation by 2020
Join the RSPO and become an active member, reporting accurately, completely and annually via the Annual Communication of Progress (ACOP)
Source 100% RSPO CSPO with immediate effect, and invest in traceable supply chains of CSPO and support for smallholders
Be transparent in their palm oil use, publishing the volume of palm oil used annually and details of how the sustainability of this volume is assured
Be transparent in their palm oil sourcing, ensuring traceability to refineries and mills, and publishing a list of these sources at least annually
Invest in complementary strategies including smallholder support programmes, sustainable landscape approaches
For retailers, go beyond own-brand commitments and take responsibility for making sure all the palm oil they sell is sustainable
Raise awareness of the RSPO and CSPO globally and the importance of sustainable palm oil
Buy from certified RSPO member growers that are going beyond the requirements of the RSPO such as the Palm Oil Innovation Group (POIG)
Companies unable to meet the above requirements are expected to publish an explanation.
© POIG
The Palm Oil Innovation Group (POIG) is a multistakeholder initiative that strives to achieve the adoption of responsible palm oil production and procurement practices by key players in the supply chain through developing and sharing a credible and verifiable benchmark that builds upon the Roundtable on Sustainable Palm Oil (RSPO), and creating and promoting innovations. Founded in 2013, the initiative was developed in partnership with leading NGOs as well as with progressive palm oil producers.

POIG acts as a forum for open discussion and sharing of experience with innovations and improvements in: oil palm plantation practices, extraction mill management practices, responsible procurement, and product traceability and verification throughout the supply chain.

POIG aims to demonstrate that by setting and implementing ambitious standards, the industry can in particular break the link between deforestation - and human, land and labour rights violations - and palm oil production.
How is WWF supporting responsible purchasing?
The WWF Palm Oil Scorecard shines a light on what retailers, manufacturers and food service companies are doing to tackle the problems around palm oil. The 2016 scorecard looked at the performance of 137 companies from Australia, Canada, Europe, India, Japan and the US. Between them, these brands use more than 6 million tonnes of palm oil, representing roughly 10 percent of global use. WWF also produced scorecards in 2013, 2011, and 2009; and has produced scorecards in Germany, Malaysia and Singapore.


WWF works to mainstream demand for sustainably palm oil with buyers and traders, both through direct engagement and with a number of Alliances to support sustainable palm oil through purchasing and other downstream "buyer" actions. These include: The Roundtable on Sustainable Palm Oil (RSPO), the Palm Oil Innovation Group (POIG), Support Asia for Sustainable Palm Oil (SASPO), the India Sustainable Palm Oil Coalition, and the China Sustainable Palm Oil Alliance.


WWF promotes sustainable palm oil in major markets and drives consumer awareness of the need for using sustainably produced and sourced palm oil. We work to advance supply chain transparency, traceability and decision support tools.


WWF works with banks, investors, regulators and stock exchanges to integrate environmental and social governance (ESG) into mainstream finance and create a resilient financial system that supports the sustainable palm oil agenda.
© Audra Melton / WWF-US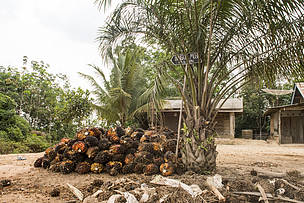 © Neil Ever Osborne / WWF-US
Palm Oil Scorecards
What does WWF's latest assessment of the buyers of palm oil globally reveal about the progress toward certified sustainable palm oil?
►
Find out
© James Morgan / WWF International