© WWF Finland/Jali Peltonen
A solution for a crowded sea
We all know that the Baltic Sea is in trouble. We know that current actions to restore the sea to good environmental health are still not adequate to reach this goal. At the same time we also know that the Baltic Sea is seriously underperforming as an economic resource.
If we are to save our sea and build a prosperous economy in our region for the long-term, we will need a new approach. The solutions we have tried so far all take a fragmented approach. We have tried to solve the problems one by one, sector by sector and department by department. The result is an inconsistent patchwork of rules and regulatory bodies in nine coastal countries, utterly ineffective to deal with the complex problems facing the Baltic Sea.
The Baltic Sea region is positioned to become the world's first truly sustainable Blue Economy. Many of the policies already in place hold great promise, if implemented. We have the necessary know how, technology and capital. Our population appears willing to invest in a healthy sea. But to succeed, we need to move from rhetoric to action and to use the tools at our disposal. Key to success is an integrated approach to managing the sea.
Find out how to achieve effective integrated ocean management and what defines a sustainable Blue Economy
.
A Business Plan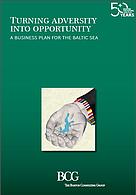 © BCG
Measures to restore the health of the Baltic Sea could bring €32 billion and 550,000 jobs to the region by 2030. This was one of the findings of an analysis into what it might take to realise the most appealing scenario for the Baltic Sea in 2030, published in a report for WWF by the Boston Consulting Group, 'Turning adversity into opportunity: A business plan for the Baltic Sea'.
A set of principles

To share a shared understanding about what characterizes a sustainable Blue Economy, and to help ensure that the economic development of the ocean contributes to true prosperity, today and long into the future, WWF has developed a set of principles.