© Antonio Busiello / WWF-US
Dear friends and colleagues,
This month we celebrated breakthroughs for the forests and oceans of Latin America and the Caribbean and a milestone in the conservation of one of the most emblematic species in the region, the jaguar. In addition, we got the active involvement of communities, governments, civil society, private sector and the media, for the conservation of our nature.
In Species, Fundación Vida Silvestre announced that the jaguar population has stabilized in the largest remaining section of the Alto Paraná Atlantic Forest in the world, which includes the Misiones forest (in Argentina) and the Iguacu and Turvo Parks (in Brazil).
When it comes to Oceans, artisanal fishermen from Ancón, Peru, reinvented themselves by crafting products with fish leather and biofertilizers. In addition, various stakeholders participated in a seminar aimed at reducing plastic pollution in the Caribbean.
Regarding our work in Forests, WWF and RTVC Sistema de Medios Públicos joined forces to connect Colombia with the environment. WWF-Ecuador and USAID launched the SELVA project to promote a sustainable Amazon.
In Climate and Energy, a guide to help reduce emissions and mitigate the impacts of climate change was launched in Mexico.
In matters of Governance, WWF-Paraguay, as a member of the Forest Coalition, successfully persuaded the Paraguayan Senate to reject a bill that would have allowed a road to pass through vital conservation areas in the Cerrado. Furthermore, with the support of WWF, Chile will soon establish a National Biodiversity and Protected Areas Service.
In other news, WWF celebrated its 30th Anniversary in Bolivia, where the organization has been actively involved in conserving priority landscapes such as the Amazon, the Chiquitanía, the Pantanal, and the Chaco, across various cities in the country since 1993.
Enjoy this edition,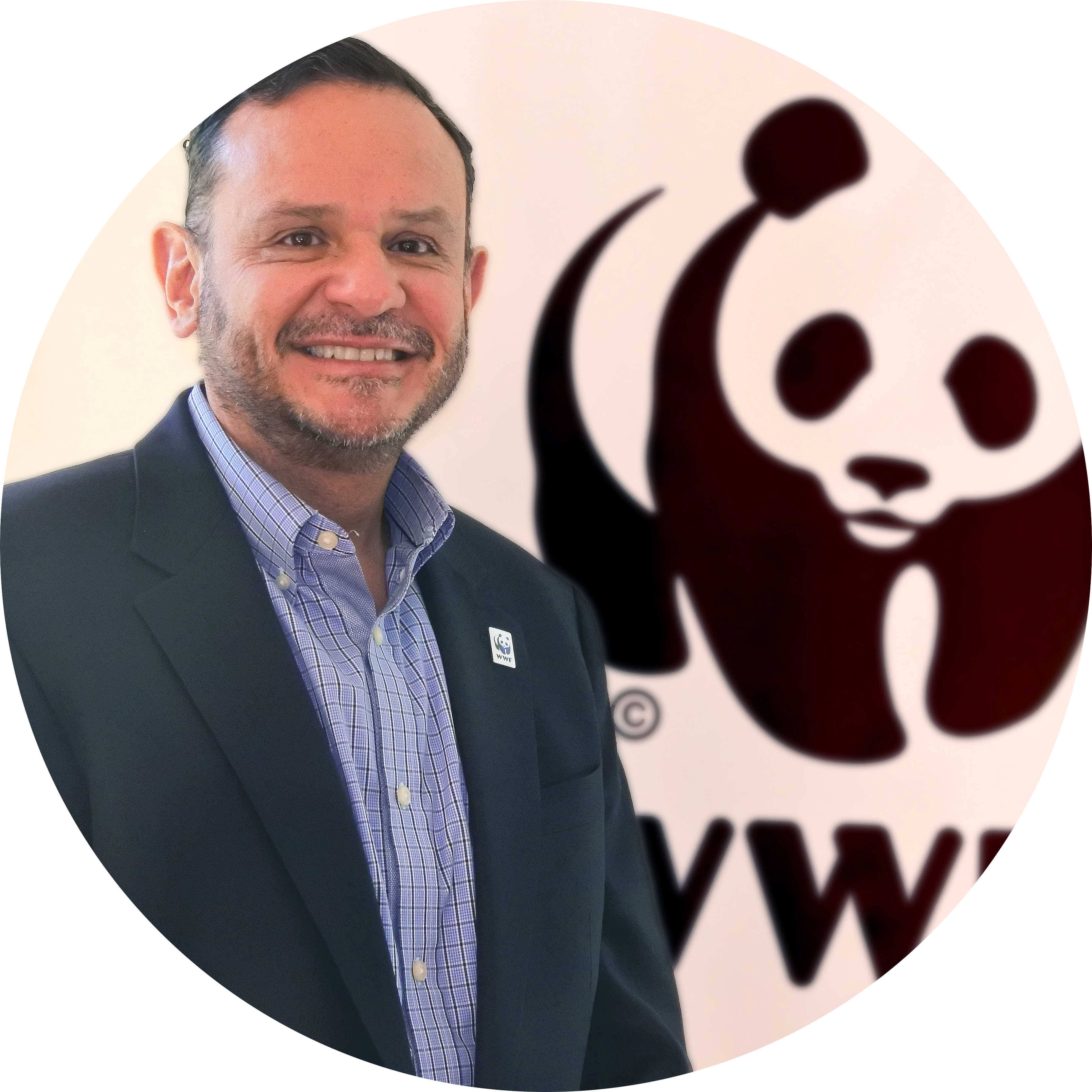 Roberto Troya
Senior Vice president & Regional Director
There is some problem with your request.
Jaguar population stabilizes in Atlantic Forest
The latest population results for jaguars in the largest remaining section of the Atlantic Forest, which includes the Misiones forest in Argentina and the Iguacu and Turvo Parks in Brazil, have been announced. According to the most recent data, the population has shown stability compared to previous records, with an estimated total size ranging between 72 and 122 jaguars, averaging at 93. This study was a significant undertaking, covering over 580,000 hectares in the two countries, and involved the placement of 224 camera traps.
The initial population study, conducted in 2005, estimated that 40 jaguars inhabited the area. While we are encouraged by the latest results, we recognize that there is still much work to be done in order to reach the target population necessary for a healthy environment.
There is some problem with your request.
Ancon Fishers Reinvent with Fish Leather and Bio-fertilizers
In an effort to provide support to the artisanal fishers of the Ancon community, whose economic livelihood was adversely affected by an oil spill along the Ventanilla coast a year ago, six workshops were organized. These workshops focused on tanning and training in the production of biofertilizers derived from fish residues.
This initiative, spearheaded by the organization Conciencia Marina with the backing of WWF-Peru, CITE Pesquero Callao, and CITECCAL, aimed to equip the fishers with skills in alternative productive activities using principles of the circular economy. The goal was to generate additional income to help mitigate the impacts caused by this ecological tragedy. The articles produced through these workshops will be launched for sale during the Fisherman's Day celebration on June 29th.
There is some problem with your request.
WWF-Mesoamerica Webinar: Reducing Plastic Pollution in the Caribbean
As part of the Circular Caribbean Cities campaign, various stakeholders, including central and local governments, the private sector, and civil society from Mexico, the Dominican Republic, Belize, Guatemala, and Honduras, actively participated in a webinar focused on tackling the issue of plastic pollution. The event showcased two case studies that can provide valuable insights and serve as practical examples for implementation in other cities.
There is some problem with your request.
WWF teams with RTVC to connect Colombia with the environment
We are delighted to announce our partnership with RTVC, the Colombian Public Media System, to foster special projects and content addressing environmental issues. This collaboration will enable us to reach 94% of the country through radio, television, and digital platforms. By providing science-based information and educational resources, WWF will share the expertise of our specialists and contribute technical inputs, reports, and documents covering topics such as water, forests, oceans, food, wildlife, and energy. Our first transmedia project, which will focus on the Colombian Amazon, will be unveiled in June.
There is some problem with your request.
Victory in the protection of the Cerrado in Paraguay
As a member of the Forest Coalition, a movement dedicated to the protection of natural resources, WWF-Paraguay conducted a successful online campaign with the hashtag #ElCerradoNoSeToca. The unified efforts of this coalition resulted in persuading the Paraguayan Senate to reject a bill proposing the construction of a road that would have encroached upon vital conservation areas in the Cerrado ecoregion of Paraguay. Importantly, this road was not supported by the local population and its implementation would have posed a significant threat to the delicate ecological balance of this vulnerable region, which is home to endangered species.
Throughout the campaign, informative content about the Cerrado and interviews with local government officials were widely disseminated on social media and in various media outlets.
There is some problem with your request.
WWF-Ecuador y USAID launch SELVA project to promote a sustainable Amazon
WWF-Ecuador, in collaboration with the United States Agency for International Development (USAID), has launched the Sustainable Livelihoods and Environment for a Vital Amazon (SELVA) project. This significant initiative aims to enhance local governance capacities and promote profitable and sustainable livelihoods for Amazonian communities. By doing so, these communities can effectively protect their lands, preserve biodiversity, combat deforestation and degradation, and build resilience against climate change. The project will be implemented in Cuyabeno, Putumayo, and Shushufindi, working closely with the Secoya, Shuar, Siona, Kichwa, and mestizo communities, as well as the cantonal and parish governments.
The project's presentation witnessed the presence of Daniel Sanchez-Bustamante, the Director of USAID in Ecuador, Tarsicio Granizo, the Director of WWF-Ecuador, along with various authorities and members from the participating communities.
There is some problem with your request.
WWF facilitates Chile's National Biodiversity and Protected Areas Service
After a twelve-year process, Congress has finally approved the Law for Nature, a significant achievement that establishes the National Biodiversity and Protected Areas Service (SBAP) in Chile. This milestone represents a crucial addition to the country's environmental institutional framework. WWF-Chile played a pivotal role in supporting the creation of the SBAP, providing technical expertise and advocating for its establishment alongside other civil society organizations. From the outset, WWF-Chile contributed valuable insights to the project and actively promoted the creation of this vital service.
There is some problem with your request.
Guide to Mitigate Climate Change Impacts and Reduce Emissions
The Alliance for Climate Action in Mexico (ACA) has released the report Mexico 2050: Together for Zero Emissions, along with a complementary guide outlining key strategies for achieving an accelerated reduction in greenhouse gas emissions. This comprehensive report provides essential concepts and practical guidance for businesses, civil society organizations, and state and municipal governments to align their climate action strategies with scientific recommendations, with the ultimate goal of achieving net-zero emissions by 2050. Currently, the alliance comprises 100 members, 18 of whom have already committed to the interim target of halving emissions by 2030. Given the substantial transformation required to reach net-zero emissions, WWF-Mexico anticipates that this guide will play a crucial role in accelerating progress towards this objective.
There is some problem with your request.
WWF Bolivia celebrates its 30th anniversary
WWF has been actively engaged in Bolivia since 1993, dedicated to conserving priority landscapes including the Amazon, Chiquitanía, Pantanal, and Chaco, as well as various cities across the country. We celebrate three decades of history, a remarkable journey undertaken in collaboration with and guided by priorities from local partners, protected areas, park rangers, the public and private sectors, and civil society.
Twitter
123.2 K impressions and + 6.988 engagements (1.3 K retweets) in @WWF-LAC.
Featured tweets:
Urban Solutions
169 retweets, 325 likes
Black jaguar
85 retweets, 319 likes
Data: June 1-30, 2023 (Twitter Analytics)
Facebook
+1.453 interactions (likes, reactions, comments and shares) generated by contents in Spanish at WWF International's Facebook.
+54.5 K users reached.
Featured posts:
Do you know the jaguar?
166 interactions, 5.652 users reached, likes 82
World Day Combat Desertification and Drought
141 interactions, 4.837 users reached, likes 45
Data: June 1-30, 2023 (Facebook Statistics)