There is no single, silver bullet that alone can stop wildlife crime. Or even hope to significantly reduce it.

The answer is to adopt a broad approach that involves many tools and partners, and targets the entire trafficking chain. Only this will deter the criminals.

For too long, wildlife crime has been a relatively low risk, high return business. Which is why it has attracted the attention of transnational, organised criminals. It is time to make it much harder for them.

And that is the rationale behind the WWF and TRAFFIC wildlife crime initiative, which aims to:

Increase the EFFORT criminals need to make;
Increase the RISK for criminals; and
Reduce the REWARDS that can be gained from wildlife crime.
Stop the poaching
With poachers killing an average of three rhinos every day and over 20,000 elephants each year as well as countless other animals, there is an urgent need to 'stop the poaching' – by tackling the current crisis at its source.
The wildlife crime initiative will focus its anti-poaching work on strengthening field protection as well as enhancing community stewardship of wildlife.
The WCI will bolster the first line of defence by helping to develop a
zero-poaching toolkit
with a common set of tools and standards that can be adapted to suit local conditions. And by encouraging governments to adopt and implement it.
At the heart of this anti-poaching toolkit will be ways to professionalize the global ranger force, ensuring that rangers in priority places have the equipment, training, support and motivation they need to effectively patrol their parks and protect their wildlife from poachers.
But rangers alone cannot keep the poachers at bay.
They need the eyes and ears and firm backing of local communities, which is why the initiative will also advocate for enhanced community management of natural resources – and for the equitable distribution of benefits.
This will boost sustainable development and give communities a real stake in conserving their wildlife.
Together, professionalised rangers and committed communities will force poachers to take greater risks to supply the illegal wildlife market.
© WWF / James Morgan
Stop the Poaching objective: By 2018, reduce poaching of flagship species by at least one third from 2013 levels within at least 30 priority land and seascapes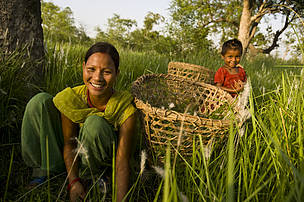 © Simon de TREY-WHITE / WWF-UK
Stop the trafficking
Media reports about significant seizures of illegal wildlife products hint at the scale of the trafficking – and the increasing involvement of transnational, organized crime. But cracking down on wildlife trafficking has seldom been a priority before.

The wildlife crime initiative aims to change that. And to help break the chain and stem the flow of illegal wildlife products by working with governments, law enforcement bodies and the private sector.

The WCI will catalyse efforts to detect and seize illegal products and convict those responsible. It will advocate for the use of new technologies for detection at ports, markets and in cyberspace; better intelligence systems to help dismantle criminal networks; and improved judicial processes so that kingpins end up behind bars not back on the streets.

But it's not just a case of strengthening current efforts. Innovative ideas will be pursued to stop the traffickers, including investigating and seizing the proceeds of wildlife crime by 'following the money', developing new information sharing platforms, and working with transport and logistics companies.

Wildlife crime also breeds – and feeds off – corruption so the initiative will focus on ways to mitigate this and improve accountability.

With this multi-pronged approach, the WCI will help to deter traffickers by making it far more expensive and risky to smuggle.

Thanks to the greater chance of being detected, arrested and losing products and profits, organized criminal networks will think twice before joining the illegal wildlife trade.
Stop the Trafficking objective: By 2018, trafficking of key products for which trade is already being monitored (elephant ivory, rhinoceros horn, tiger parts and marine turtle products) is reduced by at least one-third from baseline levels.
© WWF / James Morgan
Stop the buying
Stemming the supply of illegal wildlife products is vital, but it will only be a temporary solution unless demand is significantly and permanently reduced.

The wildlife crime initiative will focus on changing consumer behaviour in critical markets, particularly China, Vietnam and Thailand – to transform current attitudes towards the consumption of illegal wildlife products.

The initiative will run innovative, evidence-based behaviour change campaigns, aiming to foster change from 'within' society. These campaigns will target emotional motivations, such as fashion trends and status symbols, and functional motivations, such as perceptions about the health benefits of certain products.

Along with urging governments to do more than raise awareness, the WCI will run social marketing campaigns that seek to change the mindsets of influential groups – such as business leaders and youth – with carefully crafted messages and approaches.

The WCI will also encourage the private sector and civil society to bring their specific skills and strengths to bear, especially their ability to directly engage and influence different communities.

And to reduce the availability of illegal products in the market and so lessen consumers' urge to buy, the initiative will try to convince restaurants, shops and internet companies to stop stocking them.

Changing behaviour will not happen overnight. But it will happen, slowly but surely demand will be reduced - and so will the incentive for criminals and the threat to numerous species.
© TRAFFIC
Stop the buying objective: By 2018, the demand for selected threatened species products will be reduced by at least one-third in China (ivory, marine turtle shell products, rhino horn and tiger products), Viet Nam (rhino horn), and Thailand (ivory).
© WWF / James Morgan
International policy
There is a growing interest in addressing wildlife crime at the highest political levels, exemplified in the landmark London Conference on Illegal Wildlife Trade in 2014.

However, ongoing international and national policy work is required to sustain this global momentum and ensure that commitments to tackle wildlife crime are translated into concrete and effective action at the national level.

The international policy pillar aims to create an enabling environment to stop the poaching, trafficking and buying.

It will focus on institutions like the United Nations and treaties like CITES, as well as other international and regional fora, conventions and institutions that can have the greatest impact on wildlife crime.

The WCI will push for official recognition of the scale and impact of the illegal wildlife trade, and the need for a coordinated response, including a UN General Assembly resolution on wildlife crime.

It aims to secure concrete commitments, including anti-corruption measures and mechanisms to increase accountability – as well as mobilize long term, sustainable funding to tackle wildlife crime.

By securing concrete political commitments, stronger policies and extra financing, this critical advocacy work will lay the foundations for the success of the other three pillars – and help to stop the poaching, trafficking and buying.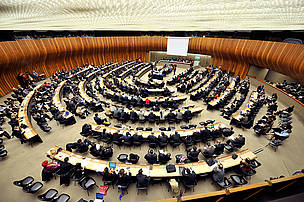 © UN Photo_Jean-Marc Ferré
International policy objective: By 2018, high-level policy commitments made at key international and regional fora lead to effective implementation of WCI priority anti-poaching, anti-trafficking and demand reduction actions at the national level in at least 10 key countries.
© UN DPI

TRAFFIC is a joint programme of WWF and the World Conservation Union (IUCN) that monitors the global wildlife trade. TRAFFIC also works in close co-operation with CITES.


© A rhino horn and tiger teeth for sale on the table of a black market animal trade dealer at his home in Hanoi, Vietnam. Vietnam is the world's largest recipient of illegal rhino horn from South Africa. © Robert Patterson / WWF
© Eight tiger skins seized in Russia, including four cubs © WWF/Pavel Fomenko

The Convention on International Trade in Endangered Species (CITES) is an international agreement between governments, that aims to ensure that international trade in specimens of wild animals and plants does not threaten their survival and it accords varying degrees of protection to more than 33,000 species of animals and plants.
© Cover of MARKET FORCES -- AN EXAMINATION OF MARINE TURTLE TRADE IN CHINA AND JAPAN © WWF
© Elephant tusks stored away under extreme security measures in the ivory stock pile of the Kruger National Park, South Africa. © © WWF / Folke Wulf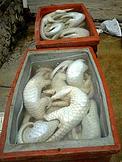 © Illegal trade in Asian pangolin meat and scales has caused the scaly anteaters to disappear from large swathes of Cambodia, Viet Nam and Lao PDR. © TRAFFIC