October 1st marks the start of the 'Water Year' in the US. Each day for the next 12 months, WWF's Global Lead Freshwater Scientist, Jeff Opperman, will post one of his photos with a water theme and briefly describe why that theme is important to people. Often these themes will matter to hundreds of millions of people or even billions. Sometimes they will matter to just a few, such as Jeff and his family.
This won't be a water-year-long educational course but more like an extended contemplation on connections that matter. After all connectivity is an essential characteristic of freshwater ecosystems. And lies at the core of what makes us human.
© Jeff Opperman
Day 56
US plays England today in the World Cup! Reminded me of my trips to London. So here's a photo of the River Thames on an unseasonably warm February day in 2019 (another "enjoy the weather, fear for the climate" kind of day). Go USMNT!!

© Jeff Opperman
Day 55
Giving thanks for reconnecting with family and friends. And rivers that are still connected. Happy Thanksgiving!
© Jeff Opperman
Day 54
Luca & his little helper after a big day walleye fishing in Quebec, 2015. Three reasons for the photo: 1. Luca is home for Thanksgiving 2. The First Thanksgiving relied on an abundance of food from lakes and rivers 3. Canada is in soccer World Cup for 1st time in 46 years!
© Jeff Opperman
Day 53
Cast net fishing on the Mekong river in Laos, 2013. Ahead of Thanksgiving, it's important to remember that the first thanksgiving meal in 1621 featured river foods, including ducks, geese, swans, oysters and eels. But that has long been overlooked. Like the fact that rivers support 1/3 of global food production. My blog in Forbes looks more closely at both these forgotten river/food connections - with river recipes inspired by 1621!
© Jeff Opperman
Day 52
On World Fisheries Day remember that freshwater fisheries provide food for 200 million & livelihoods for 60 million people. Luca with novice monks at a fishing camp at Khone Falls on the Mekong river near the Laos-Cambodia border.
© Jeff Opperman
Day 51
Inspired by the kick off of the soccer World Cup, here's a 2018 photo of kayak soccer (football) in Zurich's Schanzengraben Canal, which connects Lake Zurich with Limmat River. OK, it's "Kanu Polo," but that's close - see the keeper about to block a shot.
© Jeff Opperman
Day 50
Today is World Toilet Day. This is a riverside latrine in a rural village in western Sichuan, China back in 2005. China has made dramatic progress in providing access to improved sanitation. But the world is still way off track and major progress is still needed in much of world: globally, 3.6 billion still lack access to safely managed sanitation.
© Jeff Opperman
Day 49
Cedar Falls in Hocking Hills of Ohio, during spring break 2012. Hocking Hills State Park is the most popular state park in Ohio with 4 million annual visits. Primarily notable for how water has carved fabulous ravines, caves, and falls.
© Jeff Opperman
Day 48
Nature-based Solutions featured for climate adaptation at COP27. Floodplains are NBS with multiple benefits: flood-risk reduction, habitat (e.g., for Sandhill cranes), ecotourism (to see Sandhill cranes, below). Wren shows not everyone loves multi-benefit floodplains!
© Jeff Opperman
© Jeff Opperman
Day 46
It's Nature-based Solutions (NbS) Day at the Water4Climate pavilion at COP27. 11 years ago, Luca & I recorded a video for The Nature Conservancy on on how forest soils absorb water to reduce floods & increase water quality (next tweet). Has been seen 13,000 times, including by his 9th grade class, much to his Chagrin!
© Jeff Opperman
Day 45
Market at high tide in the Mekong river delta with everything elevated above water. Today is the 1st ever Water Day at Climate COP27. Water & climate is not just ensuring enough to drink & irrigate. Water flow in rivers is also critical to deliver sufficient sediment to deltas. Without that, deltas are sinking & shrinking.
© Jeff Opperman
Day 44
Yesterday was Neil Young's 77th bday, one of best singers at integrating nature in lyrics:
Blue, blue windows behind the stars
Yellow moon on the rise
Big birds flying across the sky
Throwing shadows on our eyes
Leave us
Helpless, helpless, helpless

Photo of my kids in North Ontario 2009

© Jeff Opperman
© Jeff Opperman
Day 42
Nothing Gold Can Stay by Robert Frost

Nature's first green is gold,
Her hardest hue to hold.
Her early leaf's a flower;
But only so an hour.
Then leaf subsides to leaf.
So Eden sank to grief,
So dawn goes down to day.
Nothing gold can stay. (the leaves are gone)
© Jeff Opperman
Day 41
On this day in 1975 the Great Lakes freighter Edmund Fitzgerald sank in Lake Superior on way to steel mill at the inflow to Lake Erie. It was the largest ship to sink in the Great Lakes & inspired a song by Gordon Lightfoot.

See a similar freighter at left of my kids playing on a Lake Erie beach.
© Jeff Opperman
Day 40
Holding a juvenile chinook salmon reared in an enclosure on floodplain of Cosumnes (CA). Not quite Zeb Hogan with a Mekong giant catfish. But shows how reconnecting floodplains = bigger and more fish (helping to reverse nature loss and bend the biodiversity curve upwards), healthier wetlands & less risk for people. And that's how the photo at the top right links to three global conferences (see Day 39).
© Jeff Opperman
Day 39
I took this photo during my post-docat University of California, Davis. The photo links objectives of 3 COPs happening this fall: climate adaptation under COP27 + wetlands under Ramsar Convention COP14 + nature under Convention on Biological Diversity COP15. Wondering how? Answer tomorrow (above)

© Jeff Opperman
Day 38
75 years ago this week, Marjory Stoneman Douglas published "The Everglades: River of Grass." That same year the Everglades National Park was established. This is a scan of a 1998 photo that I took while slowly paddling away from huge gator encountered in a mangrove tunnel.
© Jeff Opperman
Day 37
Wrapping up parents weekend with Wren with a walk along the Charles. 75 deg F in Boston on November 6 as COP27 opens in Egypt. As I read somewhere on Twitter today - enjoy the weather, but worry for the climate.
© Jeff Opperman
Day 36
Critical Ramsar Convention on Wetlands COP14 is underway. Over last 20 years, WWF has helped countries protect wetlands totaling an area roughly twice the size of Spain! Here's a Marsh Wren in a wetland along Roanoke River.
© Jeff Opperman
Day 35
Tana River Delta, Kenya, January 2011. Fishermen in dhows and thousands of egrets and ibis, all setting off at dawn. I got up at 5 am to watch the sunrise.
© Jeff Opperman
Day 34
More on Tonle Sap - a huge lake in Cambodia that fills each year from the Mekong river. This looks like a sunset photo of wetland vegetation? Well it is sort of..those are tree tops! Each wet season, the area of the lake increases by 3-5 times while is depth rises by between 2-8 m. I took this photo from a floating research station where I spent the night in 2013.
© Jeff Opperman
Day 33
Floating village on Tonle Sap Lake, connected to the Mekong River in Cambodia, featuring floating markets, floating temples, floating clinics, floating schools, and floating cell phone stores (in background)
© Jeff Opperman
Day 32
Fall at the Falls. Chagrin Falls on the Chagrin River (northeast Ohio). The town of Chagrin Falls was built based on water power, with 11 dams & multiple factories along the river (including my backyard). Now only 2 remain.
© Jeff Opperman
Day 31
Today is World Cities Day under the theme of "Better City, Better Life." I'll add this: Better River, Better City, Better Life.

The Cuyahoga River got cleaned up, making life in Cleveland much better. Here's Austin Walkin' Cane at the Burning River Fest
© Jeff Opperman
Day 30
Happy Halloween! A mayfly emerges from the Chagrin River. Here Wren clearly had been rummaging through the costume bin as she decided that ruby slippers and fairy wings were the right combo for a hike.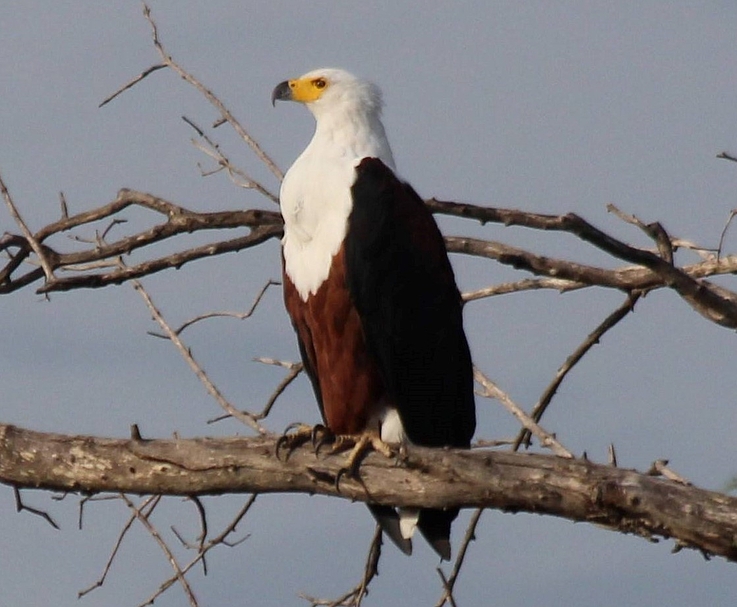 © Jeff Opperman
Day 29
African fish eagle. Globally, populations of freshwater wildlife have fallen by 83% on average since 1970. Reversing that will require transforming food & energy systems - but these transformation are necessary anyhow & will have great benefits for people. Read my blog on Forbes on this:

https://www.forbes.com/sites/jeffopperman/2022/10/26/reversing-dramatic-decline-of-worlds-wildlife-will-require-transformations-that-benefit-people-too/?sh=1ea650691273
© Jeff Opperman
Day 28
Double-Decker Falls of the Chagrin River in the South Chagrin Reservation, near sunset. I've been visiting this spot since I was a little kid. Have a relaxing weekend.
© Jeff Opperman
Day 27
People told me it wouldn't be easy to post a water-themed photo with some relevant story, everyday. Wise people, it turns out. But it has been an absolutely beautiful fall, so here's a photo of a pond in Russel Uplands Preserve.
© Jeff Opperman
Day 26
Luca & I near Horseshoe Bend of Colorado River back in 2009. More than 300 river miles downstream is Hoover Dam. On this day in 1936, its hydropower turbines first generated electricity. At 2 GW, it was the biggest hydropower dam in world until 1948. Now its power generation is dropping due to drought.
© Jeff Opperman
Day 25
They grow up so fast. Seems like yesterday I found Wren floating on a raft. Today she called from college asking what I knew about the role of political parties as gatekeepers to extremist candidates.
© Jeff Opperman
Day 24
Happy World River Dolphin Day 2022! I took these photos of Irrawaddy Dolphins in the Mekong in 2013 on a trip down the river with my family. See my article in the New York Times about these extraordinary dolphins and that remarkable trip.

https://archive.nytimes.com/scientistatwork.blogs.nytimes.com/2013/05/24/a-vital-river-drained-of-wildlife/
© Jeff Opperman
Day 23
Beer is 95% water. So clean water is crucial for beer - but also for breweries who came back to rivers once they were cleaned up, like Collision Brewery on the Cuyahoga. All this and more in my oped on the intertwined history of Cleveland & water, told through beer labels

https://www.cleveland.com/opinion/2022/10/a-cleveland-water-history-through-beer-labels-as-the-clean-water-act-turns-50-jeff-opperman.html
© Jeff Opperman
Day 22
Today is 71st birthday of The Nature Conservancy, where I got my start in freshwater conservation. Here are my 2015 TNC Freshwater team colleagues in Utah above the Colorado River at sunset.
© Jeff Opperman
Day 21
English "Writer-gardener" John Evelyn was born this day in 1661. To fight pollution he encouraged tree planting & large city parks. Today we call those Nature-based Solutions and they are key to flood risk & access to nature. Such as providing my son, Luca, with the chance to fish in this riverside park.
© Jeff Opperman
Day 20
Today is a rainy, chilly fall day and the Chagrin River is running high.
© Jeff Opperman
Day 19
My son Luca fishing in the Chagrin River (NE Ohio) when he was ten. He taught himself to fish bluegills at about five with a stick and a string and I've been playing catch-up ever since.
© Jeff Opperman
Day 18
50 years ago, the US Congress passed the historic Clean Water Act.

The Cuyahoga River helped inspire the Act thanks to the infamous time it caught fire - and has benefited from it enormously over the subsequent decades. In the photo, my daughter, Wren, kayaks on the Cuyahoga downstream of 1969 fire spot.
© Jeff Opperman
Day 17
A temple and bridge over the Irrawaddy River in Myanmar.
© Jeff Opperman
Day 16
On World Food Day, let's remember that nearly 1/3 of all food in world comes from rivers: their water, nutrients, sediment or habitat. See WWF's fascinating microsite Rivers of Food.

The photo is one I took of boats full of produce in a floating village on Tonle Sap lake in Cambodia.

© Jeff Opperman
Day 15
WWF's Living Planet Report 2022 shows greatest decline in species populations is among those that depend on freshwater habitats, incl. fish, birds, mammals, reptiles and amphibians. Overall, there has been an 83% fall in freshwater species populations since 1970 - basically over my lifetime. You can download the report at: https://livingplanet.panda.org/en-US/

The photos is one I snapped of a Juvenile white ibisin Corkscrew swamp in Florida.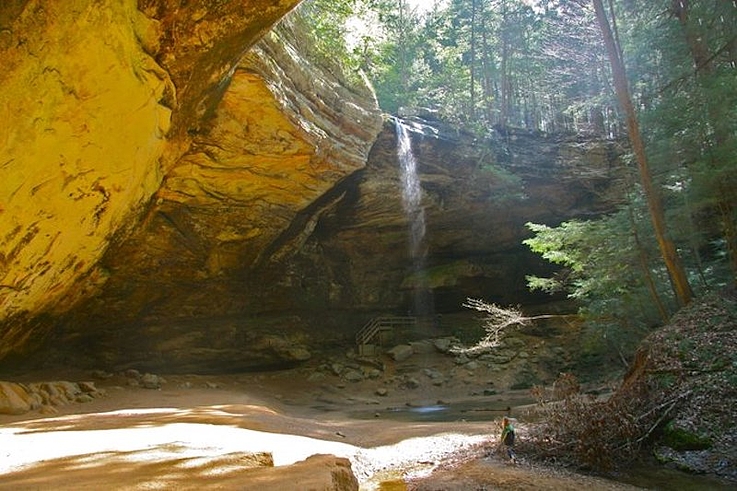 © Jeff Opperman
Day 14
Ribbon waterfall at Ash Cave in Hocking Hills State Park in Ohio. Wren is the tiny figure at lower right of pool at base.
© Jeff Opperman
Day 13
BREAKING: Living Planet Report shows vertebrate population's have declined by 69% on average since 1970. Monitored freshwater populations have dropped by an average of 83%, largest decline of any species group. Here's a photo of mine of a Gharial in Nepal
© Jeff Opperman
Day 12
Freshwater ecosystems support an impressive proportion of all species on earth.

Did you know rivers, lakes and freshwater wetlands have MORE fish species than oceans? And oceans have 10,000x more water!. Here, my son, Luca looks at some of them.
© Jeff Opperman
Day 11
In a waterfall in the Chagrin River (northeast Ohio). My son, Luca, is now two inches taller than I am.
© Jeff Opperman
Day 10
Today is World Mental Healhty Day.

Research supports that time in nature improves mental health; "blue spaces" such as rivers & lakes are particularly effective. More parks in cities is key for equitable access.
© Jeff Opperman
Day 9
Sunset on the Siphandone or Four Thousand Islands region of the Mekong River, a 50 km stretch where the river branches into hundreds of channels, a magical place of islands and waterfalls.
© Jeff Opperman
Day 8
It's World Migratory Bird Day (October 8). Rivers, floodplains and wetlands are the crucial stopovers for migrating birds. Here's a photo I took of a Chinese pond heron along the Mekong River in Cambodia.
© Jeff Opperman
Day 7
Luca is back home from college for the weekend. The leaves are turning. I'm reminded of this photo from 15 years ago. Luca and Wren along the Chagrin River, October, 2007.
© Jeff Opperman
Day 6
Getting unstuck and underway. Men pushing a passenger boat off the bank of the Mekong River downstream of Huay Xai, Laos, December 2012.
© Jeff Opperman
Day 5
Elephants along the Zambezi River in Zambia. Wildlife needs water but also rivers. Rivers are essential migratory corridors for elephants in Africa's Kavango-Zambezi (KAZA) Transfrontier Conservation Area (aka KAZA), which is the world's largest transfrontier conservation area and home to half of the continent's remaining elephants.
© Jeff Opperman
Day 4
This project was prompted by my wife and I becoming empty nesters this year after our youngest child headed off to university. But on #WorldAnimalDay I'm reminded that we've still got canine kids at home. Here's Birch in the Chagrin River, making the point that animals love water!
© Jeff Opperman
Day 3
Today is #WorldHabitatDay. Rivers greatly enhance life for people in cities, offering recreation & connection with nature even in crowded urban areas. Over the past 50 years, for example, the French city of Lyon has revitalized its riverfront - demonstrating the value of (re)connecting people with their rivers.
© Jeff Opperman
Day 2
The Water Year's timing might appear idiosyncratic, but it actually makes total sense. Here in the western US, it starts when the rain starts to fall in Fall (or autumn for those of you reading this outside of North America), flows into winter when the snows come, runs off in spring and is used in summer - helping to plan how best to manage this essential but scarce resource.

But this diary project also celebrates another scarce resource: time with kids. Like fishing with my son in Dinkey Creek, California.
© Jeff Opperman
Day 1
Today is the start of my Water Year diary. I'll be posting photos and thoughts here (and on social media, including Twitter) every day for the next 12 months. These will dive into different themes and topics but all of them will hopefully help to inspire people to care that the future includes both abundant water supplies and healthy freshwater ecosystems.

Find out more about why I'm doing this in this short essay on our WWF Freshwater Medium channel.