© Staffan Widstrand / WWF
Contextual & Science Based Targets for Water
For decades, scientists, as well as WWF reports, have been warning that human impacts are pushing life on our planet beyond its capacity. Year-on-year, more areas are impacted by water scarcity and pollution, while extreme weather events, like droughts and floods, are becoming more regular and more destructive.
The global and local trends of supply and demand imbalances that most basins face will simply not be resolved through companies setting more "ambitious" efficiency targets. In fact, we believe that companies need to start not with targets, but by revisiting their strategy and then moving on to targets.
Water is local and by setting water targets that respond to local water conditions (i.e., context) and that account for corporate water risk exposure, it ensures corporate actions are aligned to both risk reduction and tackling shared basin challenges, which benefits people and nature.
WWF is working to change the way corporate water targets are set, as part of a water stewardship strategy that is underpinned by freshwater context. We are doing so out of a shared need that both business and biodiversity have: articulating and arriving at a destination that ensures that everyone within a basin – communities, nature and companies – can stay "in business". To help achieve this, WWF has released two guides that help companies progressively shift to new ways of thinking:
© WWF
Putting Water Strategy Into Context is a practical guide outlines four practical steps (assess, prioritise, define and set) aimed to help corporations systematically understand the strategic nature of water within their value chains and in turn, establish more meaningful actions, goals and targets. This contextual water strategy process not only ensures more efficient allocation of scarce internal resources, but more importantly, it maximizes the ability of corporations to create value for the corporation, nature and people.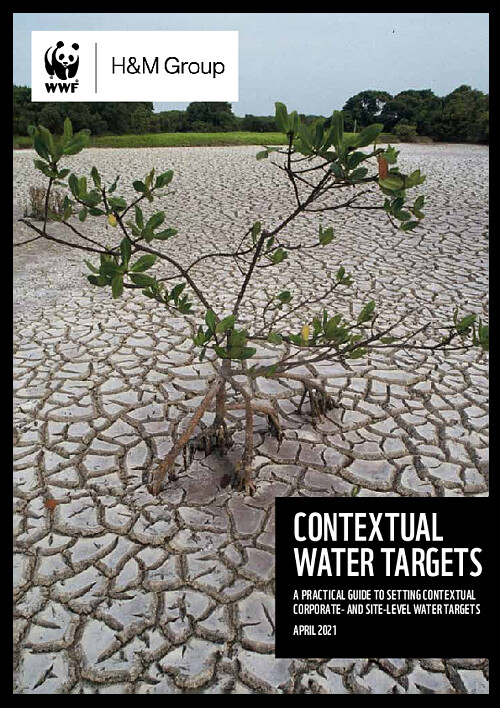 © WWF
Contextual Water Targets builds upon the Putting Water Strategy into Context report, this practical guide puts forward a target setting framework that enables a corporation to draw on local water context to set contextual water targets at both a corporate– and site–level. This guide also provides a primer on other commonly used water–related targets types (i.e., non–contextual, contextual & science–based) and explains how these all fit together and can complement each other.
Setting water targets in the context of strategy
Setting targets is a core part of business, and targets are a key element in driving the delivery of business strategies. Water targets are no different and, similarly, are most effective when linked to water strategies. Accordingly, it stands to reason that water targets, ladder up to deliver value and, in turn, support purpose-driven water strategies. In this framing, the development of water targets is most effectively done towards the end of a strategy development process (as illustrated below). This allows corporations to identify the strategically relevant water-related dependencies and impacts within the value chain and determine the best focus areas before setting goals and targets.
WWF believes that over time, water targets will require greater alignment with water-related challenges within the surrounding basin(s) (or context) in which a corporation operates. The logic is that one must tackle shared water challenges in order to:
Mitigate exposure to basin water risks;
Harness opportunities and purpose-driven strategies; and
Efficiently allocate scarce internal resources.
Since 2016, WWF has been working with other NGOs, including CDP, TNC, UN Global Compact CEO Water Mandate, UNEP-DHI and WRI, on various efforts related to providing guidance on the evolution of water targets at the site and enterprise level. From these efforts, an outline typology of water targets has emerged, which can be helpful to categorise the different types of water targets that are commonly discussed based on the performance and the coverage addressed by each form of target. These are illustrated below:
More generally, these forms of targets primarily aim at:
NON-CONTEXTUAL – improving internal efficiencies and water management practices, which is typically driven largely by internal agendas.
CONTEXTUAL – ensuring the coverage of water targets are aligned with the materially relevant water-related challenges at either a site- or corporate-level.
SCIENCE-BASED – building from where Contextual targets left off with respect to the performance of the target and ensuring that this is explicitly linked to local hydrological data- or a science-driven definition of what is "sustainable" state for shared water challenges within a given basin.
Current recommendations for companies wanting to get going
Presently, there remains no globally agreed methodology for setting a water Science-Based Target (SBT). However, the SBTN has published Initial Guidance that sets out the trajectory towards setting water SBTs and is encouraging corporations to complete steps 1 and 2 of their guidance (SBTN, 2020b). Within this Initial Guidance, it is step 3 that focuses on the target setting process and it is this specific methodology that is not yet available.

Rather than waiting until these methods and guidance are available, WWF recommends that businesses get to work setting contextual targets as these represent a concrete starting point for those seeking to make the transition towards more science-based forms of targets. Indeed, even once a methodology is available, there will likely remain a need for contextual approaches not only for lagging companies, but also for less strategically relevant parts of the value chain where the work required to set a water SBT may not add value.
WWF recommends companies can take the following steps in the near-term:
Sign up to join the SBTN Corporate Engagement Program to keep updated with latest progress on water SBTs
Begin building in water context into your strategy (see WWF guidance as a starting point)
Begin to adopt and set contextual water targets at both a corporate and site level