The forests of Borneo are among the most biologically diverse habitats on Earth, home to a diverse population of species such as orang-utans, clouded leopards and pygmy elephants. But as in many tropical areas around the world, these treasured rainforests are being cut and degraded for timber, palm oil, pulp, rubber and minerals, endangering the existence of valuable species.

A century ago, most of Borneo was covered in forest. But the region has lost over half of its forests, and a third of these have disappeared in just the last three decades. The increase in these activities is being matched by a growth in illegal wildlife trade, as cleared forests provide easy access to more remote areas.

Only half of Borneo's forest cover remains today, down from 75 per cent in the mid 1980s. With a current deforestation rate of 1.3 million hectares per year, only peat and montane forests would survive in the coming years. A 2012 study by WWF projected that if current deforestation rates continue, 21.5 million hectares will be lost between 2007 and 2020, reducing the remaining forest cover to 24 per cent. If this is the case, then Borneo – the world's third largest island – could lose most of its lowland rainforests outside of protected areas by 2020.
The threat
Palm oil plantations, pulp plantations, illegal logging and forest fires are the key drivers of deforestation in Borneo.

Palm oil plantations, the most important tropical vegetable oil in the global oils and fats industry, is the main driver of deforestation in Borneo. In Indonesia alone, palm oil production expanded from 600,000 hectares in 1985 to over 6 million hectares by 2007.
Palm oil development contributes to deforestation both directly and indirectly. About half of all presently productive plantations (over 6 million hectares) were established in secondary forest and bush areas in Malaysia and Indonesia. Habitat conversion from natural forests to palm oil plantations has been shown to have a devastating impact on tropical forests, along with plants and animals that depend on them.
The other main driver of deforestation, illegal logging, has become a way of life for some communities, with timber being taken from wherever it is accessible, sold to collectors and processed in huge sawmills. In the absence of sufficient alternative economic development, this is an irresistible lure for the local communities.
Satellite studies show that some 56% of protected lowland tropical rainforests in Kalimantan were cut down between 1985 and 2001 to supply global timber demand – that's more than 29,000 km², almost the size of Belgium.
Protection laws are in effect throughout Borneo, but are often inadequate or are flagrantly violated, usually without any consequences.
The future
Without the maintenance of very large blocks of inter-connected forest, there is a clear risk that hundreds of species could become extinct. Large mammals such as orang-utans and elephants are particularly affected because of the vast areas they require to survive. For example, the Borneo pygmy elephant has increasingly come into conflict with the expansion of human agriculture activities in its natural habitat.
Other smaller species, especially small mammals, may not be able to re-colonize isolated patches of suitable habitat and thus will become locally extinct. Road construction through protected areas leads to further separation of habitat ranges and provides easy access for poachers to some of the more remote and diverse tracts of remaining virgin forest.
Many of Borneo's major rivers originate in the Heart of Borneo. Maintaining the forests is critical to ensure the island's water supply, moderate the impacts of droughts and fires, and to support ecological and economic stability in the lowlands.
The solution
The current network of protected areas are too fragmented and too vulnerable to illegal logging, illegal wildlife trade and forest fires to ensure the survival of the forests and it has become clear that they
will not be enough to save the
rainforests of Borneo.
Forest conservation in Borneo requires the maintenance of very large blocks of inter-connected forests. New protected areas will need to be created and, most importantly, the deforestation of currently protected areas needs to cease rather than accelerate as forecast. An approach combining a network of protected areas with well-managed, productive forests will be key to ensuring that forests are protected while providing economic benefits for the communities that depend upon them. In the long term, it will save the island from the ultimate threat of deforestation and increased impacts from droughts and fires.
Through initiatives such as the
Heart of Borneo
, WWF links technical expertise, stakeholder involvement, national and international policy advocacy and business and industry initiatives to conserve these pristine tropical rainforests.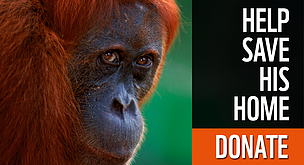 © naturepl.com / Anup Shah / WWF
The name orangutan means "man of the forest" in the Malay language. These great apes share 96.4% of our genes and once inhabited a span of land from southern China to the island of Java. But today, they can only be found in the rainforests of Borneo and Sumatra, and rapid deforestation threatens to drive this lovable species to extinction. Analysis shows that by 2020, only a few completely separate populations of orangutans will exist, too small to guarantee the long-term existence of this species.
© WWF-Germany
Borneo forest facts
Borneo is the third largest island on the planet.

About half of Borneo's natural forests have been lost and losses continue at a rapid pace.

Between 1985 and 2005 Borneo lost an average of 850,000 hectares of forest every year. If this trend continues, forest cover will drop to less than a third by 2020.

The greatest forest loss has been in Sabah, which lost half its primary forests between 1990 and 2008, and in Central and West Kalimantan. Sarawak has logged most of its forests but not so systematically converted them into plantations.

East Kalimantan alone is believed to lose over €75.5 million a year in business tax revenue due to illegal logging and illegal timber processing
Latest News
08 Jan 2019 | 0 Comments
SRI (System of Rice Intensification) is environment-friendly and delivers a higher yield compared to conventional planting methods. It is also proven ...
05 Dec 2018 | 0 Comments
The revamp and addition to the Policy sets an overarching framework that will serve to equally benefit the people of Sabah and the environment while ...
04 Dec 2018 | 0 Comments
Sarawak is on the right track in implementing good sustainable management of its forests as timber companies are getting their concessions certified.