Energy efficiency: The great acceleration is finally underway
Posted on 06 March 2023
Reducing energy demand was always the quickest and most direct way to weather the current global energy crisis. WWF Global Energy Efficiency Lead Richard Scotney looks at how the world responded to this opportunity.
We're living through what the International Energy Agency dubbed "
the world's first global energy crisis
", with gas and coal prices rising to
record levels in 2022
. Energy efficiency was a clear win-win solution - and one that
governments
, companies, and NGOs,
including WWF
, highlighted repeatedly as the headlines raged.
It's clear that, with
75%
of global carbon emissions coming from energy, we can only tackle the climate crisis by ending our dependence on fossil fuels, switching to clean energy and simultaneously reducing our overall demand. So a year into the energy crisis, it is pertinent to reflect on how the world responded.
In addition to scaling up energy efficiency and reducing demand, governments also expanded their supply of renewable energy, extended the working lives of coal mines and nuclear plants and even built new fossil fuel infrastructure all to shore up their energy security in weeks and months.
The
IEA's energy efficiency report
and WWF's own
energy efficiency actions report
offer a glimpse into the most effective actions, in terms of time, sustainability and cost: energy efficiency and energy demand.
The world responded to the energy crisis with major action on energy efficiency
After a slow initial start, governments responded in a dramatic fashion. In the United States, the Inflation Reduction Act commits US$95bn to energy efficiency. In Europe, the European Parliament has proposed to strengthen the energy efficiency reduction target of 14.5% by 2030 compared to 2020, which is more ambitious than the previous 9% but still not as ambitious as it could and should be.
These actions have led to the highest level of spending on energy efficiency in history, with
$US550 billion
invested in 2022.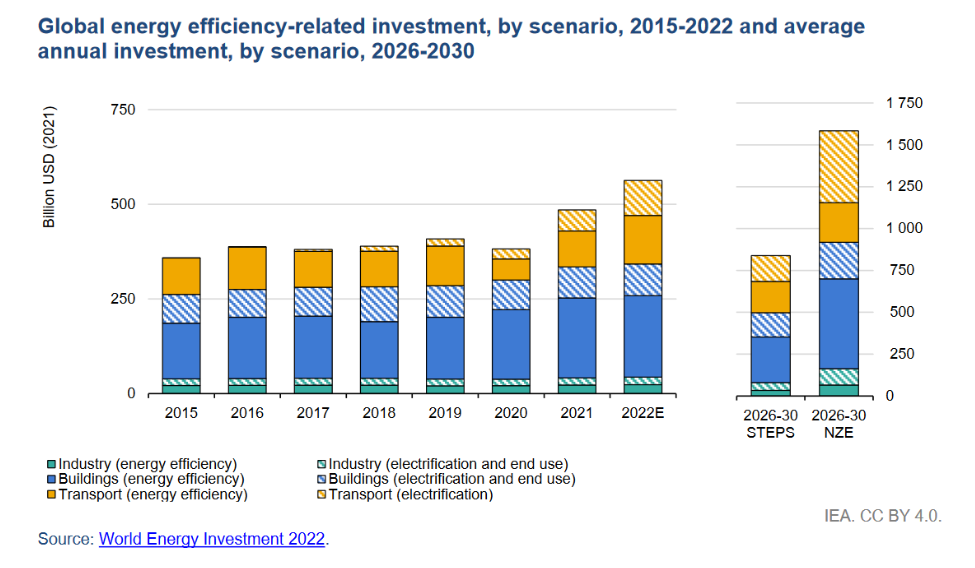 And the public have responded too. In Germany, energy use, driven by increasing prices, consumer awareness campaigns and a milder winter, led to reductions in energy demand of
31% compared to 2018-2021
. In Switzerland, WWF worked with partners to launch a major energy savings coalition, the Energiespar-Alliance, while the government organised a major campaign.
Energy savings campaigns from Korea to India to France have been helping to reduce energy demand. The power of everyone playing their part is clear - and the focus of a
recent WWF guide for cities
on how they can mobilize people to change their behaviour. WWF continues to promote energy efficient appliances through its partnership with
Topten
, which is expanding into Latin America, most notably in Brazil and Bolivia.
Energy efficiency investments in buildings, industry and transport all increased as a response to the energy crisis
More than 90 per cent
of the world's energy is used for buildings, industry and transport, and in every case the current energy crisis has spurred action:
In buildings, 2022 saw increased action on retrofitting buildings across major economies as focus shifted towards avoiding wasted energy in homes and offices. In Germany, the government committed to a €56bn programme on building renovation. Collectively, governments have committed more than US$80billion to efficient building retrofits in response to COVID and the energy crisis, one of the most important actions to achieve net-zero emissions. In the UK, WWF demonstrated how lower carbon homes can save families money and the planet. The need for cooling in developing countries is also rising up the agenda. WWF has been working with the government of Singapore on how clean cooling can achieve net zero. In India, an amendment to the Energy Conservation Bill, passed in 2022 will now include residential buildings in by introducing an 'Energy Conservation and Sustainable Building Code.'
Industry still depends heavily on gas and coal for on-site industrial heat processes, and was therefore affected by the energy crisis. In Europe, industrial efficiency action is driven by the EU Emissions Trading System and 2022 saw the price of carbon increase to over 90 euros, compared to only 28 euros at the start of 2021. Under the EU's Fit for 55 package, more ambitious action is being taken to lower the total emissions cap from a 43 per cent emissions reduction to a 62 per cent reduction. This will incentivise investments in energy efficiency. In the US, the Renewable Thermal Collaborative, of which WWF is a founding member, found that low and medium heat processes (<500⁰C) dominate industrial thermal emissions and prioritizing their conversion to renewable energy can reduce thermal emissions by nearly 80 per cent. Throughout the world, industries, from garment to food and beverage, are looking to move faster to renewable thermal technology, combined with energy efficiency measures.
Finally, the transport sector is quickly moving to cleaner methods, using electricity combined with increased efficiency. More than half of global energy efficiency research and development spending is on the transport sector. In China, electric vehicles sales increased by 68 per cent in 2022, with almost 7 million electric vehicles being sold, representing 19 per cent of all new car sales. WWF is working with major electric transport manufacturers, from bicycle sharing system Lime in Singapore, electric car company Nio in China, to car manufacturer Renault in France to spur the uptake of efficient electric transport.
But more action on energy efficiency is needed, from policy prioritisation to public engagement
We need to go further. In 2022, energy efficiency increased by 2 per cent, rebounding from a poor performance in 2020 and 2021 due to the COVID-19 crisis. However, we need 4 per cent every year to achieve net-zero emissions by 2050. This requires concentrated action, including:
Elevate the importance of energy efficiency at the policy level. Too often energy efficiency policies are slow and low on a government's priority list. WWF is an active participant in Mission Efficiency that unites partners to accelerate the transition towards energy efficient economies worldwide.
Focus on 'big win' areas such as cooling and heating in buildings. The largest source of energy use is from a few areas. Buildings account for 39 per cent of energy-related carbon emissions, and the biggest part of this use is from heating and cooling of buildings are one good example, so focused action on this challenging problem will be needed.
Electrify more, and faster. Electrification itself will be a driver of efficiency. Indeed, electrification alone will lead to significant efficiencies. For example, electric vehicles are three to four times more efficient than internal combustion engine vehicles. From industrial and residential heat pumps, to high efficiency electric boilers and electric cooking devices, electrification can increase efficiency and the switch to renewable sources.
Bring the public along. The crisis has shown that the public will change their behaviour when given the right incentives and messages. Engaging the public on efficiency will be important, not only for the actions individuals can take, but also to get people ready for the large policy shifts that need to take place to reduce carbon emissions.
WWF has been pushing the energy efficiency topic worldwide for decades, and
our energy efficiency report
shows what we have done. From policy advocacy, to working with communities on efficient products, to business partnerships, WWF will continue to contribute to reducing energy demand.