Flanked by snow-capped volcanoes and Andean mountain peaks, southern Chile is home to some of the world's largest and oldest trees; its coastal waters are fertile feeding grounds for blue whales and other marine life. WWF is working on the ground and at sea to protect these unique habitats.
© Edward Parker / WWF
The Valdivian forests on the west coast of southern Chile, and stretching into parts of Argentina, are the only temperate rainforests in South America and the second largest in the world.
They are home to the alerce tree (
Fitzroya cupressoides
) - the southern hemisphere's equivalent of the ancient redwood of the Pacific Northwest - which can reach heights of 115m and live for more than 3,000 years, and the endemic monkey puzzle tree (
Araucaria araucana
).
These native forests harbour an
incredible wealth of wildlife
, including the
magellanic woodpecker
(
Campephilus magellanicus
), South America's largest woodpecker, and the pudu (
Pudu pudu
), one of the world's smallest deer.
But the Valdivian forests - and the species that live there - are threatened by intensive logging and
expansion of timber plantations
.
WWF is working to confront these threats by developing conservation projects with
local and indigenous communities
, collaborating with the private sector to promote
sustainable business practices
, and ensuring that government regulations are aimed at protecting people and nature. 
With 40% of the native forest remaining, there is still an opportunity to ensure the long-term health of this ancient land.
Life at sea
© WWF
Off the southern coast of Chile in the Gulf of Corcovado one finds one of the most exceptional feeding and nursing grounds in the Southern Hemisphere of blue whale - the world's largest mammal.
The waters are also home to numerous other marine species, including humpback, sei and sperm whales, and sea lions, seals and several dolphin species.
Threatened by fishing, aquaculture and shipping traffic, WWF and its partners are working towards the creation of a marine protected area to secure the survival of the whale population.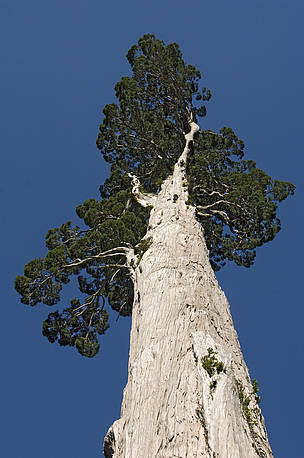 © Kevin SCHAFER / WWF
Where is the Southern Chile ecoregion?
Facts & Figures
The Valdivian forests of Chile and Argentina cover an area of about 248,000km2.
This is 1 of the world's 5 major temperate rainforests, and the only one in all of South America.
Some believe that the forests were once part of the ancient Gondwanaland land mass because they closely resemble forests in Australia and New Zealand.
The monkey puzzle tree has existed since dinosaurs roamed the planet.
Close to 50% of Valdivia's araucaria forests have been lost to illegal logging and fires.
Southern Chile is home to a population of more than 5 million people, including indigenous groups such as the Pehuenche and Huilliche, who have lived here for thousands of years.