Posted on 01 March 2012
"Ikotoilet" – sustainable sanitation in the South 
"Ikotoilet" – sustainable sanitation in the South
The award-winning Ikotoilet project in Nairobi improves multiple areas: sanitation, health, water, waste management, slum settlements, and youth unemployment. By making public toilets into stylishly designed meeting places, featuring low water consumption, rainwater collection, and the recycling of waste, the Ikotoilet has created a model for sustainable sanitation in developing countries. The project has spread to the rest of Kenya and launches are underway in neighbouring countries.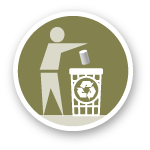 Keywords: hygiene, slums, inadequate water, sanitation, waste management, sustainable development.
Ikotoilet was launched in 2008 by the Nairobi-based company Ecotact – run by David Kuria, a former city planner. Inspired by the Gandhi quote "sanitation is more important than independence", Kuria designed eye-catching, multi-functional public toilets. Contrary to local tradition, Ikotoilets are intended to be placed centrally, in order to also serve as meeting places. For 5 shillings (about 5 cents) a range of quality hygiene services are offered. In addition to toilets and showers, personal care products are also on sale. The Ikotoilet has been described as a "toilet mall" since, in collaboration with local companies, it supports advertising, telephony, and shoe-polishing services as well as sales of snacks, drinks, and newspapers.
Improvement in hygiene and the environment
From health and environmental perspectives, the Ikotoilet is a tremendous improvement over previously concealed public restrooms, often little more than holes in the ground, or so-called "flying toilets" and "walking toilets" – human waste in plastic bags thrown over roofs or flung in the street. Less than 50% of Kenya's population – which grew from 6 to 40 million since 1950 – have access to basic sanitation facilities. Diarrheal diseases are the leading cause of infant mortality. Globally, according to UN figures, 2.5 billion people lack modern sanitation facilities.
The term "iko" in Ikotoilet refers to ecological sanitation and also means "it is/there are" in Swahili. The Ikotoilet has integrated several environmental technologies: rainwater collection with roof receptors and sand dams, water purification systems with UV and filter techniques, decomposition of wastes in bioreactors, and water recycling. Several techniques are used for the recycling of waste material or are under development: biogas from waste degradation, urea fertiliser from urine, and compost from sludge (see also
Stockholm
and
Shanghai
).
Six million users
With solutions such as these, the Ikotoilet is not far from the composting toilet, which is highlighted by the Earth Policy Institute as an answer to many problems: "there are several reasons why the advanced design composting toilets deserve top priority: spreading water shortages, rising energy prices, rising carbon emissions, shrinking phosphate reserves, a growing number of sewage-fed oceanic dead zones, the rising health care costs of sewage-dispersed intestinal diseases, and the rising capital costs of 'flush and forget' sewage disposal systems."
The Ikotoilet is a success in Nairobi, and by the end of 2010 it had spread to 20 other Kenyan cities and been installed in more than ten schools. More than 50 toilets, 20 in Nairobi and 2 in the slum areas where service prices are reduced, served more than six million people. The goal was ten million users in Kenya by 2011, and then a continued expansion into Uganda, Tanzania, and Zanzibar.
Youth employment
Ikotoilets are run on a "build-operate-transfer" model. In a five-year contract, Ecotact is entitled to use public places in exchange for carrying the construction and operative costs. It is up to the authorities after this time if they want to renew the contract or take over the toilets. The project is funded by revenue from the toilets and their associated services, and is supported by several international institutions, including Acumen Fund, Global Water Challenge, and the World Bank. The company employs staff to take care of the toilets, thus generating employment for low-income earners; unemployed young people are prioritised. In the few years which it have been up and running, Ikotoilet has won several awards, including awards from UN Habitat, the Clinton Global Initiative and the African Ministers Council on Water.
Nairobi hosts the headquarters of two global UN programmes: United Nations Environment Program (UNEP) and United Nations Human Settlements Program (UN-HABITAT). Partly as a result, Nairobi has since the 1990's taken part in several UN projects for sustainable development. Solid waste management has slowly improved, and in 2010 60-70% of garbage was collected, 24% was recycled, and 43% of the biological waste was composted, a level comparable to many cities in the west. Nairobi has experimented with other innovative projects beside Ikotoilet, for example multifunctional parks in slum areas, where the caretaking of the parks is financed by sale of compost from toilets in the parks, which also generates local employment.
References
Lester R. Brown, Earth Policy Institute, 2009, Plan B 4.0: Mobilizing to Save Civilization, First edition, W. W. Norton & Company, http://www.earth-policy.org/images/uploads/book_files/pb4book.pdf

UN-Habitat, "Ikotoilet: Nairobi", Best Practice Database, 2010, http://www.unhabitat.org/bp/bp.list.details.aspx?bp_id=1129

Acumen Fund, "Ecotact: Quality Sanitation Facilities for the Urban Poor", 2011, http://www.acumenfund.org/investment/ecotact-limited.html

Ecotact, http://www.ecotact.org/

UN-Habitat, Solid Waste Management in the World's Cities: Water and Sanitation in the World's Cities 2010 http://www.unhabitat.org/pmss/listItemDetails.aspx?publicationID=2918

Harold Ayodo, "Iko-toilet' wins global recognition", The Standard, Kenya, May 15 2011, http://www.standardmedia.co.ke/business/InsidePage.php?id=2000035238&cid=14&story=Iko-toilet

"Project: Ikotoilets, Kenya", IWA WaterWiki, 2012, http://iwawaterwiki.org/xwiki/bin/view/Articles/Ikotoilets+-+Kenya

Key data are retrieved from the UN World Urbanization Prospects: The 2011 Revision, http://esa.un.org/unup/unup/index_panel2.html


Text by: Martin Jacobson