Seattle energy efficient buildings
Posted on 01 March 2012
LEED-ing in green building 
LEED-ing in green building
Since Seattle launched the Green Building Policy in 2000, it has been one of the leading US cities for energy efficient buildings. The policy requires that all municipal construction and renovation projects of over 5,000 sq m acquire a LEED Silver Certification. With 167 LEED certified buildings, and a further 254 waiting to be certified, Seattle was among the top US cities for certifications in 2011.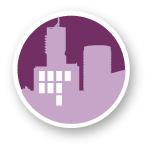 Keywords: green buildings, LEED, energy efficiency, greenhouse gases
Seattle's environmental efforts began in the late 1970s with a water and energy saving programme, followed in the 1990s by programmes for recycling and waste disposal. The city is known for its energy company becoming the first in the US to have zero carbon emissions and for its goal of covering all continued growth with renewable energy sources. Seattle's Mayor, Greg Nickels, was also the initiator behind the U.S. Conference of Mayors' Climate Protection Agreement, which is currently backed by more than a thousand cities (see also
Växjö
).
Green Building Policy
With its Green Building Policy in 2000, Seattle was the first city in the US to adopt a policy on sustainable construction. Because this was accompanied by an intensive new construction and renovation programme, Seattle soon became one of the top US cities for energy efficiency in buildings. The city now has one of the strongest markets for green buildings and has one of the highest LEED certification rates in the US – among large cities, only
New Yor
k,
Chicago
,
Houston
, and San Francisco are slightly ahead (see also
Berlin
and
Stockholm
).
LEED (Leadership in Energy and Environmental Design) is an internationally recognised green certification system for buildings. The LEED silver certification of the 167 public building projects in Seattle represents energy savings of a least 35%, compared to ordinary buildings.
Several programmes
Seattle has also established a number of programmes for making other buildings in the city more energy efficient. The Building Energy Benchmarking & Reporting Ordinance requires energy declarations of all buildings except single-family houses. The Downtown Density Bonus offers real estate owners in the central parts of the city the opportunity of extending the area of their buildings (e.g. by adding an additional floor) if they renovate the premises to comply with the LEED silver status and offer residences to low-income earners. The City LEED Incentive Program offered funding to real estate owners who wanted to make their buildings more energy efficient.
The city also offered assistance to individual households with energy benchmarking services, and basic energy efficiency improvements like giveaways of energy saving bulbs. The Neighborhood WEB (Weatherize Every Building) Initiative has the objective of energy streamlining as many buildings as possible in the city centre. It does this by providing information, funding, and manpower while creating 2,000 green jobs in the bargain. In the poorer quarters of the city there are teams going out knocking on doors, equipped with energy-efficient bulbs, shower and tap fittings, and information materials. They are offering free retrofits of energy-efficient installations.
GHG emissions reduced
The policy has had positive results. Energy efficiency improvements of buildings is the largest contributor to Seattle's reduction of greenhouse gas emissions – a seven percent reduction between 1990 and 2008, even while the city's population increased by 16 percent. Seattle is now taking the next step in a climate plan, with the objective of reducing carbon dioxide emissions to 30 percent below 1990 levels by 2024.
The plan contains a variety of initiatives, and as for most other US cities, transportation is the big challenge for Seattle. The city plans to continue the expansion of cycling paths and public transport, and is making a big investment in electric cars and other green vehicles (see also
Oslo
and
Portland
).
The building drive continues also. The objective of a new plan, Green Building Capital Initiative, is to increase the energy efficiency of all buildings by 20% and to create carbon neutral buildings (see also
Vorarlberg
). August 2011 saw the start of construction on The Bullitt Center, designed to become the world's greenest office building by means of generating its own energy, collecting rainwater, and composting its own waste. The building is expected to exceed the highest level of LEED (platinum).
LEED spreading over the world
LEED was developed by the US Green Building Council in 2000 and made a rapid breakthrough in the US. It covers choice of building site, energy efficiency, water efficiency, building materials, indoor environment, innovation, and construction processes. Extra points are awarded for proximity to environmentally-friendly transport, exposure to daylight, and renewable energy utilisation, for example. Projects are certified as silver, gold or platinum, and the system is constantly evolving in an open consensus-based process.
LEED certification is not just applicable to new buildings but also to existing buildings of various kinds, including homes, and recently also to entire urban environments, i.e. neighbourhood developments. The World Green Building Council was formed in 2002 and since this time LEED has spread to the rest of the world with the certification of more than 7,000 projects in a total of 30 countries. LEED is used less in Europe however, which already has various certification systems and an EU process for the energy benchmarking of buildings.
Many cities have followed the example of Seattle and introduced programmes for facilitating LEED certifications. Among these are tax reductions, density bonuses, reduced fees, priority permitting, free technical assistance, subsidies, and low interest loans.
References
City of Seattle, City Green Building, http://www.seattle.gov/dpd/GreenBuilding/OurProgram/default.asp

Solvie Karlstrom, "Seattle, Washington: 2010 Smarter City – Energy", Smarter Cities, A Project of the Natural Resources Defense Council (NRDC), June 28 2010, http://smartercities.nrdc.org/topic/energy/seattle-wa-2010-smarter-city-energy

Kim Murphy, "Seattle building aims to be a 'green' giant", Los Angeles Times, August 30 2011, http://articles.latimes.com/2011/aug/30/nation/la-na-green-building-20110830

U.S. Green Building Council, "What LEED is", http://www.usgbc.org/DisplayPage.aspx?CMSPageID=1988

"Leadership in Energy and Environmental Design", Wikipedia, http://en.wikipedia.org/wiki/Leadership_in_Energy_and_Environmental_Design

Lester R. Brown, Earth Policy Institute, 2009, Plan B 4.0: Mobilizing to Save Civilization, First edition, W. W. Norton & Company, http://www.earth-policy.org/images/uploads/book_files/pb4book.pdf

Key data are retrieved from the UN World Urbanization Prospects: The 2011 Revision, http://esa.un.org/unup/unup/index_panel2.html


Text by: Martin Jacobson