Posted on 01 March 2012
Connected greenspace with polycentric design
Connected greenspace with polycentric design
Australia's capital Canberra is regarded as one of the world's best examples of urban planning for connected greenspace. Its polycentric design enables the preservation of connected natural habitats and provides high accessibility to nature for the residents. But Canberra also shows the multiple problems of car-dependent, low-density development for wildlife, ecological footprints, environmental quality, and overall quality of life.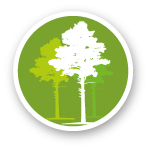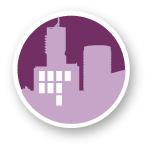 Keywords: green corridors, polycentric, low density, car dependence
Preserving green corridors for wildlife habitat connectivity and biodiversity, including manifold ecosystem services, is a major challenge for sustainable urban development. Canberra is cited as a world-best example of urban spatial planning for connected greenspace.
Polycentric structure
Canberra is a planned city from the start. With five urban centres, Canberra is a forerunner of a polycentric structure. Its main city centre is surrounded by four satellite centres, each with its own residential area with services for everyday needs. This not only enables the preservation of connected natural habitat, but also contributes to very high accessibility to nature for Canberra residents (see also
Auckland
,
Stuttgart
and
Vitoria-Gasteiz
).
Canberra has been able to grow as a city without overwhelming the original spatial plan created by US architects Marion Mahony Griffin and Walter Burley Griffin in the early 20th century. Sprawl has been prevented thus far by only allowing new home building once a site has been connected for utilities like water and sanitation. Thus, utilities are a form of leverage to control land development.
Car dependent city
However, Canberra is an extremely low-density city with very limited public transport. Although the city was originally designed on a model of light-rail (tram) transport, Canberra never implemented its trams, and became instead a car-dependent city, with possibly the world's highest rates of provision of roads and parking.
The large volumes of road transport in Canberra creates problems for wildlife, the environment generally, physical safety, and increased ecological footprints. There is a high rate of kangaroo-vehicle collisions, for example. Children's freedom of movement is reportedly very constricted due to danger from road traffic. Greenhouse gas emissions per person are high because of the extensive use of petroleum for transport. Last but not least, stormwater pollutants from roads and gardens cause serious problems for the use of local water bodies for residents' recreation.
References
Richard T.T. Forman, 2008, Urban regions: ecology and planning beyond the city, Cambridge University Press

Peter Newman, Jeffrey R Kenworthy, 1999, Sustainability and cities: overcoming automobile dependence, Washington DC: Island Press

Key data are retrieved from the UN Demographic Yearbook 2011, http://unstats.un.org/unsd/demographic/products/dyb/dyb2011.htm


Text by: Aaron Thomas