Posted on 01 March 2012
Embracing retrofits saves energy and money
Embracing retrofits saves energy and money
Via its Energy Saving Partnership, Berlin has retrofitted more than 1,400 buildings since 1996. This has delivered increases in energy efficiency of 26% and more. Berlin was among the first to introduce energy performance contracts, where energy savings finance the retrofit. The Energy Saving Partnership has been replicated in more than 20 projects worldwide with the assistance of the Berlin Energy Agency.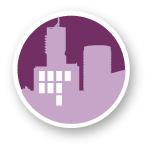 Keywords: retrofitting, energy efficiency, green financing, EU, subsidies
In 2007, the EU set its "3x20" goal for the year 2020, aiming to reduce greenhouse gases and cut energy consumption both by 20% while simultaneously increasing renewable energy sources to 20%. Energy efficiency is the cheapest way to achieve "3x20"'s first two goals, the EU found, with positive side effects for finance, energy safety and employment.
Progress has been slow, however, suggesting that only half of the 20% improvement will be reached. In response, the European Commission in 2011 launched a new action plan for energy efficiency. This proposes, among other things, that public authorities be required to refurbish at least 3% of their buildings (by floor area) every year. Each refurbishment should bring the building up to the level of the best 10% of the national building stock. Another proposal is that when public bodies rent or buy existing buildings, these should always be in the best available energy performance class. The Commission states that mandatory national targets for energy efficiency may be proposed in 2013 if the voluntary approach has not worked.
Ambitious efficiency goals
Some countries have ambitious policies already in place. Germany requires that all buildings to be renovated should comply with high standards for energy efficiency. It also subsidises both energy efficiency and renewable energy sources for renovations. Since 1999 the Alliance for Work and Environment has brought together government, trade unions, employers' organisations, and environmental organisations, for the renovation of more than 300,000 apartments per year. Renovations include insulation, improved heating and ventilation, and the installation of renewable sources of energy. Up to 2008, investments of $26 billion had been made and hundreds of thousands of green jobs created through this programme, which has been expanded further in the wake of the financial crisis.
Berlin's Energy Saving Partnership
Berlin has been a forerunner in this process. In the strained post-reunification economy of the 1990s, Berlin looked for ways to save money. In 1996 it began the Energy Saving Partnership with the Berlin Energy Agency, part owned by the city. More than 1,400 buildings have been renovated, with an energy efficiency improvement of at least 26%. The partnership has encompassed both private and public buildings, but more of the latter: schools, administrative buildings, hospitals, prisons, libraries, and hospitals, etc. The renovations have included heating systems, hot water installations, ventilation, lighting, insulation and smart electric systems, among others things.
One key to the success of the programme has been its financing, which has relieved the owners of investment costs. Renovations have been paid for via loans, after calculations by accredited energy systems' companies of the possible energy cost returns (see also
Stockholm
). In the 2000s these so-called energy performance contracts have become an established model for financing, for example in the Clinton Climate Initiatives programme for urban renovation projects – the Energy Efficiency Building Retrofit Program (see also
Houston
). In the Berlin programme, investments have paid for themselves within 10 years.
Spreading around the world
The Berlin Energy Agency has spread its retrofitting model by initiating more than 20 projects around the world, for example in Bulgaria, Chile, Romania, and Slovenia. Currently the programme in Berlin includes 15 large companies and more than 100 subcontractors, and is becoming progressively streamlined. The level of efficiency improvement has also increased to 35% due to improved techniques.
References
New York City Global Partners, Innovation Exchange, "Best Practice: Public-Private Partnership for Building Retrofits", 2011, http://www.nyc.gov/html/unccp/gprb/downloads/pdf/Berlin_Buildings_ESP.pdf

Berlin Energy Agency, http://www.berliner-e-agentur.de/en

UNEP/ILO/IOE/ITUC, 2008, Green Jobs: Towards Decent Work in a Sustainable, Low-Carbon World, Worldwatch Institute, september 2008, http://www.unep.org/labour_environment/PDFs/Greenjobs/UNEP-Green-Jobs-Report.pdf

European Council for an Energy Efficient Economy, "EU energy efficiency plan targets public buildings", March 9 2011, http://www.eceee.org/news/news_2011/2011-03-09a/

Clinton Climate Initiative's Energy Efficiency Building Retrofit Program, http://www.clintonfoundation.org/what-we-do/clinton-climate-initiative/cities/building-retrofit

Key data are retrieved from the UN World Urbanization Prospects: The 2011 Revision, http://esa.un.org/unup/unup/index_panel2.html


Text by: Martin Jacobson