Shanghai
Green ring generates half of city's food
Shanghai has preserved and expanded a green agricultural zone around the city, where nutrients from waste are recycled to help produce more than half the city's food. Even the gigantic rubbish dump in Pudong now contributes with compost, as well as generating electricity at Laogang, China's largest landfill biogas power plant. Urban farming is still widespread in China.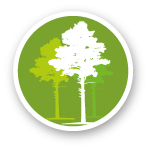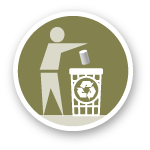 Keywords: urban farming, waste recycling, fertilizer, biogas, composting

Shanghai is China's largest city and one of the worlds megacities. In addition to its modern skyscrapers, the new district of Pudong also has the giant rubbish dump Laogang, covering 6.5 sq km and taking care of 70% of the city's waste. In 2006 the district of Pudong's efforts to modernise its waste management and thereby slow Laogang's expansion received special mention from UN-Habitat. Some 80% of the organic material is now composted and 80-90% of recyclable material is managed in a process that has significantly reduced contamination. In 2008 Shanghai began generating electricity from Laogang's biogas, and it is expected to supply 100,000 households with electricity by means of China's largest biogas plant (see also
Curitiba
and
San Francisco
).
Urban farming common
Recycling is an old theme in China. Since time immemorial people have utilised even human excrement (or night soil) as an agricultural fertiliser along with other biological waste (see also
Hyderabad
). China's urban agriculture is also widespread. Most vegetables are produced no more than 10 km from the point of sale, where they appear within a day of being harvested. Most cities are nearly self-sufficient in terms of food. Chinese cities have safeguarded this system during recent decades of urbanisation by expanding farmland at the same rate as they grew.
This is especially true of Shanghai, which has taken control of local production and distribution of food, and regulated land use to protect farmland. The city's agricultural investment has increased fivefold in the last ten years; with the help of taxes and subsidies a wide food supply is safeguarded. The result is that a large part of the city's grain, half its pork and chicken, 60% of its vegetables and 90% of its milk and eggs are produced in a green ring around Shanghai (see also
Havana
and
Lubumbashi
).
Night soil as fertiliser
Shanghai's authorities also see agriculture as a way of reducing air pollution and preserving green areas. An example is the Minhang district, where local farmers transformed an area of rubbish dumps into an ecological park with a water museum.
The recycling of night soil as fertiliser in agriculture decreased during China's agricultural reforms of the 1960s onwards. By the turn of the millennium it only constituted about one third of the fertiliser. But since then, this age-old custom has begun to be promoted by the authorities, who are also testing modernised implementation using dry toilets, new methods for transportation, and central treatment plants in cities. Shanghai long retained a high percentage – as late as 1991 almost 90% of its night soil was collected on a daily basis, treated, and sold to farmers within the city limits.
References
The Climate Group, 2010, China Clean Revolution Report III: Low Carbon Development in Cities, Summary, December 2010, http://www.theclimategroup.org/_assets/files/China-Clean-Revolution-III.pdf

Lester R. Brown, Earth Policy Institute, 2009, Plan B 4.0: Mobilizing to Save Civilization, First edition, W. W. Norton & Company, http://www.earth-policy.org/images/uploads/book_files/pb4book.pdf

UN-Habitat, "Recycling and Reuse of Municipal Solid Waste in Pudong New District in Shanghai", Best Practice Database, 2006, http://www.unhabitat.org/bp/bp.list.details.aspx?bp_id=1643

Wang Yan, Cai Jianming, Xie Liou, Liu Junping, "Resilient Chinese Cities: Examples from Beijing and Shanghai", Urban Agriculture Magazine no 22 - Building Resilient Cities, June 2009, http://www.ruaf.org/sites/default/files/UAM22%20Beijing%2020-21.pdf

Cai Yi-Zhong, Zhang Zhangen, "Shanghai: Trends Towards Specialised and Capital-Intensive Urban Agriculture", http://www.ruaf.org/sites/default/files/Shanghai.PDF

Growing Greener Cities, FAO's Programme for Urban and Peri-urban Horticulture, http://www.fao.org/ag/agp/greenercities/index_en.html

Luo Shiming, South China Agricultural University, "The Utilization of Human Excreta in Chinese Agriculture and the Challenge Faced", 2002, EcoSanRes, http://www.ecosanres.org/pdf_files/Nanning_PDFs/Eng/Luo%20Shiming%2010_C11rev.pdf

Kris De Decker, "Recycling animal and human dung is the key to sustainable farming", Energy Bulletin, September 15 2010, http://www.energybulletin.net/stories/2010-09-16/recycling-animal-and-human-dung-key-sustainable-farming

Key data are retrieved from the UN World Urbanization Prospects, the 2009 Revision, http://esa.un.org/unpd/wup/index.htm