Colorado
The Colorado River from the bottom of Marble Canyon, in the Upper Grand Canyon.
Colorado
© Wikipedia
Once great river struggles to reach the sea
The Colorado River, in the southwestern United States and northwestern Mexico, is around 1,450 km long. It drains a part of the arid regions on the western slope of the Rocky Mountains.


The natural course of the river flows into the Gulf of California, but the heavy use of the river as an irrigation source for the Imperial Valley has desiccated the lower course of the river in Mexico such that it no longer consistently reaches the sea.
The lower course of the river, which forms the border between Baja California and Sonora, is essentially a trickle or a dry stream today due to use of the river as Imperial Valley's irrigation source. Prior to the mid 20th century, the Colorado River Delta provided a rich estuarine marshland that is now essentially desiccated, but nonetheless is an important ecological resource.
The Colorado River is a major and in some cases life-sustaining source of water for irrigation, drinking, and other uses by people living in the arid American southwest. Allocation of the river's water is governed by the Colorado River Compact. Several dams have been built along the Colorado River, beginning with Glen Canyon Dam near the Utah-Arizona border. Other dams include Hoover Dam, Parker Dam, Davis Dam, Palo Verde Diversion Dam, and Imperial Dam.
Almost 90% of all water diverted from the river is for irrigation purposes. The All-American Canal is the largest irrigation canal in the world - larger in volume than New York's Hudson River.
Several cities such as Los Angeles, Las Vegas, San Diego, Phoenix, and Tucson have aqueducts leading all the way back to the Colorado River.
Current threats
Since the completion of the dams, the majority of the river in normal hydrologic years is diverted for agricultural and municipal water supply. The Colorado's last drops evaporate in the Sonoran Desert, miles before the river reaches the Gulf of California. Historically the flow of water in the river was much higher before water usage began in the basin and since the construction of massive dams on the lower course of the river, large floods are now rare.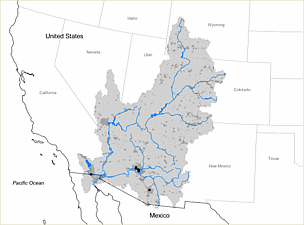 Countries
Mexico & US

Basin population
> 17 million

Size
703,148 km2

Length
2,330 km

Key species
The Colorado River basin is home to fourteen native species of fish. Four are endemic and endangered: Colorado pikeminnow (formerly Colorado squawfish), razorback sucker, bonytail chub, and humpback chub.

Livelihood facts
The Colorado River's waters are used to irrigate the parched but fertile Imperial Valley, where several years can pass between measurable rainfalls

Related links