Swedish city of Uppsala global winner 2018
The Swedish City of Uppsala was named global winner of WWF's 2018 One Planet City Challenge. This year, 132 cities representing 23 countries participated in the Challenge. Jakarta, Indonesia was given a special mention for its work in the We Love Cities campaign, which supports participants of the One Planet City Challenge, through citizen engagement.
Uppsala impressed the jury with its strong, all-around performance in key competition categories. In particular, the jury appreciated Uppsala's sophisticated cross-sector sustainability interventions, as well as its strong leadership in the surrounding region.The global winner as well as 21 national winners and the We Love Cities campaign winner, was announced on September 12, during the Global Climate Action Summit in San Francisco. Read more.
National winners of WWFs City Challenge 2018
Brazil – Belo Horizonte
Canada – Vancouver
Chile – Santiago
Colombia - Monteria
Ecuador - Quito
Guatemala – Pachalum
India –Rajkot
Indonesia – Jakarta
Japan -Yokohama
Malaysia - Melaka
Mexico - Guadalajar
Pakistan –Karachi
Peru - Magdalena Del Mar
Philippines -Pasig
South Africa – eThekwini (Durban)
Sweden - Uppsala
Tanzania - Dar Es Salaam
Thailand -Yasothon
Turkey –Izmir
Uganda - Kampala
United States – Cleveland
Vietnam - Da Nang
50 finalists, representing 100 million citizens from 5 continents, took part of the We Love Cities campaign to engage citizens in expressing support for their cities, as well as sharing ideas for improvement. Simultaneously, an international expert jury reviewed all finalist cities, selecting both national and a global winner of One Planet City Challenge 2018.
Let Your City Inspire the World​
In cities, everything is closely connected. As cities and urban populations expand across the globe, the problems in cities also tend to multiply. The good news is that solutions can also multiply. And fortunately, solutions already exist today that have the potential to meet the demands of urban lifestyles, without exhausting the planet's ecological capacity.
So WWF created the One Planet City Challenge (OPCC) to highlight these solutions, and to recognize and reward cities that are busy putting them to use. These are cities that aim to provide sustainable housing, transportation, and energy for their residents while simultaneously engaging their citizens and acting as inspirational role models for other cities around the globe.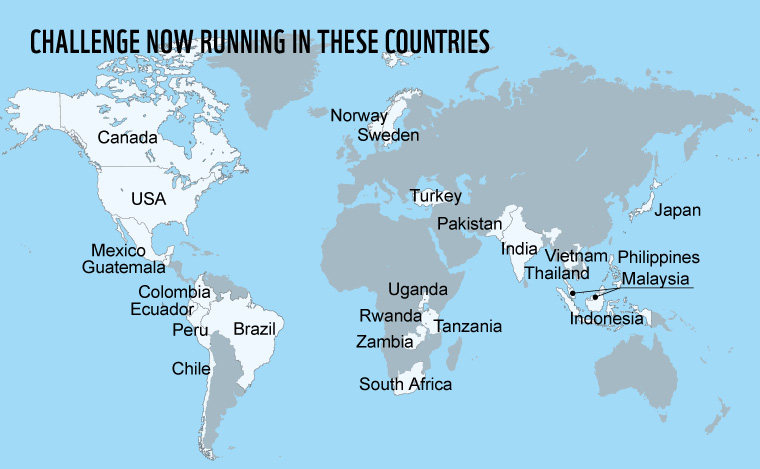 The One Planet City Challenge invities cities in participating countries to report ambitious and innovative climate actions, and to demonstrate how they are delivering on the 2015 Paris Agreement on climate change. Data is entered on the carbonn® Climate Registry, and outreach and support is provided to cities in collaboration with ICLEI – Local Governments for Sustainability. Final plans and data are then reviewed by an international jury of experts tasked with identifying the most outstanding cities. After a process involving a thorough scrutiny of submissions and jury deliberations, national and global winners are selected and awarded at a global prize ceremony.
Since the inception of the Challenge in 2011, WWF has engaged over 400 cities across 5 continents. In the 2017-2018 round the City Challenge had a thematic focus on sustainable transport and mobility as a major challenge facing cities everywhere. For more info, please contact us at opcc@wwf.se.
Cities are invited to report relevant data, plans and actions via the world's leading carbon reporting platform for local governments and regions, carbonn® Climate Registry, cCR, managed by ICLEI – Local Governments for Sustainability. Outreach and support to cities is provided in collaboration with ICLEI and the final plans and data are reviewed by an international jury.

Cities wishing to participate in the One Planet Ctiy Challenge need to create an account in the cCR; there they can also register for the 2017-2018 OPCC. The city will be recognized as a "cCR Registered City" as long as data is reported in the Profile section. By registering for the OPCC, the city will also be counted as an OPCC participating city. Once the city has met the minimum reporting criteria, it will be recognized as an OPCC candidate city. More information can be found at: http://carbonn.org/join/.

Registration and Data Reporting as an OPCC candidate includes the following steps:
1. The city registers on cCR and agrees to the cCR Terms and Conditions.
2. The city indicates interest in joining the OPCC from its cCR account and agrees to the cCR Terms and Conditions for OPCC Candidates
3. The city downloads the reporting sheets that will be pre-populated with previously reported data, if the city has formerly participated in the OPCC.
4. The city submits its completed cCR reporting sheets, with all required information, to the Bonn Center for Local Climate Action and Reporting (email to carbonn@iclei.org) before 29 September 2017 – the closing date for OPCC candidate cities. Before the final deadline, cities can also benefit from up to 2 rounds of feedback to improve their chances, by reporting before 15 June 2017. Cities reporting before 12 August 2017 can access one round of feedback.

An international jury of urban sustainability experts will look for cities that demonstrate inspiring, ambitious and credible climate agendas that reflect how cities contribute to meeting the Paris Agreement goals. Joining the coalition of cities committed to the Compact of Mayors, and the Global Covenant of Mayors for Climate and Energy – as well as following up these commitments with action – will be considered a positive attribute in the evaluation procedure. Higher ambitions and the impact of corresponding action plans will be particularly favored. The thematic focus for this year's One Planet City Challenge is sustainable transport, and the jury will be paying special attention to cities that present ambitious mobility plans and actions.

The jury will consider differences in resources and starting points in order to ensure a level playing field for evaluation. Overall, the jury will be looking for cities that:

- Demonstrate determination to align with a transparent and science-based GHG emission reduction trajectory
- Have ambitious and strategic action plans to meet stated commitments
- Integrate actions into coherent and overarching climate action plans
- Lead, with respect to local context and conditions
- Highlight sustainable mobility efforts
The One Planet City Challenge jury is comprised of leading experts within the field of urban sustainablity from around the globe. With extensive local and regional knowledge jury members are uniquely qualified to evaluate the contribution of participating cities in achieving the goals set forth in the 2015 Paris Agreement.



Jennifer Lenhart
Global lead and expert, One Planet Cities



Carina Borgström Hansson
Senior advisor One Planet Cities and Ecological footprint

Tabaré Curras


Global Advisor on Urban Energy Transitions



Victoria Olausson
Global Communications Manager

Jeet Mistry
Program manager and expert One Planet Cities

Bella Roscher
Program manager and expert One Planet Cities

Sofia Widforss
Program manager One Planet Cities

Sabina Andrén
Program manager One Planet Cities

Anthony Pearce
Program manager One Planet Cities
The Makings of a Winner
This year marks the fifth anniversary of WWF's international challenge to cities. The Challenge has engaged 320 cities across five continents to date. Of these four global winners have been identified and rewarded for their commitment to creating cleaner, greener and more sustainable places for us to live, work and thrive in. WWF is now on the look out for the next city to join these ranks. Will your city be the next global winner of the One Planet City Challenge?
Vancouver, Canada
Vancouver, the first global winner in 2013, was recognized for its leadership and commitment to sustainable urban development in spite of low national ambitions in Canada at the time. Vancouver was proclaimed to be a role model for holistic and strategic urban planning. The city aims to engage all sectors of society, and puts particular effort into public engagement.
Cape Town, South Africa
The global winner in 2014 was Cape Town. The city impressed the international jury of experts by demonstrating how low carbon development and climate change mitigation can be accomplished even in a city with many important development priorities. The city showed great progress in energy efficiency, and was very successful in engaging citizens in its climate work.
Seoul, South Korea
Seoul is also a city worthy of recognition, and was crowned the global winner in 2015. The city was rewarded for its ambitious program to reduce greenhouse gas emissions by 10 million tons by 2020. And for dedicating a solid budget to the expanding the use of solar power among citizens, and reducing transport emissions through greener fuels, increasing the numbers of bus lanes and the creation of car sharing programs.
Paris, France
The most recent global winner is the city of Paris - a unanimous favorite among jury members in 2016. Paris showed innovative and robust climate leadership worthy of recognition and replication. The city's comprehensive long term vision supported by a revision process that occurs with regular intervals was found to be of particular interest.
We Love Cities

In 2018, 50 cities across 5 continents – representing over a 100 million citizens – participated in the We Love Cities campaign.

We thank everybody that contributed to the amazing results:
over 50,000 votes of confidence for the cities' climate commitments and actions

over 50,000 citizen suggestions to accelerate sustainable change in their cities
together with the cities, over 6.5 million likes on related social media posts
together with the cities, an accumulated reach of over 100 million people
All votes and suggestions were then handed over to city representatives for analysis.
The purpose of WWF's We Love Cities campaign is to build better communication between city officials and the citizens they represent on climate change and sustainability issues. During the campaign, we raised awareness and urged people to participate by: voting for their cities, thereby endorsing the sustainability commitments and actions that their city has made; asking for citizen suggestions to further change; and watching citizens and local governments join on-the-ground sustainability actions in their cities.
WWF believes sustainability is a journey that we must travel together, and communication can propel our cities towards that goal. WWF wants citizens to see their cities as the location where they can affect real change. After all, change starts with individuals changing themselves and the place where they live. Local is all there is; and together, many local communities make a global planet of changemakers.
The We Love Cities campaign is interwoven with WWF's One Planet City Challenge (OPCC). When cities join the OPCC, they report their commitments and climate actions within an internationally recognized reporting platform. Cities are then evaluated by WWF and partners, resulting in the selection of national OPCC finalists. In the next step, all OPCC finalists are offered to participate in the We Love Cities campaign.
We Love Cities on Facebook continues to activate citizens even after the official campaign is over. Follow us here.
---